Biotech IPOs 2020 and M&A Trends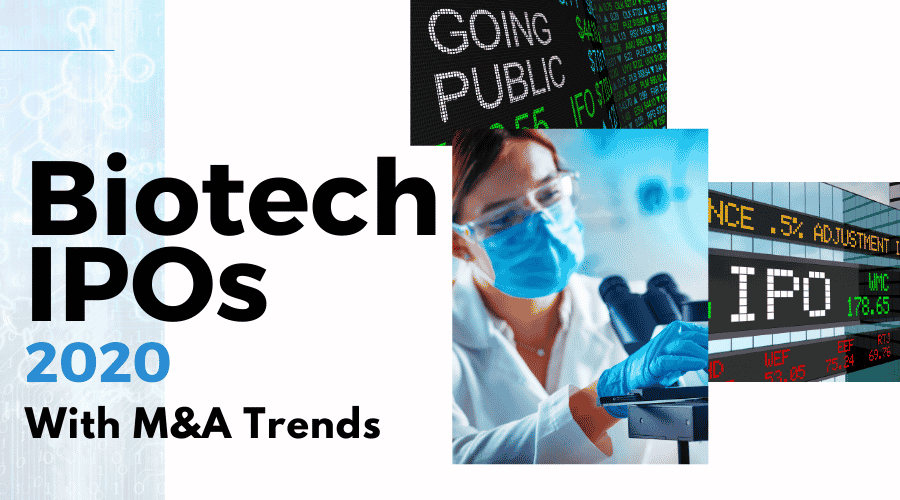 Transaction Trends 2020
Life sciences transactions have boomed over the last year.  Merger and acquisition (M&A) activity distinguished itself with several large and meaningful deals, but it was initial public offerings (IPOs) that stole the spotlight with dramatic year over year growth in the number of new issues.  In 2019, we saw almost 70 IPOs take place in the life sciences, but in 2020, this grew to almost 120 with several areas represented.1  In both M&A and in IPO action, oncology, neurodegenerative disease, and gene therapy dominated new listings in the life sciences.  We also saw the reemergence of special purpose acquisition companies (SPACs) in the IPO space with new issues targeting all sectors, including health care.
A Year in Review
2020 began with a host of concerns.  It was an election year and with the market down only two years in the last decade, we seemed to be closer to the end of an economic cycle than to the beginning.  Possible government action on drug pricing and further erosion of the Affordable Care Act were seen as risks to the status quo, as was an overhaul of the health care ecosystem by a new administration.  There was also an emerging virus in China that might dissipate after a few months or expand into something more insidious.  More generalist capital was moving into the life sciences.  Many investors believed the first half of 2020 would continue the dominant trend of recent quarters, but performance would taper off would begin in the second half as concerns regarding valuation, market exhaustion and a contentious election took center stage.   
It didn't turn out that way. 
Due to its rapid spread to Europe and the United States, the coronavirus was recognized as a pandemic by the World Health Organization (WHO) in early March.  As a result, schools and businesses closed, travel was curtailed and activities were limited outside quarantine.  Markets swooned, anticipating the economic impact of these changes and the S&P 500 fell 34% between February 19th to March 23rd.   
Market turmoil was followed by a summer of unrest and protests in response to racial injustice.  However, except for a short market correction in September, equities continued to march forward.  Despite threatened executive bans of apps and apps bans of executives, continued tariffs between the world's two largest economies and forced delisting of several Chinese companies from US exchanges, deals and markets maintained their upward trajectory. 
S&P 500 Performance, 20202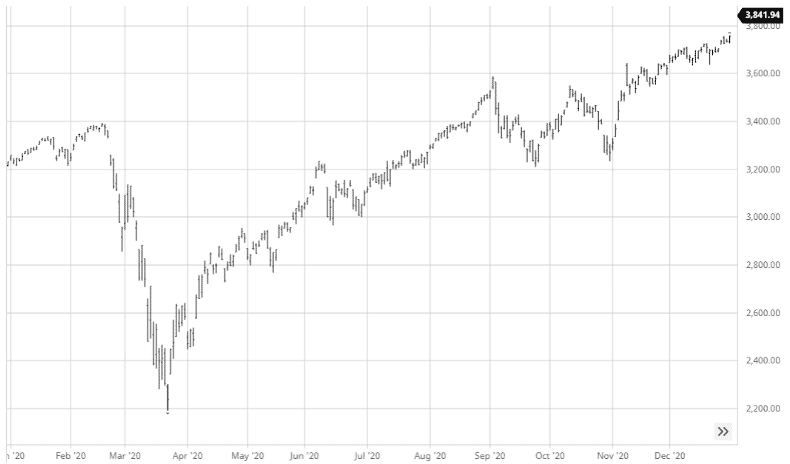 M&A
According to PharmaLive, 2020 M&A life sciences deal value fell to $159 billion compared to $306 billion in 2019.  Factors contributing to the decline were uncertainty related to the pandemic, higher than average valuations and market volatility.  Despite unprecedented lockdowns and a precipitous decline in face-to-face meetings, transactions were steady throughout the year.  Some of the bigger deals that were announced throughout 2020 include Abbvie's (ABBV) $63 billion combination with Allergan, Danaher's (DHR) $20 billion buy of GE's (GE) biopharma business unit and Gilead's (GILD) $21 billion transaction with Immunomedics.  Not yet closed, but of notable importance in rare disease is AstraZeneca's (AZN) $39 billion bid for Alexion Pharmaceuticals that was announced in December.   
In the gene therapy space, there was considerable M&A activity in 2020.  Bayer (BAYRY) picked up Asklepios Biopharma for $2 billion, offering another $2 billion in potential milestones.  This gives the Germany-based global pharma company increased exposure to cell and gene therapy with AAV-based vectors for Pompe disease, Parkinson's disease and congestive heart failure, among others.  Another big purchase was Astellas Pharma's (ALPMY) buy of Audentes Therapeutics.  Audentes is also working on AAV-based genetic therapies across three modalities: gene replacement, exon skipping gene therapy and vectorized RNA knockdown.  The target's pipeline consists of pursuing X-linked myotubular myopathy, Pompe disease and Duchenne muscular dystrophy.  Eli Lilly (LLY) also got into the gene therapy game with a $1 billion buy of Prevail Therapeutics, which includes value for a contingent value right payable on approval of Prevail's first approval.  The target company is advancing gene transfer approaches in clinical programs for Parkinson's disease and frontotemporal dementia using its AAV9 viral vector.  Outside of drug development, Catalent (CTLT) bid for and completed its buy of MaSTherCell Global for $315 million.  MaSTherCell provides cell therapy production, development, analytical, manufacturing, fill-finish and clinical supply services for gene therapy companies.  
According to Evaluate Pharma's comprehensive summary of public, private and business segment merger and acquisition activity in life sciences, there were 350 deals in 2020.  From the $63 billion buy of Allergan by Abbvie in May to the $5 million pick-up of Tarsus Biosciences by Ligand Pharmaceuticals as well as other deals of varying sizes that did not include transaction values.  Below we summarize the number and value of transactions as well as notable deals during the period.
Summary of 2020 M&A Deals3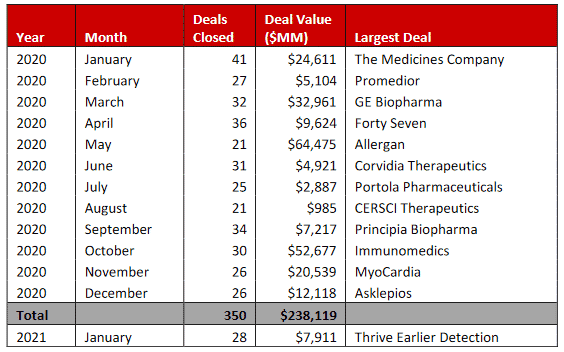 Initial Public Offerings (IPOs)
With high hopes at the turn of the year, the IPO market posted a solid start in January and February 2020 with 9 new life science launches, but with the coronavirus spreading globally, it slowed to only one in March.  Sensing the magnitude of such a shock to the system, the Federal Reserve and Congress reacted quickly to improve liquidity and move cash into the financial system.  This stimulus helped the equity market and new IPOs rebound.  Life science IPOs sequentially improved in April and May and grew to a count of 17 in June, only one less than the previous five months combined.  The last month of the second quarter saw one of the largest and most distinct IPOs of the year, the now $26 billion market cap Royalty Pharma plc (RPRX), which holds a portfolio of royalty interests in biopharmaceutical companies.   
While employment numbers continued to be weak and COVID cases were rapidly increasing in the second half of the year, the equity markets seemed not to notice.  July offered 13 new public companies in the industry, including the first healthcare focused SPAC for 2020: Deerfield Health (DFHT).  Activity decelerated during the August summer doldrums, but came back rejuvenated in September with 14 minted issues and peaked in October with 23 IPOs.  After a 5 IPO breather in November, December closed out the year with 20 brand new life science equities including multiple representatives from gene therapy, oncology and SPACs.  See our summary at the end for details on each.
Annual IPO Activities, All US Sectors4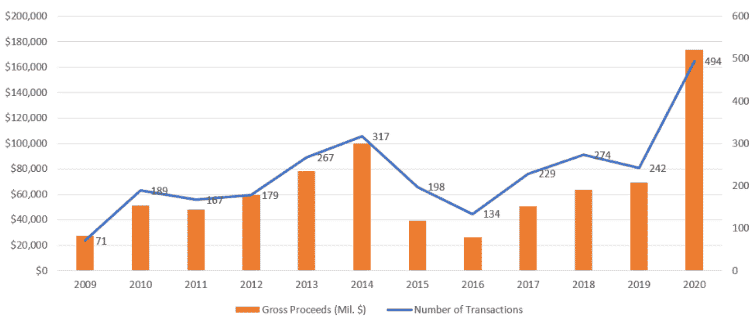 What was driving the deals?
Despite the dramatic economic contraction, increased liquidity and stimulus checks encouraged investors.  Funds were attracted to assets with less economic sensitivity, leverage to cutting-edge technology, and a payoff years after the pandemic's anticipated conclusion.  Investors also recognized the government's massive increase in spending on COVID-related treatments, vaccines, and diagnostic testing.  Combined with rapid approval and a guaranteed purchase after development, government support provided a strong rationale for investing in COVID-leveraged names.  There were also short-term plays in molecular and antigen testing, COVID treatments, and vaccine developers.   Examples include AlloVir (ALVR), which is developing virus-specific T cell candidates and CureVac (CVAC), which uses mRNA to help the body create its own medicines.  The companies are advancing a COVID treatment and vaccine, respectively.  In the COVID diagnostic space, Ortho Clinical Diagnostics (OCDX) IPOed with its screening and diagnostic products in January 2021, followed a few weeks later by Lucira Health (LHDX) marketing a COVID-19 at-home test.   
IPO performance
IPO performance was very strong in 2020.  One of the better measures of the performance of this class is the Renaissance Capital IPO ETF which returned 107% last year.  Year to date 2021, the instrument has only returned ~2%, but the year is young.  The ETF tracks the IPO index, which includes companies that have IPOed in the last two years and meet liquidity and operational screens.
Renaissance IPO ETF Performance 20205

In 2020 some of the best represented areas of life sciences included oncology and cancer, gene therapy, artificial intelligence, neurodegenerative and autoimmune disorders.  By our count, there were 27 new public companies focused on cancer and oncology and 11 centered on gene therapy.  The biggest names in the oncology group included $3.1 billion ALX Oncology (ALXO), $2.6 billion Prelude Therapeutics (PRLD) and $1.7 billion Zentalis Pharmaceuticals (ZNTL).  Gene therapy saw new issues from $4.6 billion Beam Therapeutics (BEAM), $1.1 billion Passage Bio (PASG) and $1.9 billion Generation Bio (GBIO).
ALX is developing a CD47 blocking therapeutic designated ALX148 which prevents cancer cells from eluding the immune system.  This clinical company has several Phase I trials underway and is working on combination therapies with Merck's (MRK) Keytruda and Zymeworks' (ZYME) zanidatamab.  Prelude Therapeutics (PRLD) is introducing the next generation of precision oncology with its pipeline consisting of six programs incorporating methyltransferases, kinases, protein-protein interactions and targeted protein degraders.  Lead indications include hematological malignancies, glioblastoma multiforme and myelofibrosis, among others.  Zentalis' pipeline is advancing four candidates as both monotherapy and in combination with other drugs to treat breast cancer, solid tumors, blood cancers and non-small cell lung cancer.
Gene therapy was another active area in the IPO arena. Beam Therapeutics and Passage Bio made their debut in the equity markets early in the year.  Beam offers its deaminase base editors that are able to modify a single base pair of DNA.  The company is currently working on indications in oncology, liver disease and ocular disease.  Passage is targeting rare, monogenic central nervous system (CNS) disorders that are amenable to its approach. Passage's technology employs intra cisterna magna administration to place its proprietary capsids to tissues in the CNS  delivering desired genes.  Generation Bio bypasses viral vectors and uses its ceDNA construct and ctLNP delivery system to repair genetic errors that lead to disease.  Generation is working on treatments for phenylketonuria (PKU), hemophilia A, Wilson disease, Gaucher disease and other expansion areas in retina, skeletal muscle and oncology.  Another gene therapy company in the billion dollar plus club is 4D Molecular Therapeutics (FDMT) which employs disease-specific vectors called Directed Evolution.  The custom and proprietary AAVs designed for specific tissues and diseases are in early stage clinical trials for multiple ophthalmology and cardiology indications.
US IPO Market, All Sectors6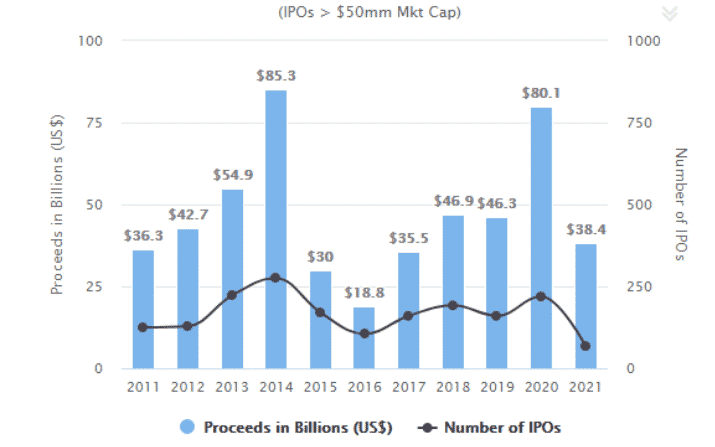 Summary of Top Performing 2020 IPOs (March 11, 2021)
| Company | Ticker | Initial Px | IPO Date | Perf2date | MktCap ($MM) | % Δ | HQ | Note |
| --- | --- | --- | --- | --- | --- | --- | --- | --- |
| AlloVir | AVLR | $17.00 | 30-Jul | $147.50 | $12,600 | 768% | MA | Drug treatments for virus conditions including COVID19 |
| Inari Medical | NARI | $19.00 | 27-May | $125.92 | $6,233 | 563% | Irvine | Med Device for venous disease. Catheter based thrombectomy device to remove clots. |
| Beam Tx | BEAM | $17.00 | 06-Feb | $94.66 | $5,487 | 457% | MA | Develops precision genetic medicines based on its proprietary base-editing technology |
| CureVac | CVAC | $16.00 | 14-Aug | $86.60 | $16,187 | 441% | Germany | mRNA COVID Ph1 asset. Lead: CV8102 for multiple cancer indications. |
| Applied Molecular Transport | AMTI | $14.00 | 05-Jun | $69.09 | $2,410 | 393% | SFO | Inflammatory disease. Lead: AMT101, oral, GI selective IL10 for Ulcerative colitis. Ph2 in 2020 |
| Schrodinger | SDGR | $17.00 | 06-Feb | $81.75 | $5,681 | 381% | NY | Drug discovery & materials design in silico. Computational platform. |
| Greenwich LifeSciences | GLSI | $5.75 | 25-Sep | $27.30 | $374 | 375% | Texas | GP2 (a 9 amino acid transmembrane peptide of the HER2 protein) for Breast Cancer after surgery. Ph3 |
| Annovis Bio | ANVS | $6.00 | 28-Jan | $28.38 | $197 | 373% | PA | AD, PD and other neurodegenerative diseases. |
| Keros Tx | KROS | $16.00 | 08-Apr | $66.05 | $1,333 | 313% | MA | TGF-β receptor products: KER-050 for cytopenias & KER-047 for anemia & KER-012 for bone mass |
| ALX Oncology | ALXO | $19.00 | 21-Jul | $76.33 | $2,832 | 302% | CA | CD47 inactivated-antibody blocker. Lead is ALX148 for solid tumor & blood cancers. Ph1 & preclin assets |
SPACs
Special purpose acquisition companies or SPACs surged in importance in 2020, increasing in frequency as the year advanced.  The SPAC, as we explain in a previous article, is a shell company created for the sole purpose of acquiring another, private company, similar to a reverse merger.  The SPAC can be either general in its target or industry specific.  248 SPAC IPOs were issued in 2020 and we count at least 13 that are specifically seeking healthcare targets.  SPACs are usually required to consummate an acquisition in the two years after they become public.  With all of these new, private company-hungry hunters flying overhead, we could see a continued shift of closely held firms become public even if the IPO market tapers off.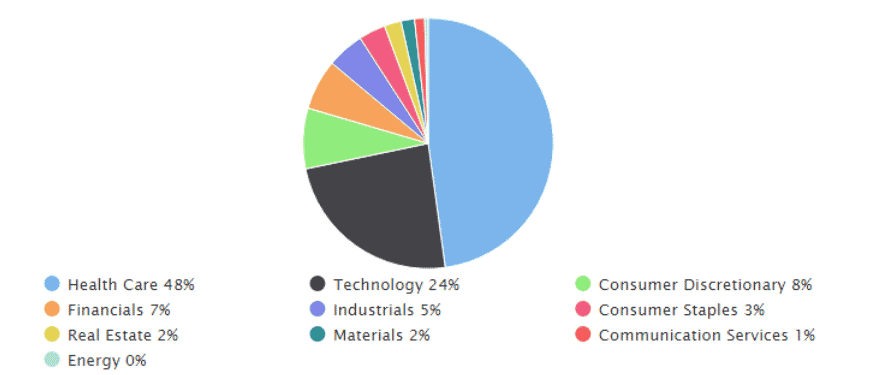 Auld Lang Signing Off….
Transaction trends in 2020 and 2021 year to date have been on fire.  Equity markets have been strong over the last few years and there is substantial value being recognized by large corporate buyers and equity investors.  While the pandemic and economic contraction early in the year suggested transaction activity may slow to a crawl, quick action by the Federal Reserve and Congress injected liquidity into the system, allowing the markets to disconnect from the greater economy.  This has allowed many cutting edge firms with compelling new technologies to attract the capital they need to develop their pipelines and programs.  We've seen numerous M&A and IPO transactions in oncology, gene therapy, artificial intelligence, neurodegenerative and autoimmune disorders.  While we cannot predict if this trend will continue, many exciting new technologies have been funded that will drive the advancement of life sciences companies in years to come. 
1 According to FactSet, there were 274 IPOs in 2018, 242 IPOs in 2019 and 494 IPOs in 2020 in all US sectors
2 Source: barchart.com
3 Source: Evaluate Pharma, February 2021, Evaluate Ltd. and author's work. There are a material number of transactions which do not include values and total deal value could be and likely is materially higher than the amounts listed.
4 Source: FactSet Insight, US IPO Market: SPACs Drive 2020 IPOs to New Record. January 7, 2021
5 Source: Renaissance Capital IPO ETF.
6 Source: Renaissance Capital Website, as of March 12, 2021. https://www.renaissancecapital.com/IPO-Center/Stats7Data is for trailing 12 months as of January 24, 2021.
7 Source: Renaissance Capital Website. https://www.renaissancecapital.com/IPO-Center/Stats/Industry