American Gene Technologies® (AGT) designed AGT103-T in hopes of functionally curing HIV. The therapeutic is made of the patient's own T cells which have been enhanced for HIV resistance, and data from the Phase 1 human trial has recently been published in the journal Frontiers in Medicine. HIV is a curable condition, as seen in previous case studies. AGT103-T aims to break HIV's hold on the immune system and launch a counter-offensive. Clinical trials, genetic medicine, and cell therapy are not common knowledge, so in this article, we'll review the data and translate it so everyone can understand what has been proven, what remains to be seen, and how this data influences the next steps for AGT™.
A Phase 1 trial is the first time a new therapeutic ever enters a human body, so these trials are all about safety and they proceed with great caution. Phase 1 data helps to define a dosage range and establishes a profile of safety information. Dosing trial participants one at a time, monitoring for even the rarest possible side effects, and elevated monitoring of trial participants allows researchers to ethically build a profile of data so that further clinical trials such as Phase 2 and Phase 3 can proceed smoothly if further testing is warranted.
For AGT's Phase 1 trial, the primary endpoints were safety and feasibility of dosing trial participants with AGT103-T. The secondary endpoint of this study was to measure the durability of the modified T cells. AGT hit both its primary and its secondary endpoints in this trial! Our data indicates that both low and high doses of AGT103-T were well tolerated by trial participants, the infused helper T cells can coordinate with killer T cells to orchestrate an anti-HIV response, and that these AGT103-T cells can persist in the body, ready to respond to HIV.
Safety Data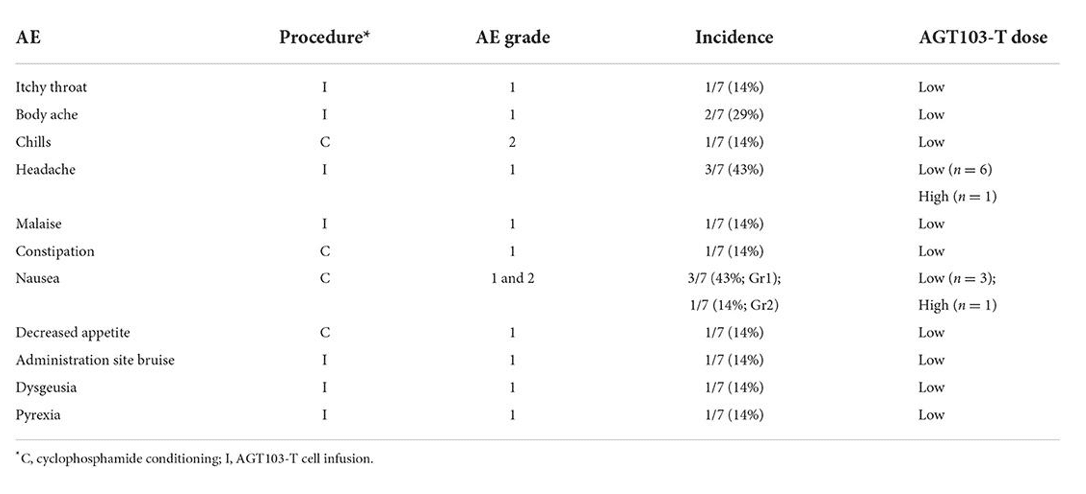 Table 1: Reported adverse events (AEs) are separated by their associated procedure, severity grade, occurrence, and association with high and low doses.
Safety is quantified by how many adverse events (AEs) occur and how severe they are. This table shows the safety effects and how common they were in AGT's Phase 1 HIV clinical trial. All safety events were mild (grade 1 or 2) and resolved within a week, with the majority resolving within 1-2 days. Cytoxan (CTX) conditioning was used in this study, and many of the AEs recorded were attributed to it. CTX kills some of the immune cells in the patient before the AGT103-T cells are infused in the body. It's a bit like clearing some space in your phone's memory to make room for a new app, except this time, the app is written in ATGC instead of 0's and 1's. CTX conditioning has recently been a hot topic in HIV cure research, and the AGT team will continue to monitor new evidence to inform future infusion procedures.
High dose trial participants received over a billion modified T cells and did not report a higher incidence of AEs. While the small size of this proof-of-concept study limits the statistical power of our observations, this gives us an initial sense of how the body tolerates a dose of AGT103-T. After conditioning and infusion, we continued to measure safety events over time, and we also collected blood so we could see whether or not the AGT103-T cells could engraft back into their original body with their new modifications.
Longevity/Durability Data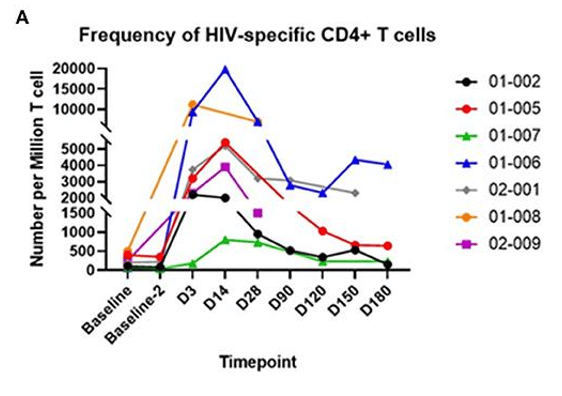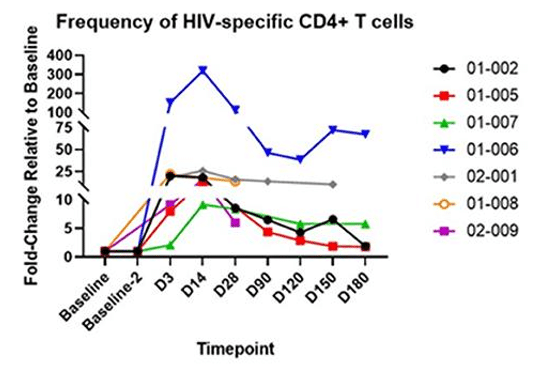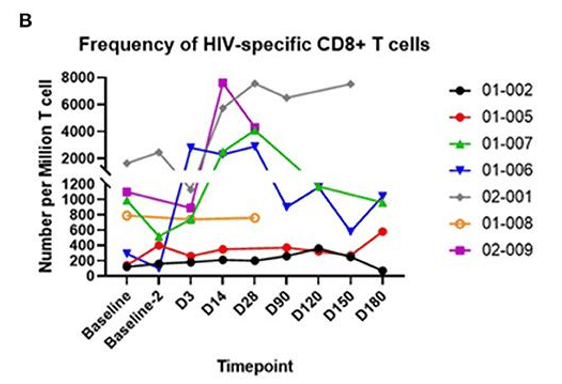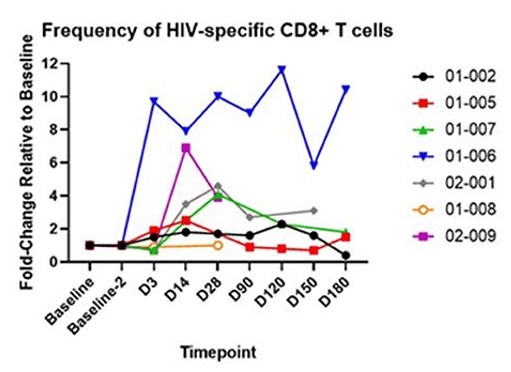 Figure 2: The above graphs quantify CD4+ "Helper" T cells and CD8+ "Killer" T cells in blood samples over time. On the left, the fraction of T cells which recognize HIV is tracked over time. On the right, the fold increase relative to baseline shows the amplification of the anti-HIV response. AGT103-T is composed primarily of HIV-specific modified CD4+ T cells, so the increase in HIV-specific CD8+ T cells is rather exciting since it demonstrates the ability for these modified T cells to meaningfully interact with the surrounding immune cells and orchestrate a response targeted at HIV.
When T cells "see" their target in the body they mobilize and rise in number to form an immune response. In this Phase 1 trial, AGT103-T was cautiously infused into trial participants who were taking antiretroviral medications to suppress HIV replication. The lack of HIV production means that AGT103-T was not stimulated by the full force of HIV presence in the body. Further studies such as a future Phase 2, and to a limited degree, the ongoing analytic treatment interruption study (ATI) explore AGT103-T's reaction to HIV in the body, but for this Phase 1 study, we measured an anti-HIV response in the blood taken at each time point. Since these blood samples were outside the body, stimulating them with HIV-associated peptides did not add any safety risk to the patients.
Recognizing and Responding to HIV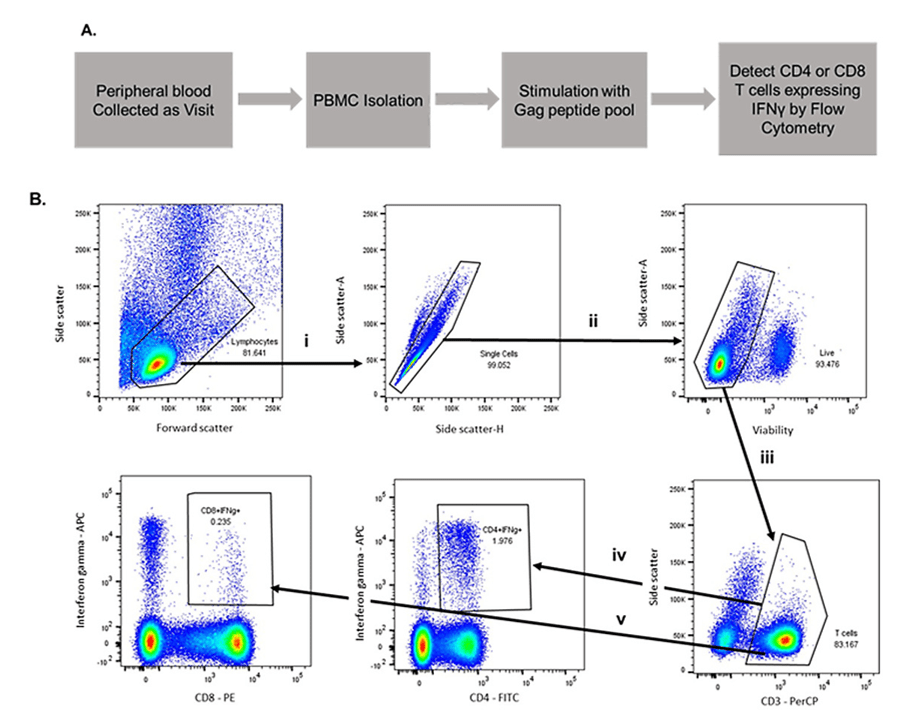 Figure 3: Very few people are trained to read graphs like this one, but don't worry! We're here to help. Steps i, ii, and iii filter the data so it only includes live T cells and ignores the rest of the components in the blood. Steps iv and v separate the T cells into "Helpers" and "Killers" and then quantify their interferon gamma production in response to exposure to HIV-associated peptides.
Stimulated T cells are known to release a messenger chemical called interferon gamma, so once we filter out all the other components of blood, we can see how much interferon gamma is produced when we expose the T cells in the sample to HIV-associated peptides. We can then tie the level of interferon gamma production to the number of T cells in the blood sample which respond to HIV. Layering that data atop our transgene assay from Figure 1 gives us a measurement of how the fraction of cells which respond to HIV that are also modified by AGT103.
The rising streaks in the iv and v boxes show how the cells release interferon gamma in response to HIV peptides. The iv box shows the "helper" T cell response, which normally gets depleted during HIV infection. The v box shows the "killer" T cell response, which activates the direct cell-to-cell killing capacity needed to hunt down the viral reservoir. Without helper T cells, killer T cells can't get their "license to kill", so reinforcing a population of helper T cells with AGT103, and showing that they can coordinate with the killer cells bodes well for the future of AGT103-T.
Phase 1 trials for traditional medicines normally give various doses of a drug to healthy participants to identify a toxicity-dose relationship. Gene therapy Phase 1 trials like AGT's produce a lot more data; in trial participants who actually have the target condition. The data presented here shows good health of the trial participants, and persistent function of the modified T cells. An ATI study was also added to this Phase 1 trial where clinical trial participants were withdrawn from antiretroviral therapies. The ATI study provides the next logical step, bridging the data here to see how AGT103-T cells react to HIV presence inside the body. ATI data collection is ongoing, and we eagerly await the opportunity to present more data to you once the study is complete.