Transaction Trends 2022: A Good Time to be a Private Company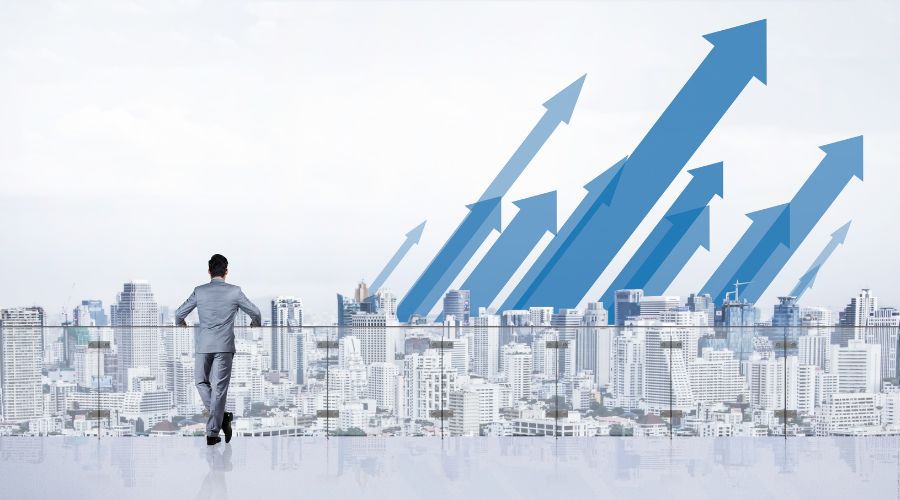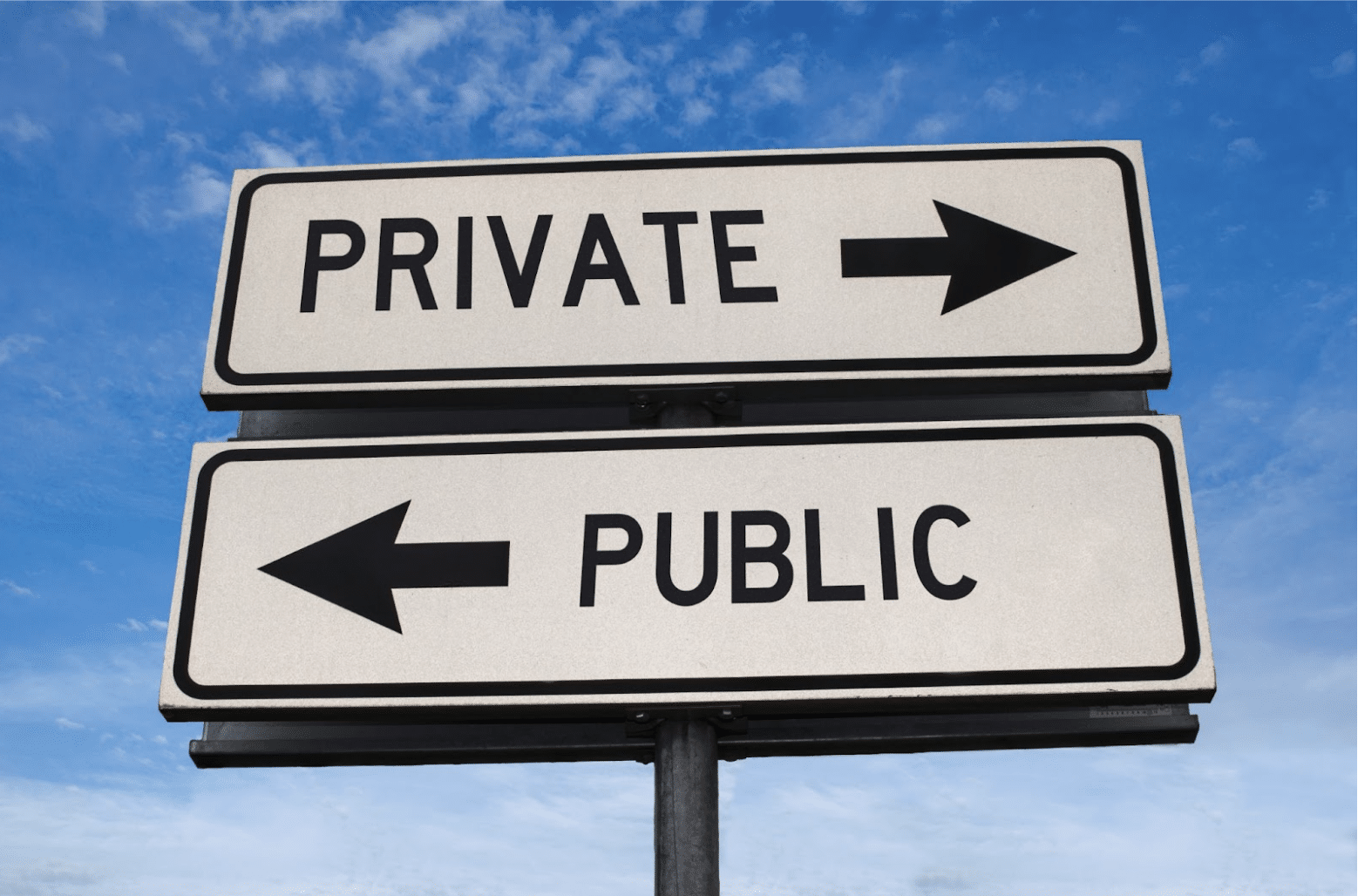 After a final burst of initial public offerings (IPOs) in early 2021, times have been difficult for life sciences public equities. S&P's small cap biotech exchange traded fund, the XBI, has declined from about 174 in February 2021 to about 76 today, a near 60% fall. Merger and acquisition (M&A) trends have been weak, few IPOs have been issued and equity prices have languished. This has led to difficult times for public life sciences companies that need to continually raise cash to fund their research and development programs. With declining equity prices, each additional dollar raised dilutes earlier shareholders. This occurs despite material advancements in clinical trial work which in many cases has demonstrated supportive safety and efficacy results and further de-risked development programs. Some companies have even run out of cash, failing to find investors despite having clinical programs that demonstrate proof of concept. 
Life sciences M&A activity was materially impacted last year with the 275 deals reported in 2021 declining to 177 in 2022.2 Despite the slowdown, the year finished on a strong note with the largest deal of the year between Amgen and Horizon Therapeutics announced mid-December. This almost $28 billion match-up gives Amgen access to Horizon's rare disease portfolio. This deal was more than twice as big as the next largest acquisition between CSL and Vifor Pharma Group where CSL paid $11.7 billion for exposure to nephrology, dialysis and iron deficiency indications. The size of the average deal was down sequentially, with the average $1.6 billion price tag in 2021 falling to $1.3 billion in 2022. Total deal value went from $202 billion to $109 billion year over year.
The difficult environment for public equities was also reflected in weak IPO activity. Compared to 2021, there were 181 IPOs in 2022 vs. 1,035 in 2021 and 480 in 20203 market wide. The change was even more dramatic in the life sciences where the 27 IPOs in 2022 represented an 81% decline from the 141 recorded in 2021.4 
With the material decline in value for public equities and slowdown in transaction activity, the private market has been relatively more attractive. There are a number of benefits to private company status which allow management more flexibility in pursuing strategic initiatives, less exposure to the whims of the market and fewer costs.
Equity Performance
Broader markets such as the NASDAQ and S&P 500 were down 33% and 18% respectively in 2022, while the NASDAQ biotechnology index (NBI) was down 11%, hitting its low in mid-June. The S&P Biotech Index's 188 constituents saw a 26% decline in the year, compounding 2021's 20% loss. The broader markets were largely impacted by inflation, supply constraints and conflicts in Eurasia. Despite a flare up of mpox, RSV, seasonal flu and COVID, investors largely ignored the impacts of viral disease, desensitized after two years of constant exposure. Interest rates rose. The 10-year started the year at 1.5%, increasing to over 4% by October and closing the year at 3.8%, causing dramatic impacts on interest rate sensitive assets such as housing, lending and cryptocurrency. 
S&P 500 Performance, 20225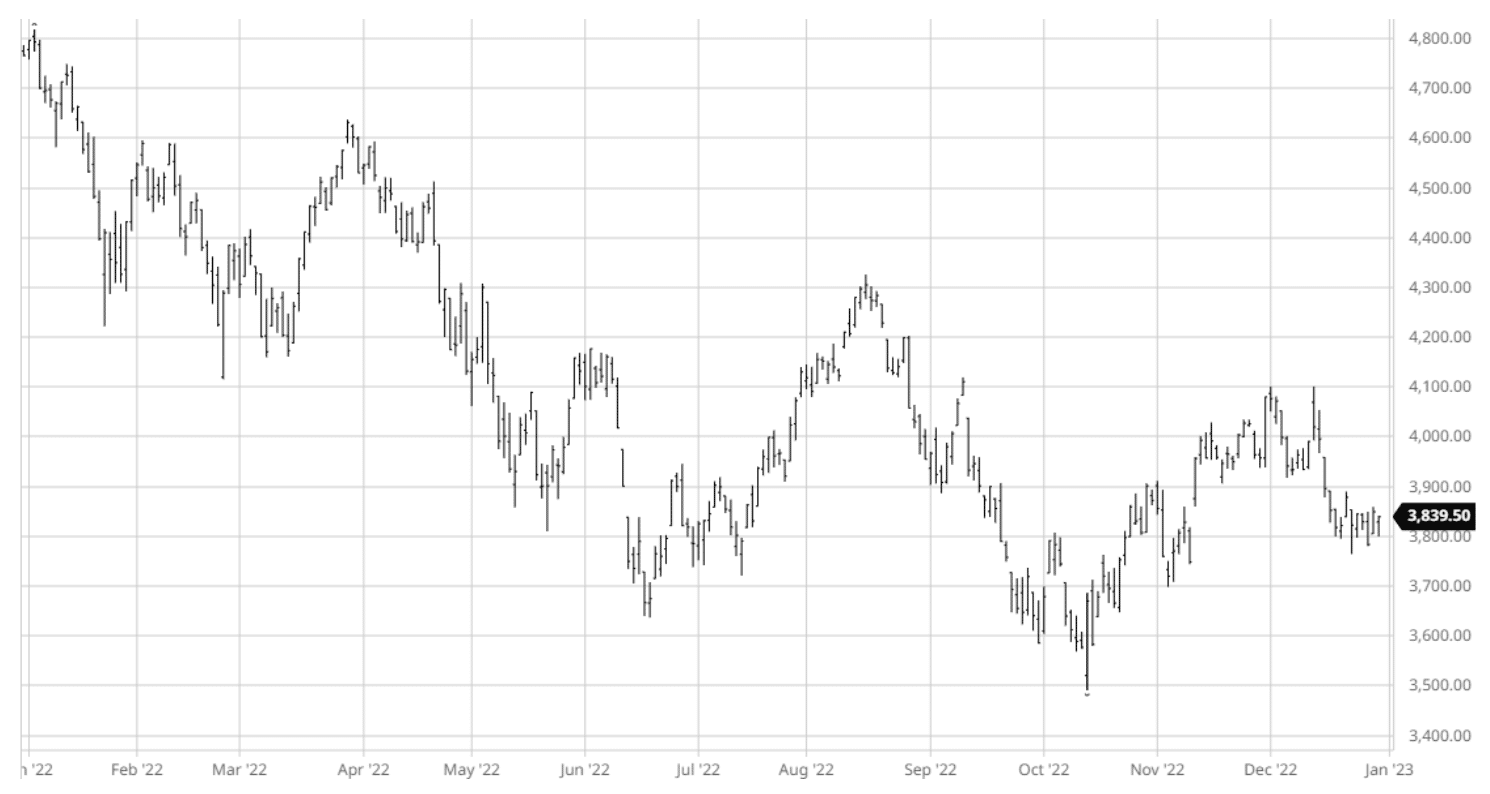 Despite the Fed's consistent interest rate increases throughout 2022, the unemployment rate continued to decline as jobs numbers improved consistently throughout the year. The unemployment rate started at 4.0% and fell to 3.4% by January 2023, improving 60 basis points over the twelve-month period. Labor force participation also strengthened slightly to 62.3% from 62.0% of the population from December 2021 to December 2022. 
US Unemployment Rate6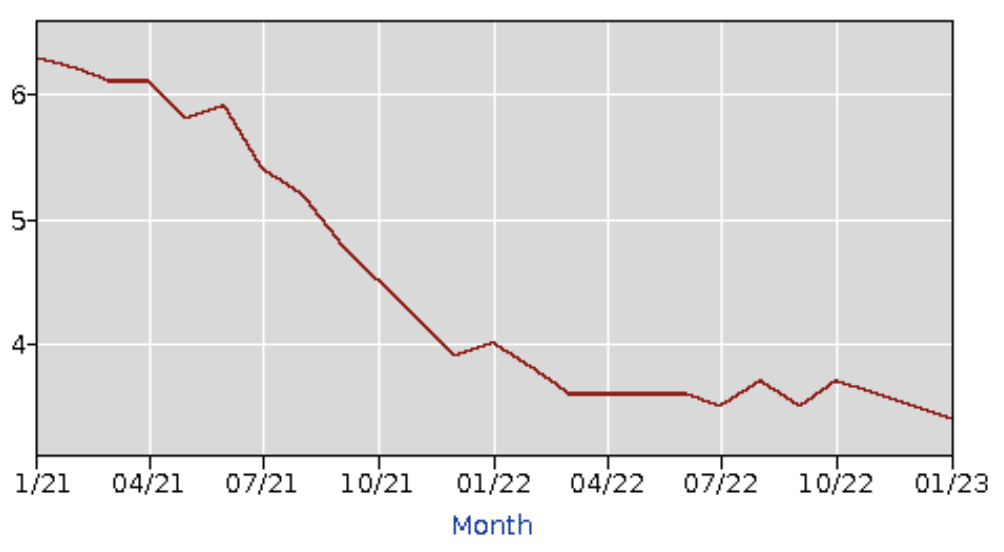 Market Recap
2022 was characterized by surging inflation, war and uprising around the globe, the implosion of cryptocurrency and a decline in markets. Cash and commodities were stand-out assets prompted by shortages and equities were down across all market cap ranges. Looking at S&P 500 sectors, only energy was positive for the year buoyed by high oil and natural gas prices. Consumer sectors were down the most, pressured by scarcity and rising input costs. Technology stocks were down due to valuation challenges and excess investment while real estate was impacted by rising interest rates. Investors were regularly informed that a recession was just around the corner; however, hiring and wage growth continued to be strong despite the efforts of the Fed to temper labor market exuberance. 
Nasdaq Biotechnology Index Performance, 20227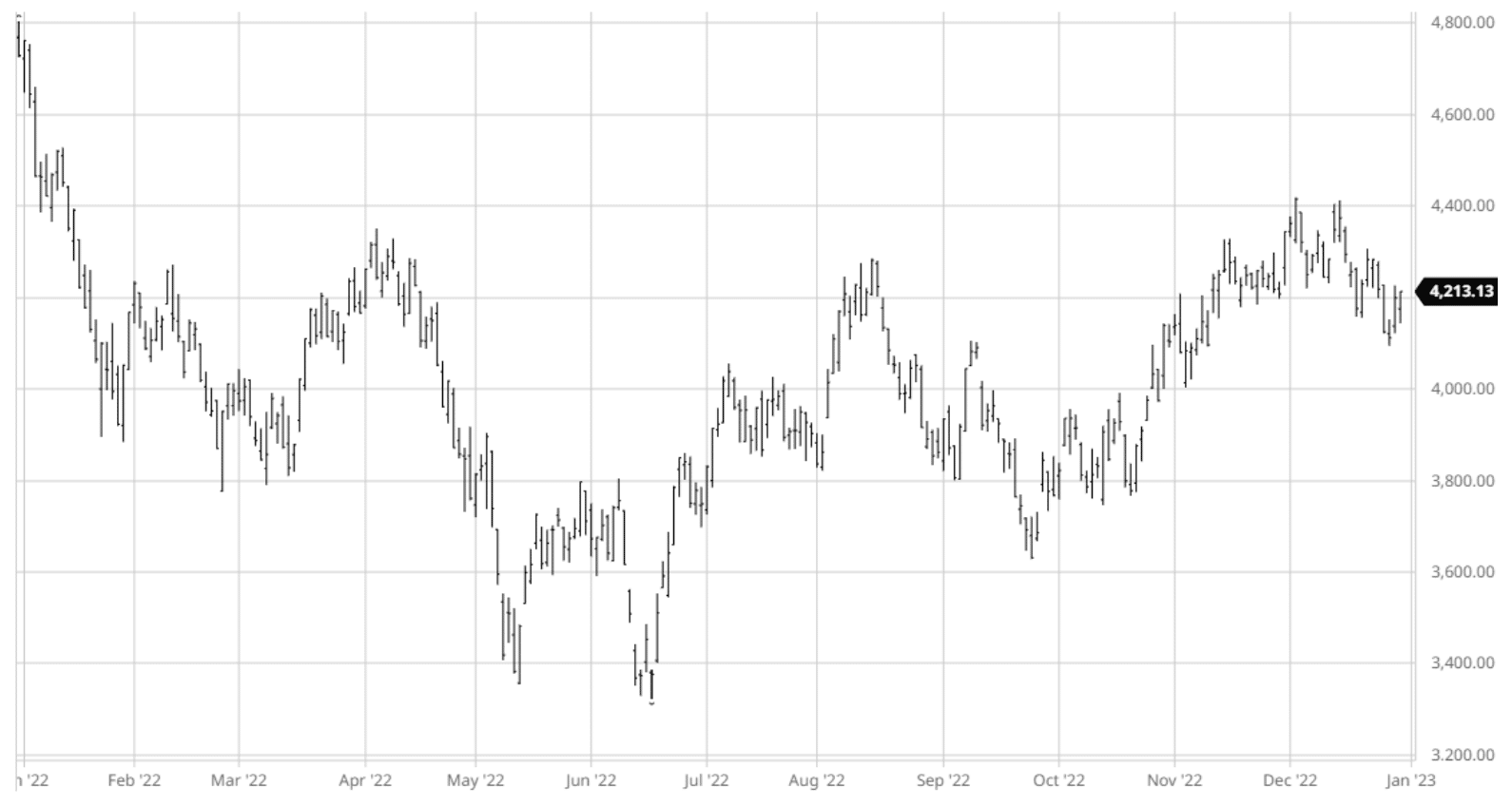 Private Markets
Public equity markets can be volatile and allow short term stakeholders to negatively impact company operations and perceptions through access or restriction to financing and activist efforts. While public markets are frequently seen as the most attractive for raising new capital, they can also give away the company to short-term opportunists who are not focused on long-term goals. These difficulties have been apparent for the last year or two as valuations have diverged from scientific progress in many public equities. We examine the benefits of being a private company and the challenges and costs that can be avoided by being private. In general, private companies are more closely owned, allowing for greater strategy synchronization. They also have fewer and lower costs as they are less regulated and are not required to make audited public disclosures. 
Flexibility
Private companies are frequently more closely held by investors with longer term investment horizons versus public companies. This allows the management team to focus on longer term goals and accept short term pain without a negative market reaction or broad investor turnover. The company can pursue long term growth and profitability without having to respond to volatility in stock price or activist investors with ulterior motives. 
Whims of the Market
Public companies offer shares that trade in the public market, which anyone can buy and sell. Short sellers can get involved to push the stock price down, harming the company's ability to raise equity capital. Activist investors can take advantage of short-term opportunities to make a quick buck at the expense of longer-term holders. This is in contrast to a private company whose valuation is more reliant on its prospects and that can be substantially more stable than that of public companies. Public companies are also subject to more scrutiny and are more likely targets of shareholder lawsuits. 
Fewer Costs
Becoming and remaining a public company is expensive. Not only are there substantial costs from an IPO, but public accounting costs, investor relations costs and listing fees all take a toll on corporate balance sheets. One expense that has expanded tremendously in the last few years is Directors and Officers (D&O) insurance. A public D&O policy will usually be more expensive and have higher retentions than a private counterpart due to historically higher claims activity. There are more stakeholders in public companies than private companies including shareholders, regulators and customers. Public company insurance provides broader coverage than a private policy, also adding to the cost.
Drawbacks of Being Private
While there are a number of benefits to being private, the lure of becoming public is always there. Access to new sources of capital, greater visibility for the company and its technology, and liquidity for shareholders are all draws for management teams to seek public markets and IPOs. 
Private is a Good Place to Be
While there are good reasons for going public, there are also several advantages to being private. The burden of filing financial statements and other disclosures is particularly heavy on early-stage companies. Public trading also exposes a company to market volatility, which has been commonplace over the last two years. The unpredictability can be detrimental, especially when cash is needed, exposing owners to the risk of severe dilution. Costs are also higher, draining resources which could be allocated towards research and development activities. Seeking a public listing enlarges the capital pool but also brings risks that can affect long term prospects.
M&A
Just because a company is private doesn't mean it won't be considered for merger and acquisition (M&A) activity. While a public company's market valuation and financial profile are available for all to see, private companies can take active efforts to share the story with the investing public. Developing a strong networking capability as well as consistent engagement with the financial media are other important complements to regular presentations at scientific meetings. 64% of the deals announced or closed in 2022 were private, giving an apparent M&A advantage to not being listed on an exchange.8 
M&A decelerated in 2022, which was somewhat of a surprise given the surfeit of cash that was on big pharma's balance sheets. However, it is likely that the volatile and conflictual environment, where valuations were steadily declining led potential buyers to take a wait and see attitude. 
2022 transaction and overall M&A value was down year over year; however, many sizable transactions and announcements took place. We list below the top 10 life science M&A deals in 2022, either
announced or closed. The deal value for all of the M&A tracked was $109.2 billion, with the largest deal (Horizon) making up over a quarter of the value for the 81 transactions which reported a price. 
Top 10 Life Science M&A Deals in 20229
| Date | Acquiror | Target | Deal Value |
| --- | --- | --- | --- |
| 12/12/22 | Amgen | Horizontal Therapeutics | $27,000 |
| 08/09/22 | CSL | Vifor Pharma Group | $11,700 |
| 10/03/22 | Pfizer | Biohaven Pharmaceutical | $11,600 |
| 03/11/22 | Pfizer | Arena Pharmaceuticals | $6,700 |
| 10/05/22 | Pfizer | Global Blood Therapeutics | $5,400 |
| 08/17/22 | Bristol Myers Squibb | Turning Point Therapeutics | $4,100 |
| 08/04/22 | Amgen | ChemoCentryx | $4,000 |
| 08/16/22 | GSK | Affinivax | $3,300 |
| 10/02/22 | Sumitomo Pharma | Myovant Sciences | $2,900 |
| 01/01/22 | Consortium of Investors | Pharmathen | $1,885 |
Looking at the big picture for 2022, as expected, most acquisitions fell into the oncology space. Not surprisingly, inflammatory and autoimmune disease and generics were the next most common. Gene therapy was number four and the following place was shared by vaccines, rare disease and cell therapy. We saw a large number of deals with no financial values attached that were largely sales of business units and private company transactions in a variety of manufacturing areas, consumer brands and geographic focus points.
Leading Transactions
Amgen was incentivized by the Horizon M&A opportunity to offset some of the patent expirations it is expecting over the next several years. Amgen bid against Johnson & Johnson and Sanofi for the rare disease company for its focus on rheumatology, gastroenterology, neurology, oncology and other specialty areas. Amgen also picked up ChemoCentryx which focused on autoimmune diseases, inflammatory disorders and cancer. The $4.0 billion price tag provides access to ChemoCentryx' chemokine receptor platform which supported the development of small molecules vercirnon and avacopan among others. 
The Australian CSL bought the Swiss-based Vifor Pharma for $11.7 billion, closing the deal in August 2022. Vifor provides assets in nephrology, dialysis and iron deficiency therapies to CSL's plasma business and verticals in hematology, immunology and intensive care. The combination is expected to help expand Vifor's products into new geographies. 
With overstuffed coffers of cash from the COVID vaccine, Pfizer was busy on the acquisition front, closing five transactions in 2022, of which three were in the top 10. Biohaven was the largest, adding its calcitonin gene-related peptide drug franchise, tipping the scales at $11.6 billion. Arena Pharmaceuticals was another target. Pfizer was attracted to Arena's gastroenterology, dermatology, and cardiology pipeline. Another draw was etrasimod, an oral, selective sphingosine 1-phosphate (S1P) receptor modulator in development for a range of immuno-inflammatory diseases. Pfizer shelled out another $5.4 billion for Global Blood Therapeutics, expanding its exposure to sickle cell disease and beta-thalassemia therapies. The target holds several orphan and rare disease designations. 
Bristol Myers paid $76/share or $4.1 billion in cash to acquire Turning Point Therapeutics, a leader in precision oncology. Turning Point's lead asset, repotrectinib, is a ROS1 positive non-small cell lung cancer (NSCLC) therapy in a registrational Phase I/II trial. It has shown durable clinical activity in tyrosine kinase inhibitor (TKI)-naïve or TKI-pretreated patients with ROS1 fusion–positive NSCLC. Readers may recall Turning Point from our 2019 IPO review when it debuted at $18/share.
London-based GSK is another top 10 acquirer, picking up Affinivax for $3.3 billion. The tie-up will help GSK expand into next-generation pneumococcal vaccines. GSK will gain the Multi-Antigen Presenting System (MAPS) platform technology which is designed to help improve the efficacy and durability of vaccine responses by presenting multiple antigens on a single particle. This approach may elicit a stronger and more sustained immune response compared to traditional vaccines and could address some of the limitations of existing vaccine technologies.
Japan-based Sumitomo Pharmaceuticals made a bid for Myovant Sciences, offering $2.9 billion for the portfolio of therapies for women's health and endocrine disorders. Myovant's lead product candidate is relugolix, an oral GnRH receptor antagonist that is being developed for the treatment of uterine fibroids, endometriosis, and prostate cancer.
Partners Group acquired Pharmathen, a contract development and manufacturing organization (CDMO), for $1.9 billion.10 The company specializes in the development of sustained release technologies such as long-acting injectables, slow-releasing oral medicines and ophthalmics.
IPOs
Increasing interest rates have made capital more dear. Combined with follow-on financing needs that surged in the year after the huge influx of new, capital-hungry IPOs in 2020 and early 2021, there has been little space for new issues to obtain financing in a declining market. 2022 began optimistically with five IPOs, but the pace slowed by February with the remainder of the year averaging just under two per month. 
Annual IPO Activities by Year, All US Sectors11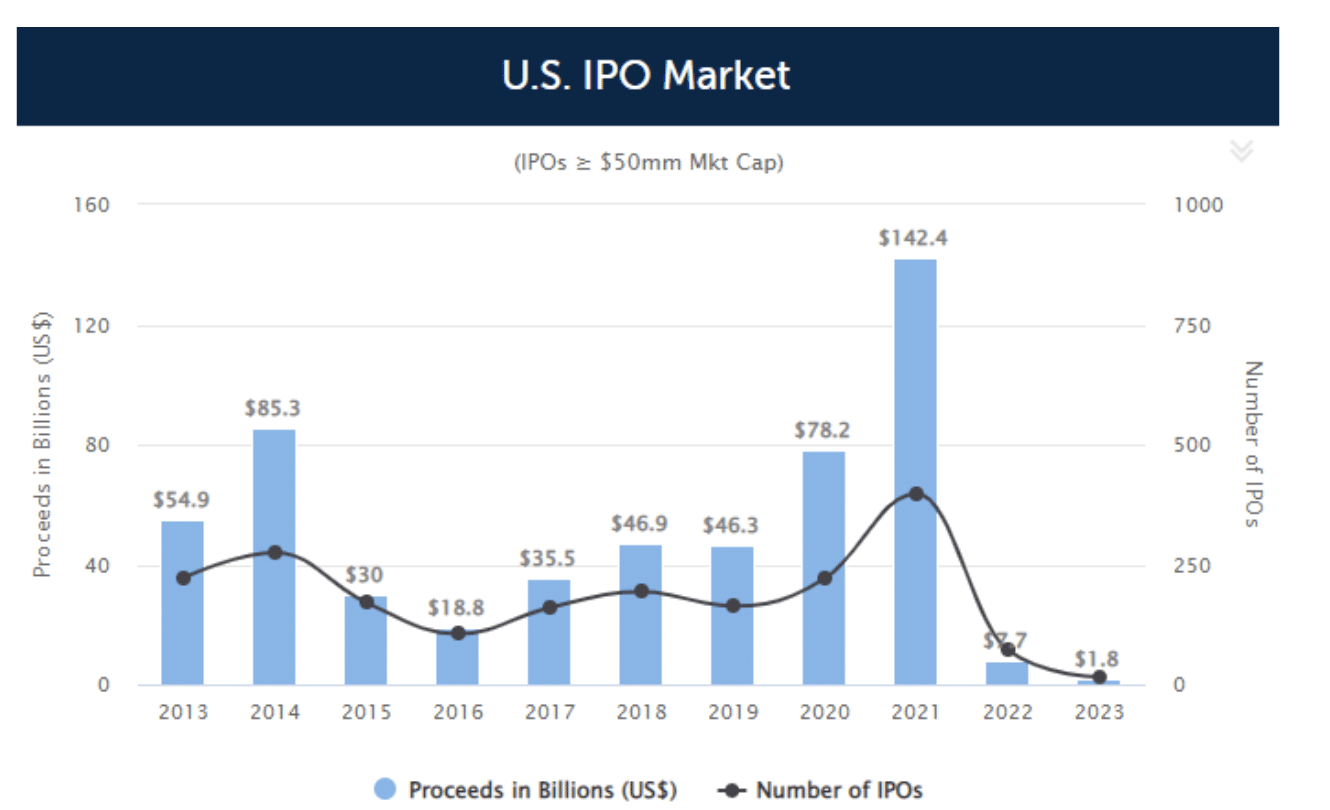 Evidence of the difficult markets was apparent in the dramatic slowdown in IPO activity in 2022. After 147 life sciences IPOs in 2021, we saw only 27 in 2022. 2022's entries included companies ranging in market capitalizations from $3 million to $630 million, a far cry from 2021, where the average value was $520 million. 
IPO Industry Breakdown, Last 12 Months Ending February 20, 202212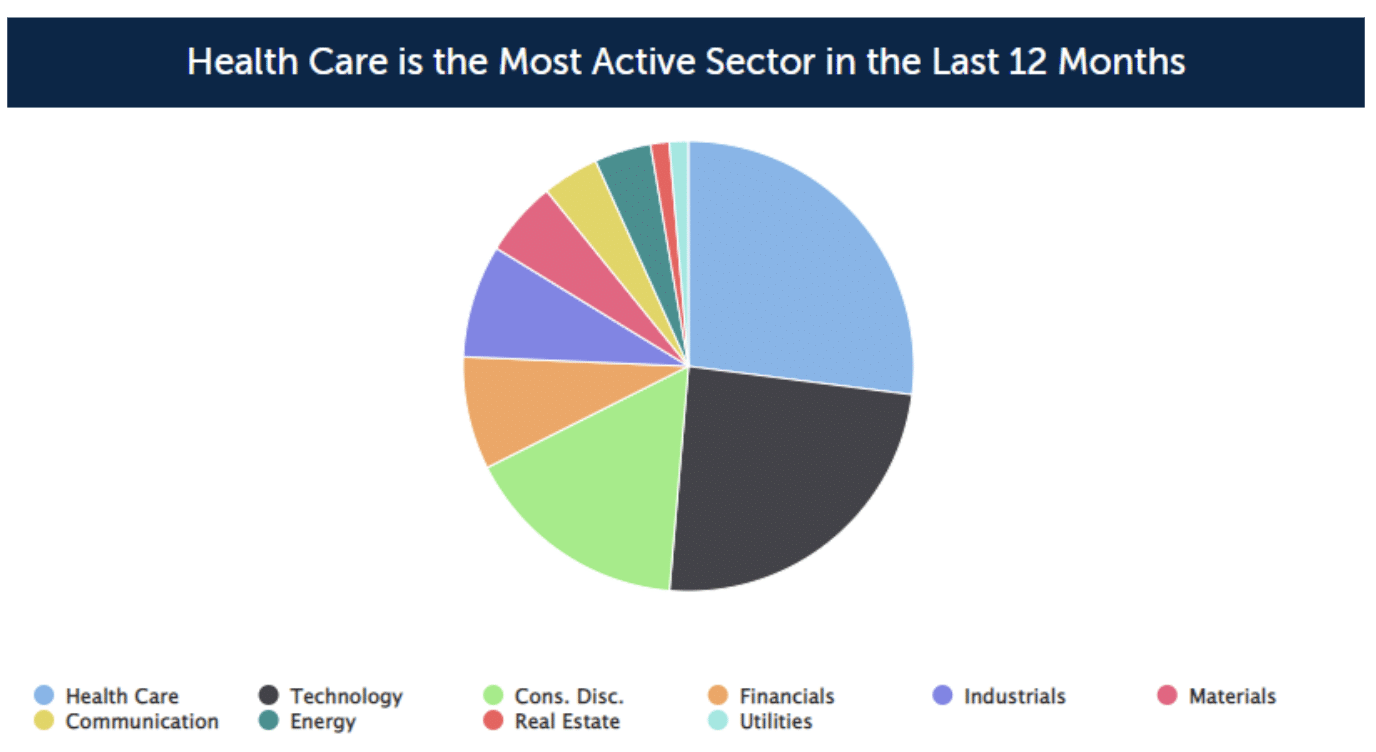 Life Sciences IPO Trends
2022 life sciences IPOs were most frequently in the CNS and neurodegenerative space. Inflammation, oncology and ocular disease were other categories of interest for investors last year. This compares with 2021 trends which saw oncology as the leading category by far, followed by gene and cell therapy, then CNS and neurodegenerative disease. Diagnostic testing was another area with multiple new issues in 2021 which also appeared a couple times in 2022. 
The value raised in 2022 IPO transactions was $2.4 billion, substantially below 2021 levels. 
2022 Initial Public Offerings13
| IPO Date | Ticker | Company | Space | Raised (SMM) |
| --- | --- | --- | --- | --- |
| 01/06/2022 | AMLX | Amylyx Pharmaceuticals | CNS, Neurodegen, ALS | $190 |
| 01/07/2020 | CINC | CinCor Pharma | Cardio-renal disease/hypertension | $194 |
| 01/11/2020 | VIGL | Vigil Neuroscience | CNS/Neurodegen/microglia restoration/AD | $98 |
| 01/11/2022 | HILS | Hillstream Biopharma | Oncology | $15 |
| 01/14/2022 | GLS | Gelesis Holdings | Obesity/GI Chronic disease | $105 |
| 02/04/2022 | ACLX | Arcellx | Oncology, immuno- | $142 |
| 02/18/2022 | AELIS | Aelis Farma | CNS, Brain Disease | $28 |
| 03/26/2022 | ANTX | AN2 Therapeutics | Infectious Disease, Lung | $69 |
| 04/05/2022 | MLTX | MoonLake | Inflammation/Nanobody therapy | $230 |
| 04/29/2022 | BLTE | Belite Bio | Ocular, age related macular degeneration | $36 |
| 04/29/2022 | HLVX | HilleVax | Vaccines, gastroenteritis | $200 |
| 05/06/2022 | BLCO | Bausch & Lomb | Eye health products | $630 |
| 05/07/2022 | PEPG | PepGen (US) | CNS, Neuromuscular disease, DMD | $108 |
| 05/17/2022 | OKYO | OKYO Pharma | Ocular, inflammatory eye disease | $3 |
| 07/21/2022 | VRAX | Virax Biolabs Group | Test Kits | $7 |
| 07/28/2022 | MAIA | MAIA Biotechnology | Oncology, NSCLC | $10 |
| 08/27/2022 | PXMD | PaxMedica | CNS, autism | $8 |
| 8/31/2022 | SHPH | Shuttle Pharmaceuticals | Oncology | $10 |
| 09/06/22 | BIAF | bioAffinity Technologies | Lung cancer test | $8 |
| 09/16/2022 | KNW | Know Labs | MedTech, Biosensors | $8 |
| 09/16/2022 | THRD | Third Harmonic Bio | Inflammatory/Allergy Disease | $185 |
| 11/15/2022 | ACRV | Acrivon Therapeutics | Oncology, Precision | $99 |
| 11/15/2022 | CMND | Clearmind Medicine | Addiction, psychadelic meds | $8 |
| 12/19/2022 | LIPO | Lipella Pharmaceuticals | Generics, reformulation, tacrolimus | $7 |
| 12/29/2022 | COYA | Coya Therapeutics | CNS, Neurodegen, ALS, Treg biologics | $15 |
What Does 2023 Hold?
In many circumstances, declining markets beget declining markets without strong catalysts to drive them in the other direction. Global conflict, inflation, supply constraints and rising interest rates have been headwinds that limited new investment despite the consistent advance of science. We've been in this environment for a while as buyers wait for markets to settle and valuations to become even more attractive. However, there is a substantial amount of M&A "firepower," as Ernst & Young terms it, totaling $1.4 trillion as we begin 2023.14  Buyers have a lot of cash and need to address patent cliffs through either internal or inorganic avenues. The pharma and biotech industry as a whole is facing declining growth rates and needs to offset this with investment in new innovation in cell and gene therapies, mRNA, new technology platforms, new geographies and other venues. According to a KPMG survey, over 60% of life sciences investors plan to increase M&A in 2023.15 NASDAQ contributor Dmytro Spilka is optimistic on an improvement in IPO volume, but thinks it will be back half weighted and require lower volatility before recovering.16 IPO trends for 2023 have started at a markedly faster pace than in 2022 with 15 life sciences deals announced in the first three months of 2023, foreshadowing a better year ahead.
Life science company valuations look better than two years ago and many programs have developed stronger safety and efficacy profiles for their candidates, which means the market is as attractive as ever. A pickup in M&A could help all areas of investment, driving up valuations and providing the support needed to get new IPOs on the exchanges. Add to this increased confidence about FDA timelines and more certainty in the regulatory process, and we have a recipe for an improvement across the board in life sciences.
1 Shutterstock.
2 Source: Evaluate Pharma, January 2022, and January 2023, Evaluate Ltd. and author's work. In this summary we include all reported deals, including those below $100 million and ones where no value was provided. Includes acquisitions, sale of business unit, as well as minority and majority stakes,
3 Source: Statista Research Department. Accessed February 2023.
4 Based on our data collection.
5 Source: barchart.com
6 Source: U.S. Bureau of Labor Statistics
7 Source: barchart.com
8 Source: Evaluate Pharma Data. 257 of 404 listed transactions in 2022 were classified as private.
9 Source: Analyst compilation of data provided by Evaluate Pharma Ltd. 2023.
10 Using prevailing Euro/USD exchange rates.
11 Source: Renaissance Capital Website. Note that Renaissance presents a different listing of IPOs that our other sources and the total numbers differ.
12 Data is for trailing 12 months as of February 10, 2023. Source: Renaissance Capital Website. 
13 Compiled by author
14 E&Y Press Release, January 9, 2023. Firepower 2023: Life sciences M&A target bolt-ons and alliances but major deals are on the agenda entering 2023