The Berlin Patient's Success Produces A Flurry of Activity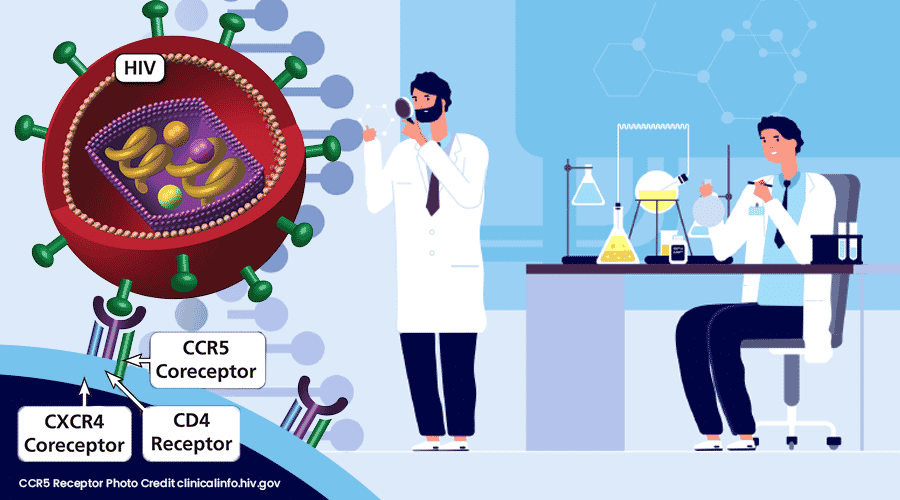 The Berlin Patient's success provided optimism that there was a way to permanently disable HIV and eradicate it from an infected person.  While a bone marrow transplant is not appropriate for most HIV patients, what we have learned from his experience has provided us clues to find a cure.  Removing the door handle HIV uses to gain entry to immune cells may be the right technique. Using gene therapy to eliminate the CCR5 receptor on immune cells could be an alternate method that does not require a risky and difficult stem cell transplant.  In our penultimate installment of the Arc of HIV History we examine two gene therapy trials that advanced our understanding of treating HIV and review two additional patients that were able to achieve a functional cure receiving donor stem cells with the CCR5 deletion.
The Berlin Patient's Success Produces A Flurry of Activity
With an important milestone in the rearview mirror and clarity on the course ahead, the Berlin patient's success invigorated new efforts to eliminate the CCR5 receptor.  Stem cell replacement cannot be practiced widely because of its risk, complexity and requirement for a highly compatible donor.  Many patients who received bone marrow transplants to address both cancer and HIV died shortly after the procedure,1 accentuating the peril of this approach.  However, gene therapy is a viable alternative that can delete the CCR5 receptor and is dramatically safer.  This opportunity has inspired advocates to develop this method into a dependable, efficient and repeatable therapy to eradicate HIV infection.
The Berlin Patient's functional cure gave hope and inspiration that, although difficult, there was a way to eradicate HIV and eliminate the need for ongoing anti-retroviral therapy.  The ability to modify gene expression by altering DNA gave rise to several efforts using gene-based therapies.  Some of the gene therapy clinical trials underway have helped illuminate the path forward and we highlight two recent efforts targeting CCR5: Sangamo's efforts with zinc finger nucleases (ZFNs) and Calimmune's2 short hairpin RNA (shRNA) approach.  What has been achieved in their work will pass on to others, providing both the motivation and the data to deliver a cure.
California-based Sangamo BioSciences (now Sangamo Therapeutics) has been working on gene-editing research since 1995 and uses a gene editing technique called zinc-finger nuclease (ZFN) to modify DNA.  Early work by the company sought to validate the ZFN approach aided by partnerships with Biogen and Shire.  Dr. Carl June, an American immunologist and oncologist, began working with the company and directed a trial using ZFN to disrupt CCR5 receptor expression on immune cells.  Details of the research were published in the New England Journal of Medicine and summarized in a news release.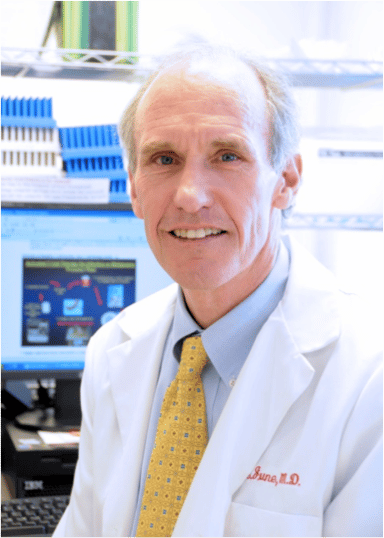 Between 2009 and 2012 Sangamo conducted a Phase I trial at the University of Pennsylvania that enrolled 12 HIV-positive patients.  The experimental therapy was called SB-728-T and used an ex vivo process to modify the patients' T cells to delete expression of CCR5 proteins on the surface.  The altered T cells were then infused back into the patients.  The procedure transferred approximately 10 billion cells into each of the subjects and up to a quarter of them were genetically modified.  Four weeks after infusion, half of the patients discontinued antiretroviral therapy (ART) for up to 12 weeks.  At the one week post-infusion follow up, testing indicated a spike in modified T cells and in subsequent weeks the modified T cells declined at a slower rate than unmodified cells suggesting that the HIV resistant cells were functioning properly.
At the start of the treatment interruption, viral load was undetectable in all six patients in the first group.  Viral load became detectable in four of six patients and ART treatment resumed.  One patient that was later found to be heterozygous for CCR5 Δ-32 saw a small rise if viral load six weeks after the treatment interruption, but it did not rise above the pretreatment viral set point.  After this, the heterozygous patient experienced a decline in viral load back below the limit of detection and no longer needed antiretroviral therapy to maintain HIV control.
In December 2015, Sangamo provided an update on the Phase II portion of the trial which found two of three patients enrolled were able to remain off of ART for over one year.  The therapy was seen as providing immune stimulation to the fight against infection and protecting the immune system by strengthening CD4+ and CD8+ T cells and enabling durable immunological control of HIV.  Delivery of SB-728-T was performed using an adenoviral formulation and electroporation.  Sangamo eliminated the CCR5 gene, expanded modified T cells in the body, generated durable gene edited cells, increased CD4+ T cells counts and diminished the HIV reservoir with its ZFN approach in HIV patients who interrupted their ART.
Most of the patients in the trial experienced an increase in CD4 T cells with an initial high degree of modification and persistence in T stem cells.  While one mono-allelic patient achieved undetectable viral loads, the other patients were not able to achieve persistent control.  Since the T cells have a finite life, their impact is not expected to last forever.  To address this shortcoming others resorted to hematopoietic stem cells, whose progeny can repeatedly differentiate into any immune cell.
Normal CCR5, Heterozygous and Homozygous CCR5 Δ-32 Mutation4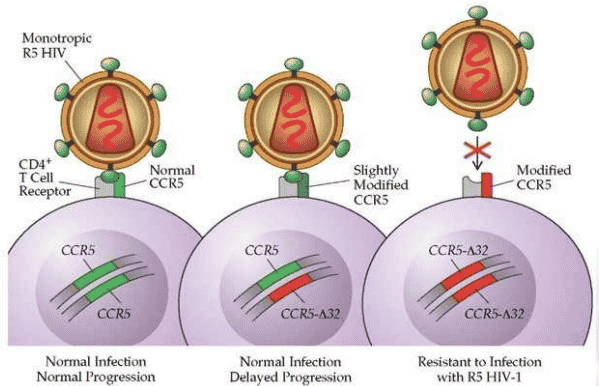 Sangamo scientists recognized the importance of eliminating the CCR5 receptor and observed that persons homozygous for CCR5 delta 32 deletion are resistant to HIV.  The persons heterozygous for CCR5 delta 32 have slower progression of HIV.  Analysis of the study concluded that successful clinical application of a gene therapy will most likely depend on biallelic knockout in persons with two normal CCR5 alleles.  Sangamo's program remains active and its results have provided data supporting the next stage of therapy.
In 2013, Pasadena-based Calimmune began a Phase I/II trial in San Francisco and Los Angeles supported by5 the state-funded California Institute for Regenerative Medicine (CIRM).  The clinical-stage company was founded by Nobel Laureate, Dr. David Baltimore and Dr. Irvin Chen to ad­vance cell-based therapies for HIV.  The HIV treatment, designated Cal-1 or LVsh5/C46 is an autologous gene therapy seeking to reduce CCR5 expression through the use of an integrated gene containing RNA interference (RNAi) and a fu­sion inhibitor.  Cal-1 uses a lentiviral vector that encodes for both a short hairpin (sh) RNA against the HIV-1 co-receptor CCR5 (sh5) and a HIV-1 fusion inhibitor, C46, that inhibits HIV replica­tion processes.  The modifica­tion carrying the RNAi was administered to both the T cells and the stem cells, with the intention to enable stem cell progeny to also harbor the CCR5 deletion.  The first patient was in­fused with the Cal-1 treated T cells and hematopoietic stem/progenitor cells (HSPC) in June 2013.

The treatment used the standard ex vivo transduction process of:
Apheresis of HIV patient
CD4+ T cell isolation with CliniMacs
Lentiviral transduction
Harvest of transduced immune cells
Infusion of genetically modified cells
One of the goals of the Calimmune approach was to test different levels of conditioning to prepare the bone marrow to receive the modified cells.  The study examined three cohorts using no, moderate levels and high levels of the conditioning agent busulfan.  The Cal-1 lentiviral vector was combined with a C46 fusion inhibitor which provides a complementary mechanism of action by preventing gp41-mediated fusion and entry into the infected cell.  The primary readout was taken at week 12 to measure reconstitution and safety.  In total 13 patients were enrolled in the study and four patients completed the treatment regimen.
Calimmune's LVsh5/C46 Lentiviral Vector7

Calimmune was acquired by CSL Behring in 2017 and work continues to evaluate the safety and feasibility of Cal-1.  Completion of the active trial is expected in 2024 as indicated in the company's clinical trials filing.  Scientists learned that conditioning was needed to improve efficiency of the process and that gene therapy could be safely used to address HIV.
The London and Düsseldorf Patients
As more efficient practices were pursued to provide a functional cure for HIV patients, bone marrow transplants continued which have produced further successes in addressing both the blood cancer and HIV.  In March 2019 scientists separately announced two new functional cures of HIV for patients that had received bone marrow transplants.
The Berlin patient, who we earlier introduced as Timothy Ray Brown, endured a difficult procedure to address both cancer and HIV and many in the field were not sure whether the permanent suppression of HIV without ongoing ART was replicable.  Was Mr. Brown's viral suppression a serendipitous outcome or could it be done again?  Concerns were set aside when in March 2019 the journal Nature announced the functional cure of the London Patient, a second HIV-positive individual.  Similar to the Berlin Patient, he underwent a stem cell transplant to treat blood cancer and was pronounced functionally cured after 18 months of HIV suppression after leaving ART.  Compared to the approach used with Mr. Brown, the London Patient had a milder conditioning regimen that did not include irradiation.

In March of 2020, the London Patient went public with his identity, introducing himself as Adam Castillejo a Venezuelan living in England. Adam was diagnosed with HIV in 2003 and with Hodgkin lymphoma in 2012. After progressing on chemotherapy, Mr. Castillejo underwent a bone marrow transplant from a donor with the homozygous CCR5 mutation in 2016. Adam's hematopoietic stem cells were replaced with the donor's which were able to successfully graft and differentiate into CD4+ T cells. As hoped, the daughter T cells did not express CCR5 thereby providing immunity to HIV infection. Sixteen months after the transplant, Adam stopped taking ART and the HIV has remained undetectable since.9
A few weeks after the London patient's introduction, a third instance of long term viral remission of HIV was reported in the journal Lancet.  The Düsseldorf patient, a 50-year old man originally diagnosed with HIV in Germany, maintained an undetectable level of HIV without the use of ART after a transplant.  Similar to the approaches used with the Berlin and London patients, allogenic stem cells with the CCR5 Δ-32 mutation replaced malignant bone marrow.  The patient was initially diagnosed with cancer in 2011 and after standard chemotherapy, relapsed in 2012 after which the decision was made to perform the bone marrow transplant.  It was successful and after several years of ART, the drug regimen was ended in 2018.  The patient was followed after ceasing ART and the HIV remained undetectable.  While he has only been ART free for two years, initial assessments are hopeful that this, as yet, unidentified patient will also be able to permanently suppress HIV without medication.

The work that has been accomplished in the last decades demonstrates the importance of the CCR5 co-receptor for HIV infection.  The risk and complexity of stem cell transplant has shifted practical efforts toward other solutions that can delete the CCR5 receptor.  Work from Sangamo, Calimmune and others has helped advance understanding of an improved gene therapy technique that disrupts the instructions coding for this critical receptor.  We have learned the importance of targeting HIV-specific T cells to remove CCR5, attacking HIV's replication processes from multiple directions and transducing and reinfusing an exponentially larger number of HIV-protected T cells in the patient.  Some have feared that Timothy Ray Brown's success was unique; however, subsequent stem cell transplant cures have been achieved, providing further evidence that eliminating CCR5 can have a durable effect on HIV.  The development of a solution for any complex problem relies on steady discoveries over time.  We have included some of the key achievements in the ongoing effort to identify a cure for HIV and believe they will contribute to the eventual remedy leading up to our fourth and final chapter that explores one of the most promising efforts in gene therapy to cure HIV.  American Gene Technologies (AGT) is now conducting a Phase I study that is expected to infuse its first patient in early 2021.  In our next installment we'll provide background on AGT's efforts and a map of where they are going.
1 Deaths were from a variety of causes including from the cancer, graft vs. host disease and other complications not necessarily related to HIV.
2 Calimmune has since been acquired by CSL Behring.
3 Source: Penn Medicine Website, June Lab. https://www.med.upenn.edu/cci/junelab/
4 Source: HIV and AIDS Part 2, what-when-how.com
5 The CIRM award was for $8.3 million
6 Source: BioRender.com
7 Wolstein, O. et al. Preclinical safety and efficacy of an anti–HIV-1 lentiviral vector containing a short hairpin RNA to CCR5 and the C46 fusion inhibitor. Mol Ther Methods Clin Dev. 2014
8 Source: ©User: Colin / Wikimedia Commons / CC BY-SA-4.0
9 As of March 2020, HIV had been undetectable for 30 months.
10 Source: https://www.duesseldorf.de/international/tourism/discover.html