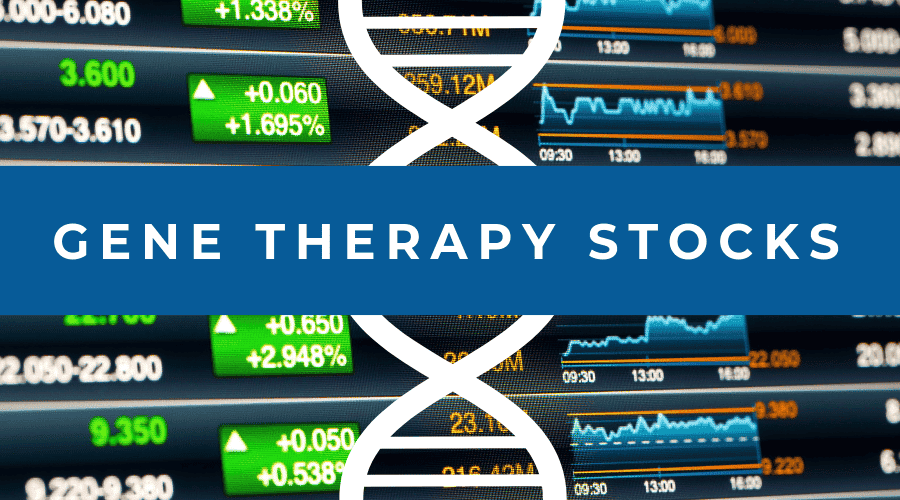 Why has gene therapy become so significant within the last five years? While it is not well-known, the genes we are born with can be flawed and there are >7000 genetic diseases in the world today. These genetic diseases result in the loss of critical enzymes or proteins in our bodies. Loss of normal proteins and enzymes can lead to disease conditions that range from mild to deadly.
Although these diseases are considered rare, one-in-ten people have a rare disease. The total cost of treatment is between $2 Trillion and $4 Trillion per year; or as much as 40% of global healthcare spending. Gene therapy provides an alternative to lifetime palliative treatment of these rare diseases. Gene therapy gives us the ability to replace or edit defective genes to relieve the underlying cause of these conditions.
Gene therapy public companies have been gaining ground, raising funds, and merging with larger companies. The race to purchase gene therapy developers is intensifying by Pharma companies. Over the past two years, some notable acquisitions include the following:
These acquisitions are gaining the attention of investors. For a list of the public gene therapy stocks currently being traded in the marketplace, see below:
| COMPANY NAME | TICKER | FOCUS AREA/PORTFOLIO | PUBLIC |
| --- | --- | --- | --- |
| Abeona Therapeutics, Inc. | NASDAQ:ABEO | Sanfilippo syndrome types A and B | Public |
| Applied Genetic Technologies Corporation | NASDAQ:AGTC | Diseases caused by broken genes | Public |
| Arcturus Therapeutics Ltd. | NASDAQ:ARCT | Treatment of liver and respiratory diseases | Public |
| Audentes Therapeutics | NASDAQ:BOLD | Rare muscle diseases | Public |
| Avrobio | NASDAQ:AVRO | Cancer and rare diseases | Public |
| BioMarin | NASDAQ:BMRN | Develops and commercializes innovative biopharmaceuticals for serious diseases and medical conditions | Public |
| Bluebird Bio | NASDAQ:BLUE | Genetic and orphan diseases | Public |
| BridgeBio | NASDAQ:BBIO | Genetic Diseases | Private but set to go Public |
| CRISPR Therapeutics | NASDAQ:CRSP | Sickle cell disease | Public |
| Editas Medicine, Inc. | NASDAQ:EDIT | Treat the underlying cause of a broad range of diseases at the genetic level | Public |
| Genprex, Inc. | NASDAQ:GNPX | Cancer | Public |
| GenSight Biologics | EPA:SIGHT | Retinal degenerative diseases | Public |
| Krystal Biotech, Inc. | NASDAQ:KRYS | Rare debilitating disorders | Public |
| LogicBio Therapeutics, Inc. | NASDAQ:LOGC | HIV/AIDS and methylmalonic acidemia | Public |
| LYSOGENE | EPA:LYS | Severe genetic pathologies with central nervous system involvement and high unmet medical needs | Public |
| Neurologix, Inc. | OTCPINK:NRGXQ | Disorders of the brain and central nervous system | Public |
| Nightstar Therapeutics | NASDAQ:NITE | Rare inherited retinal diseases | Public |
| Orchard Therapeutics | NASDAQ:ORTX | Metachromatic leukodystrophy, Wiskott Aldrich syndrome, X-linked chronic granulomatous disease | Public |
| Oxford BioMedica | LON:OXB | Lentiviral vector and cell therapy research | Public |
| REGENXBIO Inc. | NASDAQ:RGNX | Metabolic disorders, muscle diseases, hematologic disorders, and ocular diseases | Public |
| Roche | SWX:ROG | Cancer and transplantation | Public |
| Solid Biosciences | NASDAQ:SLDB | Duchenne muscular dystrophy | Public |
| Spark Therapeutics | NASDAQ:ONCE | One-time gene therapy products for debilitating diseases | Public |
| Tocagen | NASDAQ:TOCA | Treating a primary tumors and metastatic diseases | Public |
| uniQure | NASDAQ:QURE | Genetic or acquired diseases | Public |
| Vical Inc. | NASDAQ:VICL | DNA vaccines and non-viral gene therapy | Public |
| Voyager Therapeutics | NASDAQ:VYGR | Neurological diseases | Public |
In the last 5 years, there has been a significant surge in private gene therapy companies becoming publicly traded. Some examples of companies reportedly considering going public are as follows:
BridgeBio expects to go public with an offer of $225 Million, after a $299.2 Million financing round in January 2019. It will use the IPO proceeds to fuel its research. They opted for a NASDAQ symbol "BBIO" (March 2019 MedCityNews Article)
Prevail Therapeutics is eyeing a $100 million IPO and plans to use the IPO proceeds to fuel its Phase 1/2 study of its lead candidate. It has filed an IND to the FDA to begin clinical trials and has opted for a NASDAQ symbol "PRVL" (March 2019 Xconomy Article)
Atreca will be submitting an FDA IND application to test its lead experimental drug by the end of 2019. Following its $125 million third round of private fundraising, the preclinical biotech company aims for a $100 million public offering debut. If successful, Atreca is planning to list under the symbol "BCEL" (March 2019 EndPoints Article)
Why are private gene therapy companies moving toward filing an Initial Public Offering (IPO)? Some wish to 'strike while the iron's hot.' The IPO window is currently open. With gene therapies getting FDA approval, and with the attractive returns on valuation that come with these approvals, investments in developing gene therapy companies are attractive.
There are many considerations for a private company to evaluate before deciding to go public. For instance, research and development require a lot of funding. Is the funding available to the company from private sources? If not, public markets are well-suited to supply the needed capital. Or, early-stage investors may desire the liquidity offered by a publicly listed company. For companies, the decision to "go public" is not done lightly.
Yet, the above transactions and the breakthroughs made in gene therapy have made the last five years significant for the industry. The stage is set for the next five years to be incredible!
Resources, Articles, and Links to Company Sites: