FDA Gene Therapy Approvals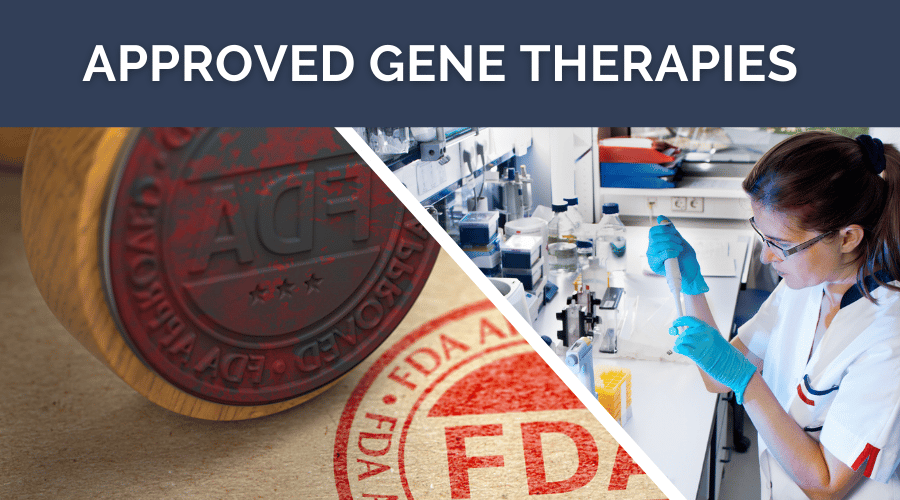 Despite the impact of the pandemic and the seemingly solitary focus of the health care machine on addressing SARS-CoV-2, the gene therapy space continued to progress over the last 18 months.  Several new approvals were granted and promising candidates were advanced in clinical trials and submitted to regulatory authorities.  CAR T has dominated recent gene therapy approvals with three receiving the nod from the US regulatory agency in the last year.  Clinical development has been more diverse in its offerings with CAR T technology joining adeno-associated and lentiviral vector delivered therapies for cancer and rare disease.  It is an exciting time for gene therapy, which can address a range of conditions from spinal muscular atrophy, to certain types of blindness and even HIV.  Read on to see the latest successes in this thriving field.
The most active space in gene therapy employs the chimeric antigen receptor (CAR) T cell approach.  The first candidate approved in this class of gene therapy was Novartis' (NYSE: NVS) Kymriah.  It was approved in August 2017 for B-cell acute lymphoblastic leukemia followed two months later by the approval of Kite Pharma's (acquired by NASDAQ: GILD) Yescarta for non-Hodgkin lymphoma.  Given the high level of success in this therapy to treat blood cancers, this kicked off a mad rush by competing biopharmas to double down on existing programs.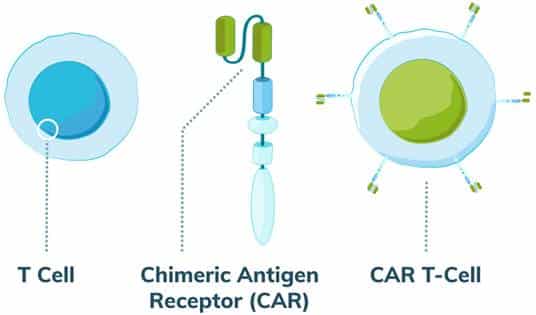 Exhibit I – CAR T Components
Recent Approvals in Gene Therapy
Since this groundbreaking achievement, other CAR T therapies have been approved, including several in recent months.  In July 2020, Kite Pharma's[2] Tecartus was given the green light by the FDA in an accelerated approval that provided the first CAR T cell treatment for relapsed or refractory mantle cell lymphoma.  Tecartus is also being considered for acute lymphoblastic leukemia and will receive an FDA decision in October 2021.  According to Evaluate Pharma, analysts see this drug growing to over $630 million in sales by 2026.[3]
In February 2021, another CAR T offering was granted regulatory approval.  Bristol Myers Squibb's (NYSE: BMY) Breyanzi was approved in the US and Japan for specific settings of large B-cell lymphoma and is actively under consideration by the European Medicines Agency (EMA) with a response expected later this year.  This CD19 targeting drug was initially approved for third line treatment but could advance to second line therapy if recent data from the TRANSFORM study are seen favorably by the FDA.
Bristol has been busy and has a second CAR T approval in 2021 with Abecma, which is indicated for the treatment of multiple myeloma in heavily pretreated patients.  Both Abecma and Breyanzi were acquired by Bristol as part of the Celgene deal completed in late 2019.  Clinical trial results for the therapy in the generated an overall response rate of 72% and a complete response in 28% of the population.  This is particularly impressive as the population evaluated included patients who had failed in four or more other lines of treatment.  In June, Bristol announced that the Committee for Medicinal Products for Human Use (CHMP) of the European Medicines Agency (EMA) has given a positive opinion recommending the approval of the product in the same setting as approved by the FDA.  Approval is expected in the third quarter of 2021, which, if granted, would allow for marketing of Abecma in Europe.
CAR-T, or chimeric antigen receptor T cell therapy, changes a patient's immune cells to recognize and fight cancer, frequently targeting the CD19 antigen which appears on malignant B cells.  It is a type of cell therapy that helps immune cells identify and kill cancer.  The process it uses to similar to other ex vivo cell modification approaches.  In simple terms, T cells are collected from patients through apheresis and sent to the lab for genetic engineering so that they will perform a targeted function.  The modified cells are subsequently expanded in bioreactors in sufficient quantities to address the malignancy then reinfused into the patient where the modified immune cells identify and destroy diseased cells.  A graphic representation of the process from the Cleveland Clinic is provided below.
Exhibit II – CAR-T Cell Processing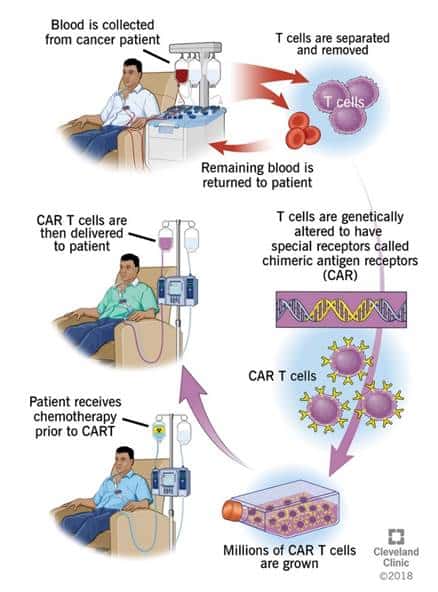 (Source: Cleveland Clinic)
Gene Therapy Pipeline
Development has also been progressing at full force with a number of gene therapies either in late stage trials or submitted to the regulatory authorities for consideration.  This group of new candidates in the pipeline includes other CAR T therapies and approaches which employ various adeno associated viruses (AAV) and lentiviral vectors (LVV) to deliver the desired gene sequence.
The first in this group is Roctavian (valoctocogene roxaparvovec) from Biomarin (NASDAQ: BMRN) which was submitted for both FDA & EMA approval in 2019, but was deferred due to a regulatory request for longer term follow up data.  Now it's been submitted to the EMA and will receive an accelerated assessment.  BioMarin anticipates resubmitting to the FDA in the spring or summer of 2022 after collecting the longer term trial data requested.  Roctavian is the first gene therapy to treat hemophilia A, a rare autoimmune disorder characterized by bleeding that occurs in patients that present a factor VIII deficiency related to clotting or coagulation.  The drug has received an orphan designation by both the FDA and EMA.  Roctavian uses an AAV5 vector to carry and deliver a gene with a functioning copy of clotting Factor VIII, which is important for blood clotting and life threatening bleeding episodes.  Successful treatment will free patients from a lifelong regimen of regularly infused clotting factor concentrates.
Biomarin isn't the only player working to cure hemophilia with gene therapy.  uniQure (NASDAQ: QURE) is advancing a hemophilia B program with its candidate AMT-061.  The program uses an AAV5 viral vector which carries a gene cassette carrying the Padua variant of the Factor IX gene.   A Phase III trial is now underway and in June 2021, 52-week data was announced regarding the trial showing durable increases in Factor IX activity a year after infusion.  The trial has completed enrolling patients and generating its primary endpoint.  18-month follow up data is required and uniQure expects to submit a Biologics License Application (BLA) in the first quarter of 2022.
Exhibit III – Adeno-associated Virus (AAV)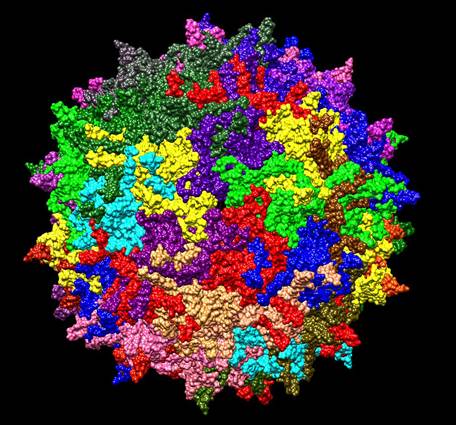 Johnson & Johnson (NYSE: JNJ) wasn't about to be left out of the fun and has committed research dollars to its cumbersomely designated JNJ-68284528 in preparation for submission of a BLA later this year.  The company's subsidiary Janssen is developing the pipeline candidate, more conveniently called cilta-cel, as a B-cell maturation antigen (BCMA) directed CAR T cell therapy.  It was submitted for FDA approval in December 2020 in a rolling submission of a biologics license application (BLA) indicated for relapsed or refractory multiple myeloma.
The major pharma also submitted a Marketing Authorization Application (MAA) to the EMA in April 2021 for the same indication.  Cilta-cel is a second-generation CAR T cell therapy consisting of a CD3ζ signaling domain, a 4-1BB costimulatory domain and 2 B-cell maturation antigen (BCMA) binding domains.
Dallas-based Taysha Gene Therapies (NASDAQ: TSHA) is developing a gene replacement medicine to treat giant axonal neuropathy (GAN).  GAN is a rare inherited genetic disorder related to mutations in the GAN gene which codes for the protein gigaxonin.  GAN can be either early or late onset and is characterized by progressive motor weakness.  In later stages, individuals have trouble breathing and suffer from intellectual disability, seizures and spasticity, ultimately resulting in death.
The company is preparing for a pivotal trial with TSHA-120 which uses the AAV9 vector to deliver a functional copy of the GAN gene.  The company plans to request and end of Phase II meeting with the FDA and solicit guidance from the EU and Japanese regulatory authorities before beginning its pivotal study.
Bluebird bio (BLUE) is advancing a gene therapy cure for cerebral adrenoleukodystrophy (CALD) called Skysona which is based on the Lenti-D lentiviral vector.  CALD is an X-chromosome linked disease that frequently affects children and results in rapid degeneration to a vegetative state.  CALD is caused by mutations in the ABCD1 gene that diminishes the production of adrenoleukodystrophy protein and subsequently causes toxic accumulation of very long-chain fatty acids in the adrenal cortex and white matter of the brain and spinal cord.  In May 2021, the CHMP of the EMA adopted a positive opinion recommending marketing authorization for the drug.  A final decision is expected in the next few months.  The FDA granted orphan drug status, rare pediatric disease designation and breakthrough therapy designation to Skysona for the treatment of CALD.  Bluebird is expected to submit a BLA to the FDA in the next few months.
Exhibit IV – Summary of Recent Development and Approved Gene Therapies
| Sponsor | Brand Name | Generic | Class | Indication | Reg Approval |
| --- | --- | --- | --- | --- | --- |
| GILD | Tecartus | brexucabtagene autoleucel | CAR T | Mantle cell lymphoma | 24-Jul-20 |
| BMY | Breyanzi | Lisocabtagene maraleucel | CAR T | B cell lymphoma | 5-Feb-21 |
| BMY | Abecma | idecabtagene vicleucel | CAR T | Multiple Myeloma | 26-Mar-21 |
| BMRN | Roctavian | valoctocogene roxaparvovec | AAV5 | Hemophilia A | MAA |
| QURE | AMT-061 | etranacogene dezaparvovec | AAV5 | Hemophilia B | Ph3 |
| JNJ | JNJ-68284528 | ciltacabtagene autoleucel | CAR T | Multiple Myeloma | BLA-Nov '21 |
| TSHA | TSHA-120 | N/A | AAV9 | Giant axonal neuropathy | Pivotal trial |
| BLUE | Skysona | elivaldogene autotemcel | LVV | cerebral adrenoleukodystrophy | MAA |
Approvals and late stage development of gene therapies have accelerated in recent years.  The opportunities for the class are immense with the promise in some cases of a complete cure for genetic diseases that require lifelong treatment.  We've provided a selection of recent approvals in the space as well as some up and coming therapies that we expect to see in the headlines in the next year or so.
[2] Kite Pharma was acquired by Gilead Sciences in 2017 and is a subsidiary of that company.
[3] Source: Evaluate, Ltd. 2021