3 Gene Therapy Companies Powering a Revolution in Rare Disease Cures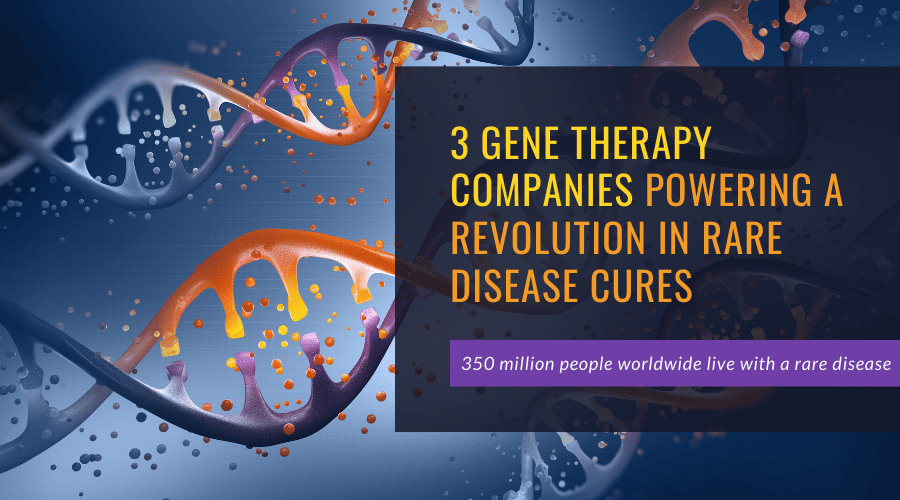 Contributing Author: Gina Hagler
Gene therapy companies are powering a revolution in rare disease cures by offering treatments that target the genetic cause of the disease. Rather than try different combinations of chemicals to create a small-molecule treatment as is the case with traditional pharmaceuticals, gene therapy uses genetic material in drug development to repair or replace the genetic cause. Here are 3 gene therapy companies changing the face of healthcare as they strive to serve the unmet medical needs of the 350 million people worldwide with rare diseases.
Spark Therapeutics, now a part of Roche, started the ball rolling in 2017 with FDA approval of Luxturna, their gene therapy to treat pediatric and adult patients with an inherited form of vision loss/blindness. Approval for Luxturna was a game-changer, as it was not only the first gene therapy treatment approved but also the first treatment in the U.S. that targets a genetic disease. At the time of the approval, FDA Commissioner Scott Gottlieb, M.D. said in his remarks, "I believe gene therapy will become a mainstay in treating, and maybe curing, many of our most devastating and intractable illnesses." Luxturna was the first treatment to deliver a normal copy of an incorrect gene (RPE65) directly to the retinal cells through the use of an adeno-associated viral (AAV) vector. As the gene replicates, it produces sufficient quantities of the requisite protein to restore vision. The mechanism of action is illustrated in Fig. 1.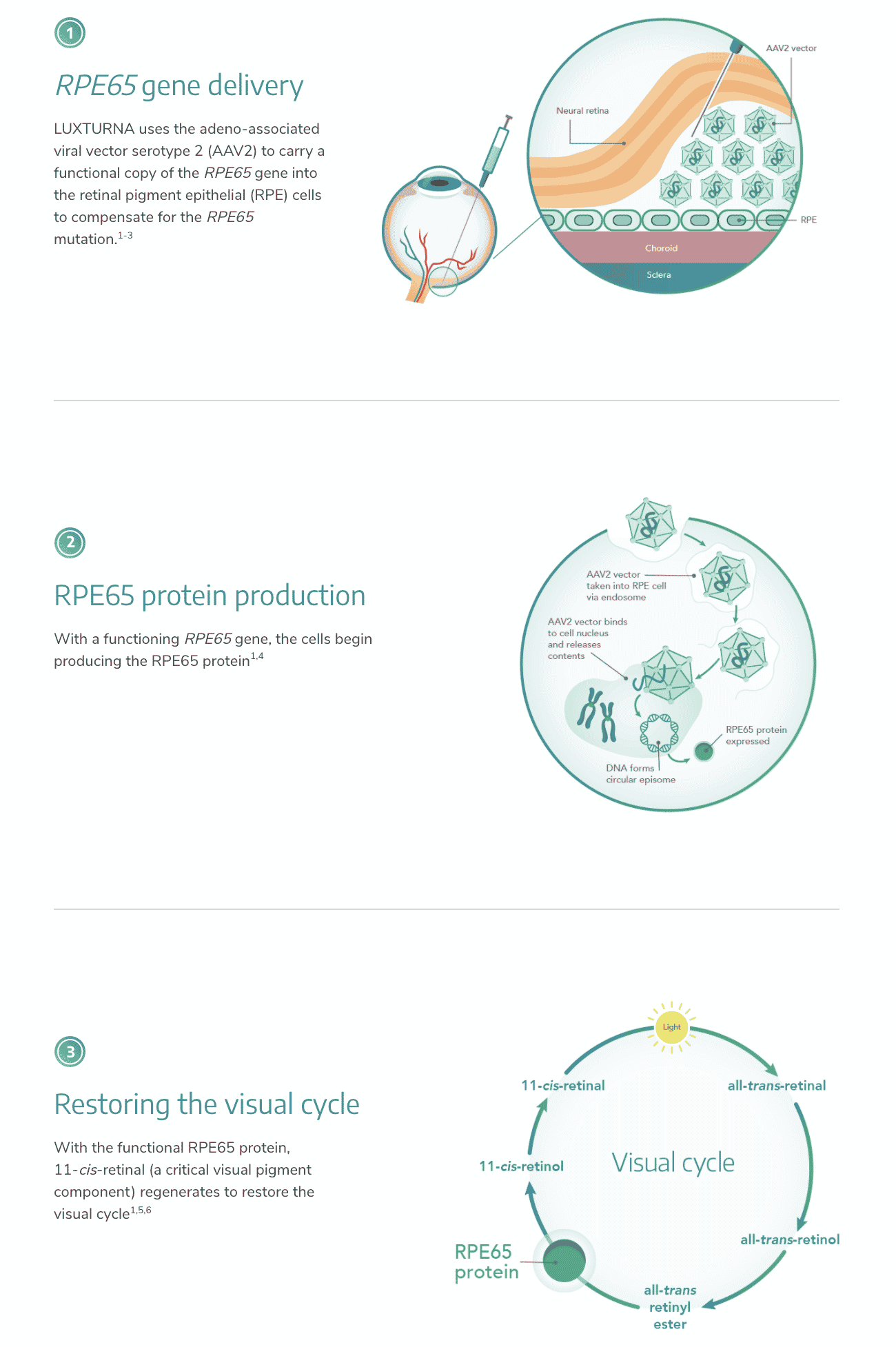 Avexis, now part of Novartis AG, received the second FDA gene therapy approval for Zolgensma in 2019. Zolgensma is also the second drug approved for use with spinal muscular atrophy (SMA). The first, Biogen's Spinraza, was designed to meet the needs of those with SMA Type 2 and is neither a gene therapy nor a one-and-done. Zolgensma is intended to meet the needs of those with SMA Type 1 and is a gene therapy used to treat children under the age of two diagnosed with spinal muscular atrophy (SMA). Targeting the genetic root cause of SMA, it is a one-and-done, single-dose solution. Zolgensma replaces the function of the SMN1 gene with a working copy of the SMN gene.
The treatment is still too new to determine if it is a durable cure for those with this most common, very serious form known as SMA Type 1. However, it is notable that SMA Type 1 is usually fatal within the first two years of life, and children treated during clinical trials four years ago are alive and healthy today. In Fig. 2, below, a graph of the Children's Hospital of Philadelphia Infant Test of Neuromuscular Disorders (CHOP INTEND) indicates that the historic high score of 40 points was surpassed by the majority of the participants.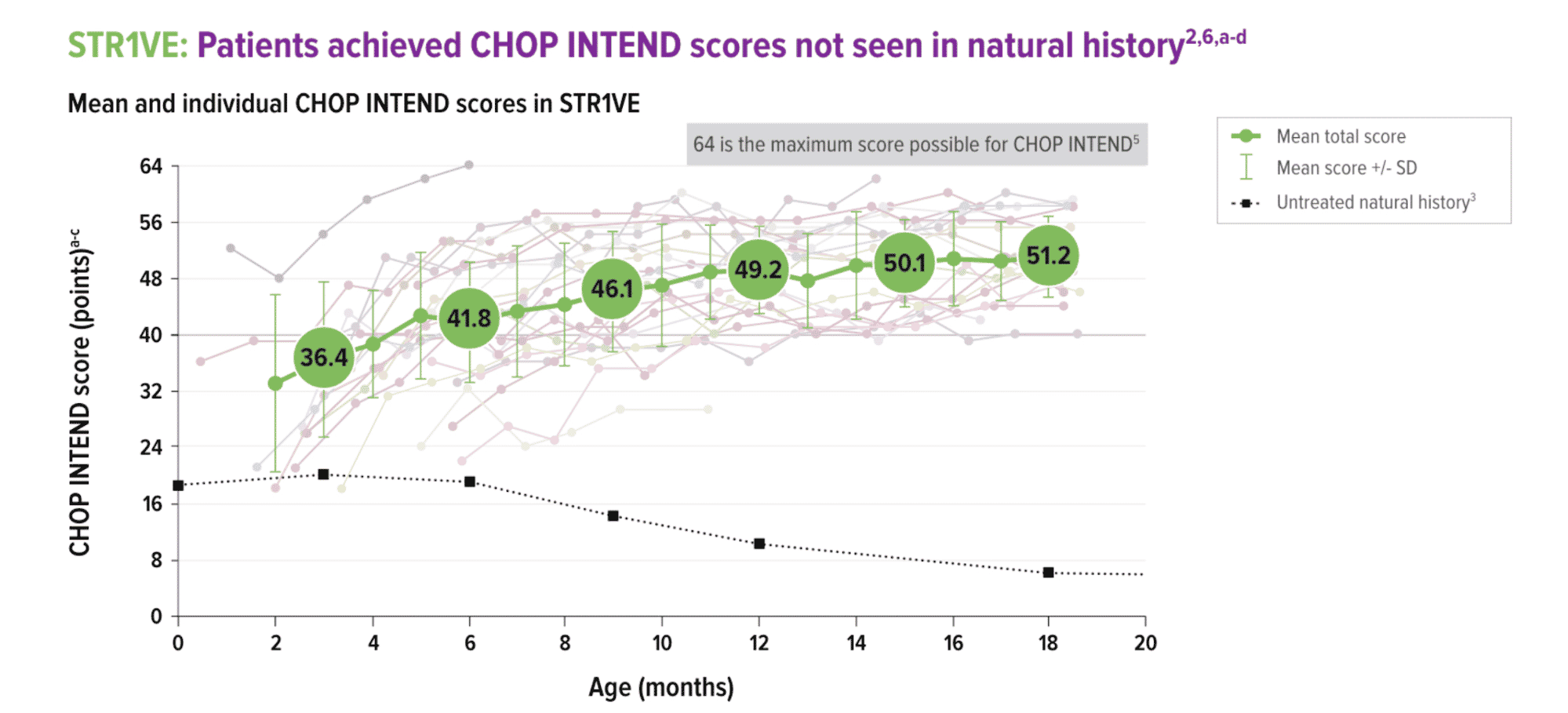 Bottom Line
Luxturna, Zolgensma, and the AMT-061 trial were for new therapies that were significant advances in rare disease cures through the use of gene therapy. Each of these treatments is envisioned by gene therapy companies as a one-and-done, one-time treatment that will enable the patient's body to create the protein needed to address the genetic mutation causing a central nervous system, neurological, cardiovascular disease, or neurodegenerative disease. Whether the treatment will be durable - will last a lifetime - is not known with certainty because these cutting-edge treatments are so new. Where there are treatment alternatives, there is some concern that if a treatment doesn't last, it will make it impossible to use other treatments - a serious consideration. For those without any treatment options, the prospect of a pioneering therapy that clears regulatory hurdles and results in a new treatment that can change the lives of patients is significant.
Take Away
American Gene Technologies (AGT) is dedicated to developing cures for monogenic diseases like phenylketonuria (PKU). PKU is one of the most common monogenic rare diseases, affecting approximately 1 among 13,500 live births in the United States each year. AGT's PKU Therapy uses a non-integrating viral vector to introduce a synthetic PKU gene into the patient's liver cells. This synthetic gene not only directs the production of PAH but also blocks the inappropriate production of mutant PAH, thereby enabling normal metabolism of PHE. AGT has compelling preclinical data for therapeutic vectors capable of correcting the PKU defect. Further, AGT has developed proprietary combination vectors designed to enhance potency of the genetic medicine. These vectors are advancing through preclinical development and we are ready to begin interacting with the FDA as we plan for clinical development and testing of our genetic medicines. As part of that process, we recently received US FDA Orphan Drug Approval #DRU-2018-6572 for the treatment of PKU using proprietary, lentiviral vector-based technology.