HIV Cure Program Patent Granted To American Gene Technologies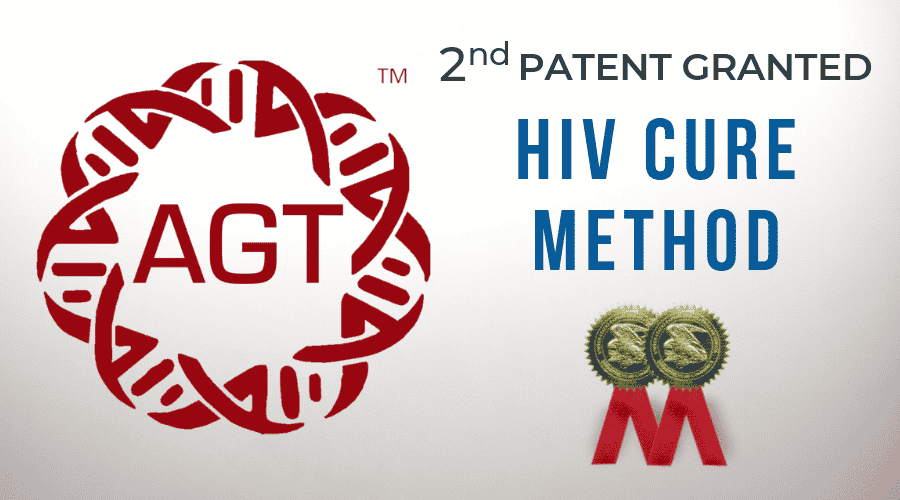 ROCKVILLE, Md., May 21, 2019 (GLOBE NEWSWIRE) -- American Gene Technologies, a leading gene and cell therapy company based in Rockville, Md., was granted a second patent for its unique molecule, methods, and cell process for its HIV program. This patent further protects AGT's lentiviral vector and proprietary process for generating autologous cell products to treat HIV ("HIV Pre-Immunization and Therapy" US 10,233,464).
AGT's lentivirus vector AGT103 is a proprietary drug substance used in manufacturing the AGT103-T cell product for an HIV cure.  The new patent increases protection for composition of the therapeutic gene cargo in AGT103.
"Improving the breadth of our patents gives AGT better control over technologies critical to our genetic medicine products, and strengthens our ability to defend these patents against challenges," stated Jeff Galvin, AGT CEO. "This, and other patents surrounding our HIV cure strategy, provide proprietary tools that have value across a range of chronic viral infections in addition to HIV.  We look forward to expanding our pipeline into additional infectious diseases."
AGT has been granted seven patents in the last 17 months, has several additional patents published, and more than 20 patent families represented by filings with the USPTO and international patent offices.  AGT's patent portfolio protects a broad technology platform that is showing efficacy in gene and cell therapy approaches to infectious disease, monogenic disorders, and solid tumor cancers.
About American Gene Technologies (AGT)
American Gene Technologies (AGT) is a gene and cell therapy company with a proprietary gene-delivery platform to rapidly develop gene and cell therapies to cure infectious diseases, cancers, and monogenic disorders. The Company's mission is to transform people's lives through genetic medicines that rid the body of disease. The Company expects to take its patented lead candidate for an HIV cure into the clinic in 2019. AGT has received five patents for its unique immuno-oncology approach to stimulate the human body's natural immune system's gamma-delta (γδ) T cells to destroy a variety of solid tumors. The Company has also developed a synthetic gene which it expects to cure Phenylketonuria (PKU), a debilitating rare disease. AGT's treatment for PKU has been granted an Orphan Drug Designation by the Food and Drug Administration (FDA) and it is expected to reach the clinic in 2020.