The worldwide epidemic of HIV/AIDS has caused extraordinary suffering and death. The development and global distribution of antiretroviral drugs capable of slowing the disease surely ranks among the greatest achievements in the history of medicine, but has failed in one critical area. Unfortunately, even decades of treatment adherence do not cure HIV and the virus surges back to full strength within a few weeks of stopping antiretroviral drug chemotherapy. AGT is developing a highly innovative treatment strategy that uses the tools of genetic medicine for immunotherapy that will address this critical gap and potentially create a functional cure for HIV.

Ex-vivo modification of autologous HIV specific T-cells re-injected to the patient; measure impact on HIV resevoir; remove HAART (Phase II). Pre-IND Q4 2016, 2019 IND submission: Begin Phase 1 trial 2019 with initial safety review in 2020; secondary endpoint: biomarker efficacy testing; Phase I trial completion late 2020/early 2021 with overlapping Phase II study
The AGT approach differs substantially from other strategies by focusing on key immune cells responsible for building and maintaining strong immunity against this virus. Normally disable by HIV itself, we are protecting these key cells so any future rise of HIV in the body will be attacked by an individual's immune system and HIV won't be able to stop this reaction. Our AGT103-T HIV therapeutic drug should work to remove infected cells from the body and decrease or eliminate the need for lifelong antiretroviral treatment.
Delivered as a genetically-modified cell product made from the person's own cells, AGT's unique treatment is planned for initial clinical trials starting in 2019.
In collaboration with University of Maryland, Baltimore (UMB), the process of collecting venous blood specimens from HIV positive individuals is well underway. Specimens obtained from enrolled participants are then analyzed to determine their level of HIV-reactive CD4+ T cells. Individuals with positive T cell responses are then asked to undergo leukapheresis where their clinical specimens will be used to validate and qualify the AGT103-T therapeutic. You can learn more about this observational study on ClinicalTrials.gov (identifier NCT03215004) by clicking here.
AGT's Chief Science Officer Is Determined To Cure HIV
Watch The Video Testimony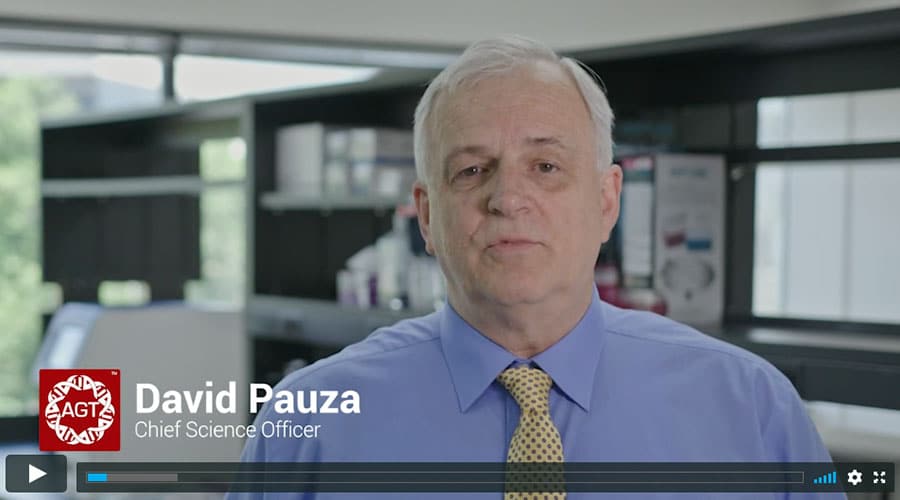 Dr. Ely Benaim Believes In AGT's Science
Watch The Video Testimony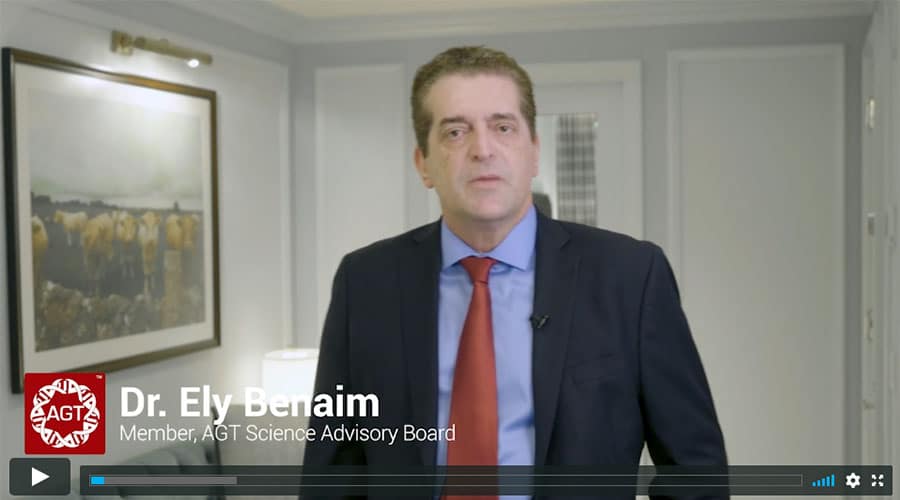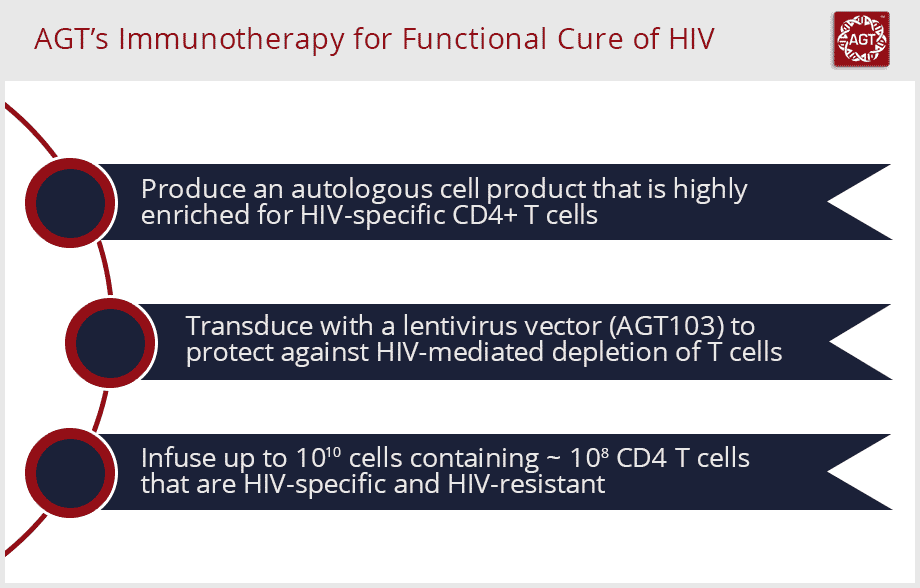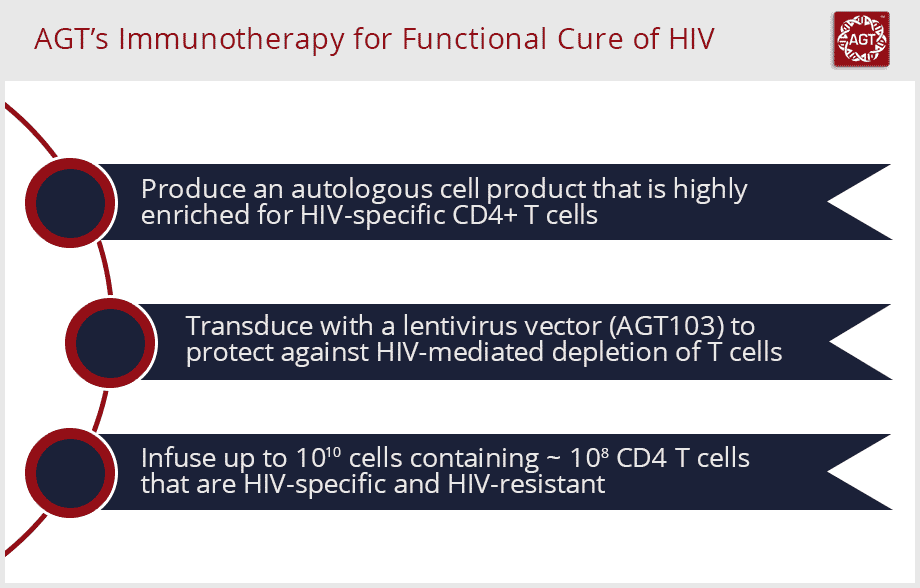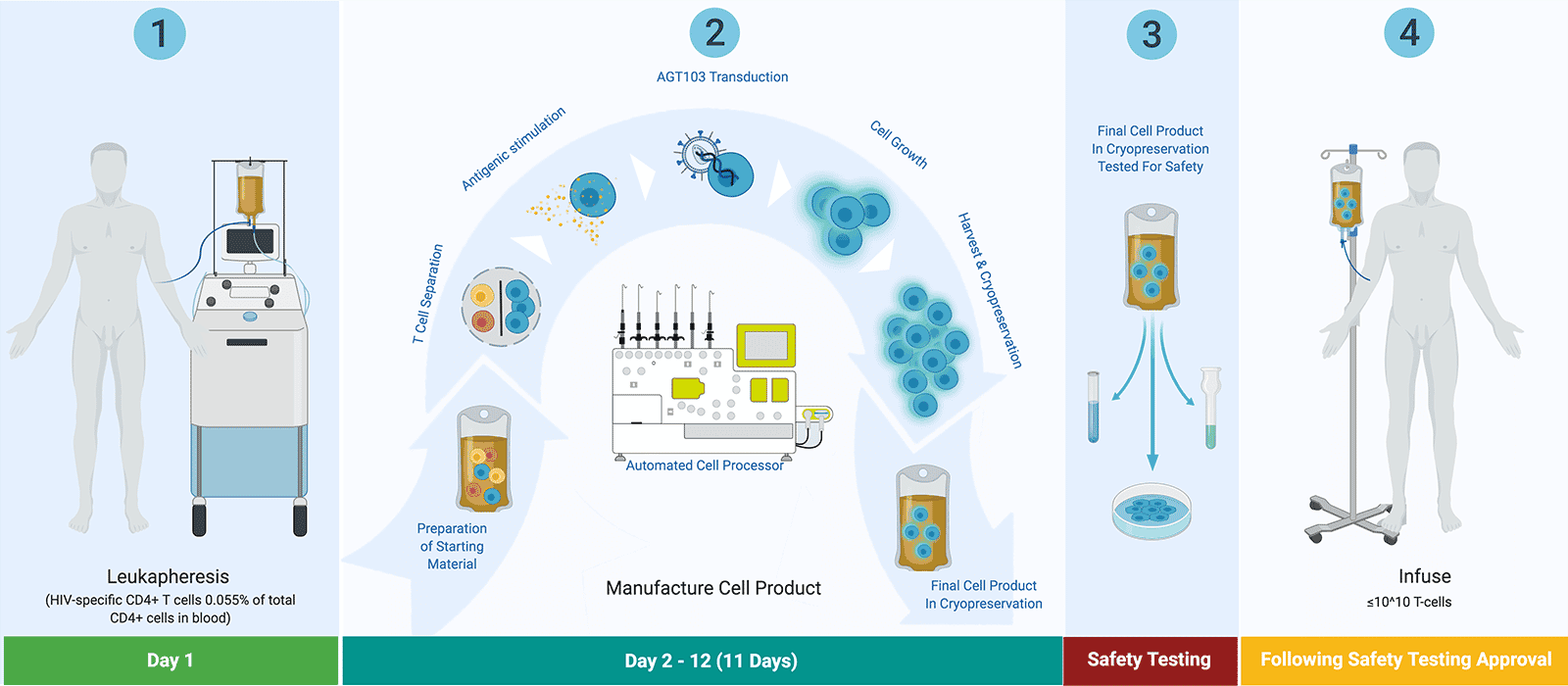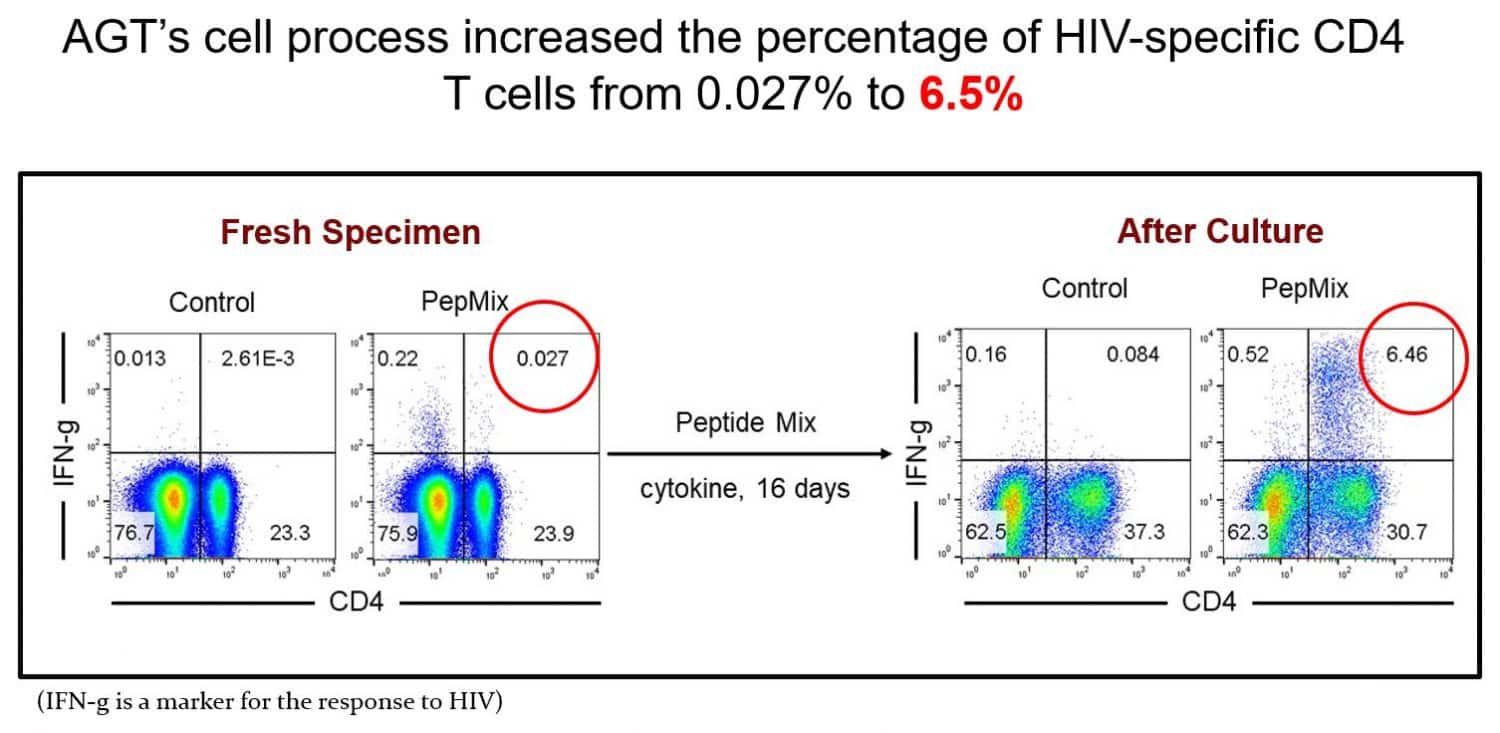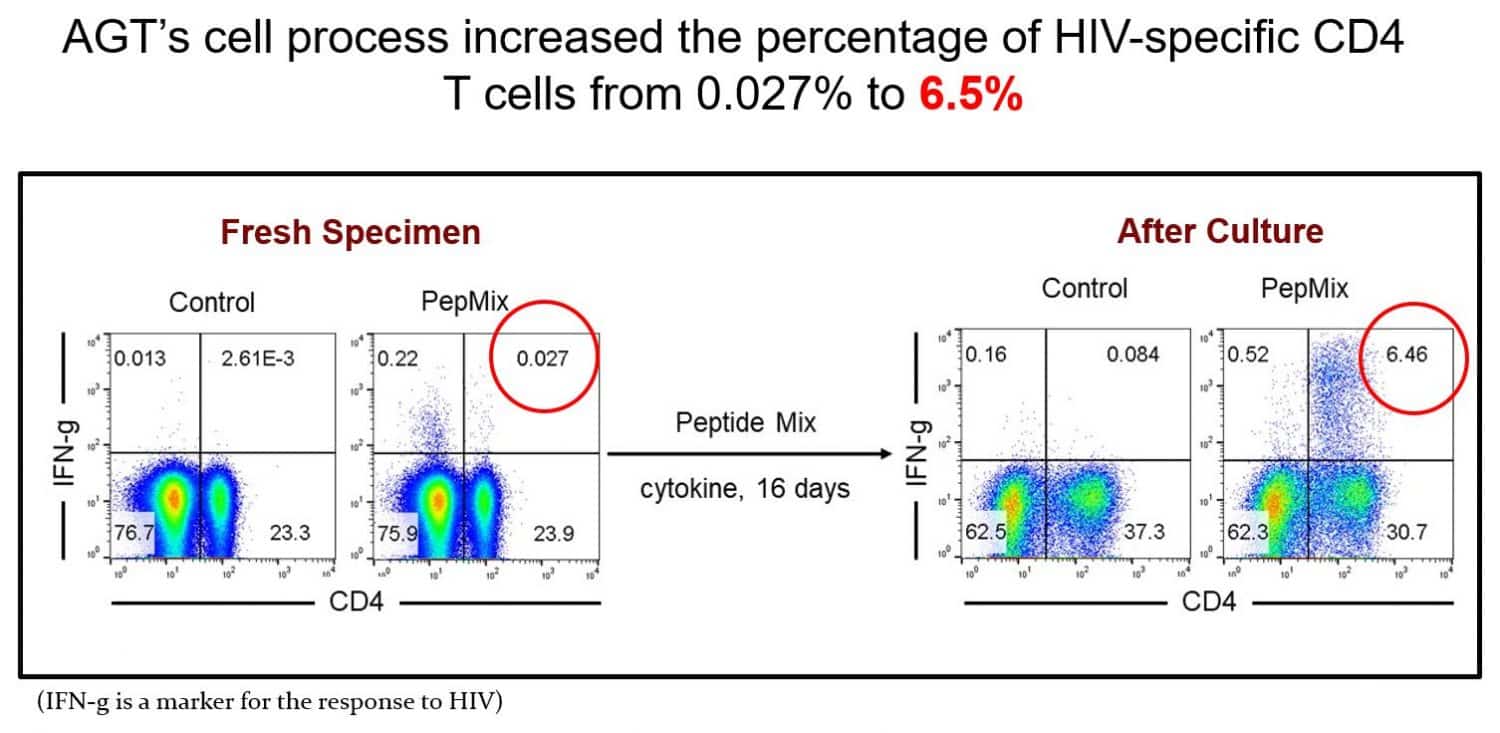 AGT's lentiviral transduction (treatment) protects T Cells from HIV Infection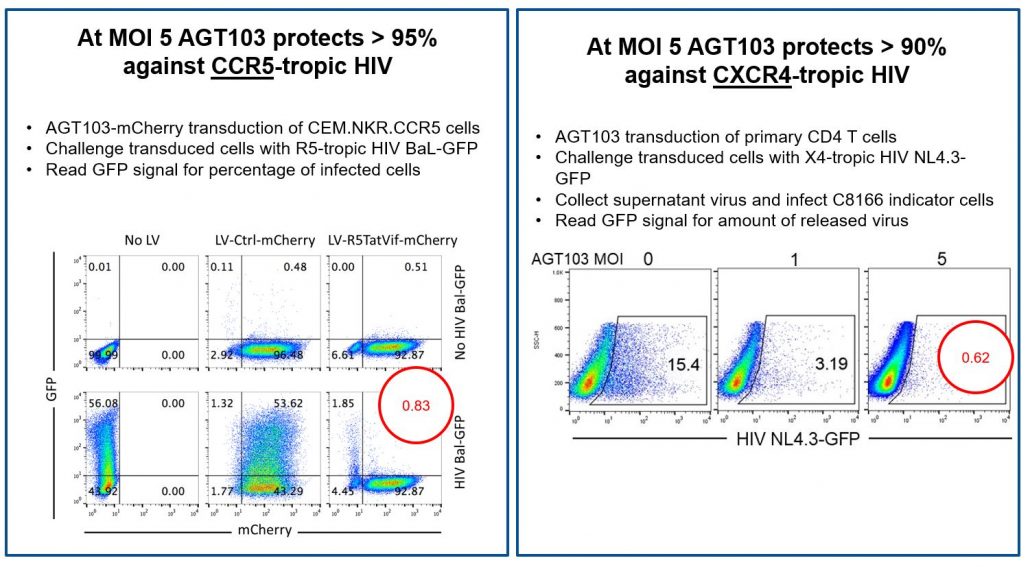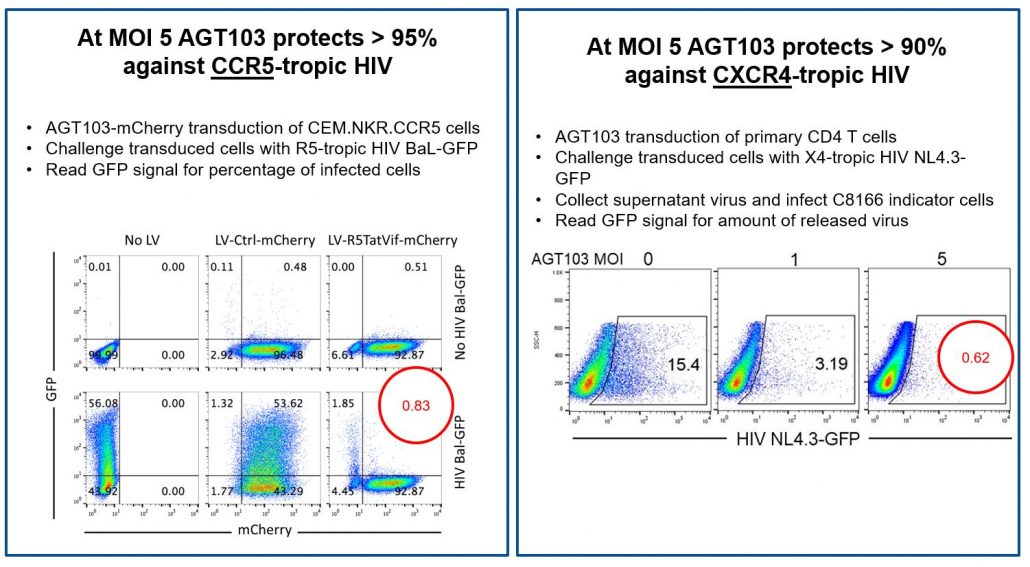 HIV Science Advisory Board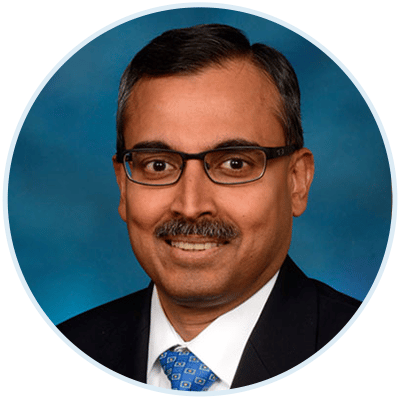 Shyamasundaran Kottilil, MBBS, PhD
University of Maryland,
School of Medicine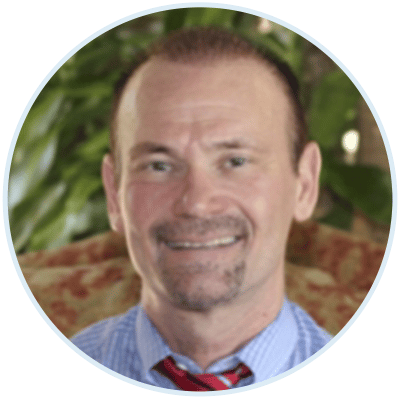 W. David Hardy, MD, AAHIVS
Johns Hopkins University, School of Medicine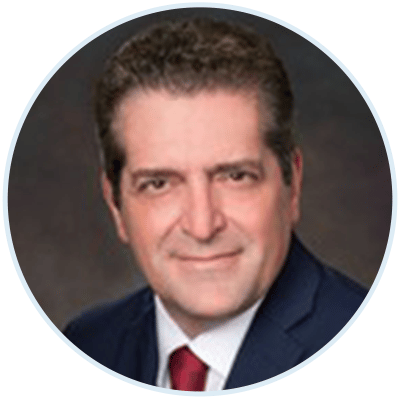 Chief Medical Officer,
Novocure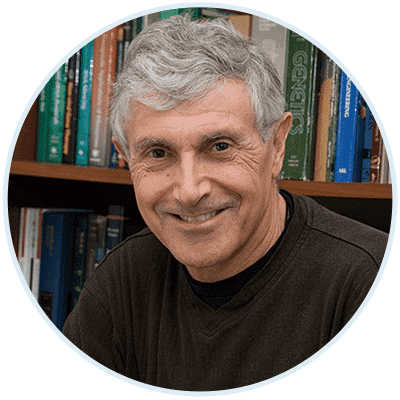 City of Hope,
Duarte, California