American Gene Technologies® Chief Medical Officer Honored by UCSF Endowment for HIV Dermatology and LGBTQ Health Research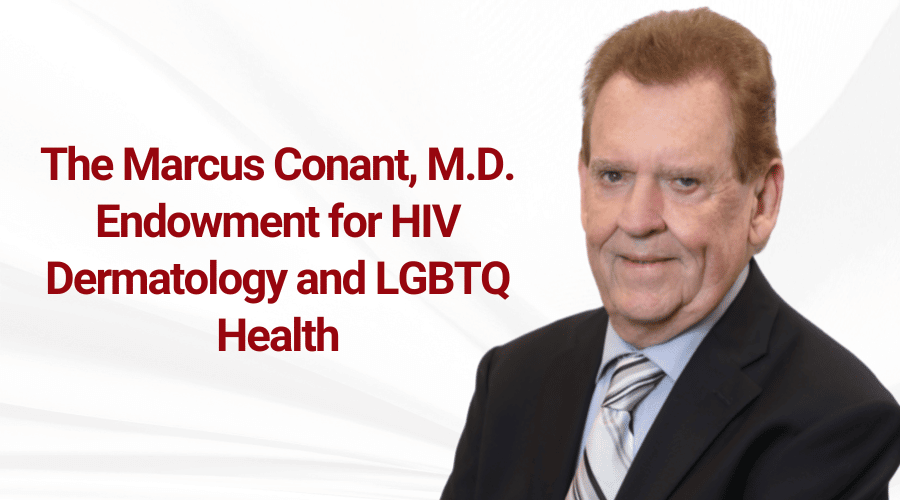 Dr. Marcus Conant Named in UCSF's Commitment to Pave Way for Next Generation of HIV Researchers
American Gene Technologies, a clinical-stage biotechnology company based in Rockville, Maryland, congratulates Dr. Marcus Conant and the University of California San Francisco (UCSF) Medical Center's Department of Dermatology for establishing The Marcus Conant, MD, Endowment for HIV Dermatology and LGBTQ Health.
Dr. Conant is American Gene Technologies' Chief Medical Officer and UCSF's clinical professor emeritus of dermatology. The endowment named in his honor aims to provide mentorship and support to researchers in HIV-related skin disease and LGBTQ health. Not only will it supply increased funding for researchers early on in their careers, but it will also enable UCSF to remain competitive in recruiting the best and brightest students, residents, and fellows — all with the goal of advancing HIV treatment and LGBTQ health.
"This endowment is a testament to the hard work my colleagues and I accomplished in the 1980s during the HIV/AIDS epidemic," said Dr. Conant. "I'm both flattered and humbled to have my name honored with a scholarship that will better the lives of men and women across the globe."
A pioneer in HIV research and treatment, Dr. Conant was one of the first physicians to diagnose HIV in San Francisco. He then took the lead in forming the Kaposi's Sarcoma Research & Education Foundation, now known as the San Francisco AIDS Foundation, in 1982. In his current role as American Gene Technologies Chief Medical Officer, Dr. Conant continues the fight against HIV with revolutionary work in gene therapy.
"We're proud to be continuing the work that Dr. Conant was a part of starting so many years ago and to have his guidance in our efforts to develop new cutting-edge gene therapies for HIV," said Jeff Galvin, CEO and founder of American Gene Technologies. "Thanks to Dr. Conant's care, leadership, and dedication to helping people diagnosed with HIV in the '80s and '90s, many people received important medical attention and empathy at a time when HIV was characterized by misunderstanding, stigma, and neglect. His commitment helped find the first effective treatments that prevented AIDS and restored hope to millions. This scholarship is a fitting legacy to his life-long commitment to fighting HIV and AIDS, and ensures that there will be much more progress to come."
About American Gene Technologies
American Gene Technologies is a gene therapy company with a proprietary gene-delivery platform for rapid development of gene therapies to cure infectious diseases, cancers, and inherited disorders. Its mission is to transform people's lives through genetic medicines that rid the body of disease. American Gene Technologies has been granted numerous patents for the technology used to make AGT103-T and for its unique immuno-oncology approach to stimulate gamma-delta (γδ) T cells to destroy a variety of solid tumors. The company has developed a synthetic gene for treating Phenylketonuria (PKU), a debilitating inherited disease. The company's treatment for PKU has been granted Orphan Drug Designation by the Food and Drug Administration (FDA), and it is expected to reach the clinic in 2023.
Media Contact:
Grant Smith
Vice President of Marketing and Communications
American Gene Technologies
Phone: 317-518-9807
Email: gsmith@americangene.com