American Gene Technologies® CEO Jeff Galvin Wins Life Sciences Voice Top Industry Leaders Award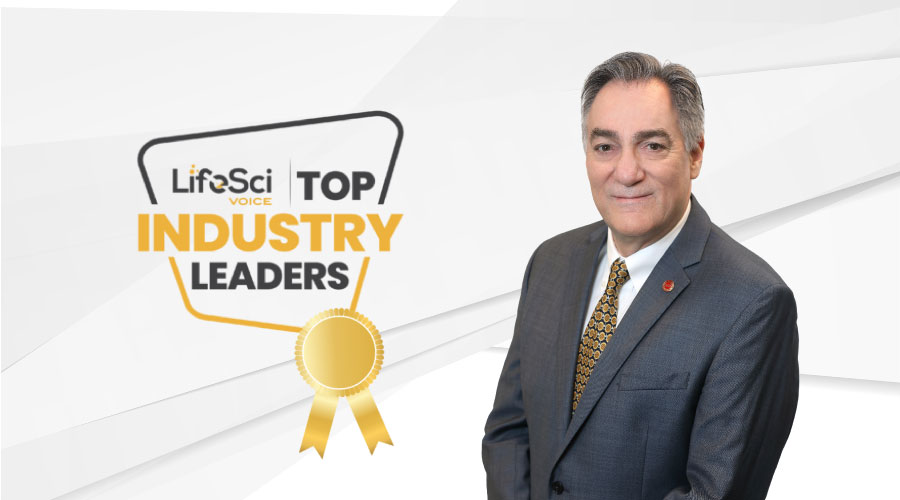 American Gene™ founder recognized as one of the field's most dynamic leaders.
Jeff Galvin, CEO and founder of American Gene Technologies®, a clinical-stage biotechnology company based in Rockville, Maryland, has been awarded the Life Sciences Voice Top Industry Leaders Award. The award recognizes the most dynamic leaders in the life sciences industry, who are making the biggest impact in delivering transformation that is moving the industry forward. Life Sciences Voice lauds these winners as the industry's most creative minds working on important initiatives and delivering extraordinary results.
"This is a wonderful honor, made possible thanks to the stellar collaboration and unwavering commitment of my talented colleagues and team members here at American Gene™," said Galvin. "I am thrilled to receive this recognition for the work we have been doing using gene therapy to find cures for some of the world's worst diseases."
Life Sciences Voice describes this recognition as "the most prestigious leadership award in the life sciences industry". Jean Coolidge, editor-in-chief added, "The life sciences industry, and healthcare landscape in general, continues to evolve rapidly. It has become critical for the life sciences companies and their leaders to adapt quickly and respond to the future needs of the customers."
LSV also noted: "These leaders continue to find innovative ways to drive excellence in their field of work. They fully understand how science must be mapped to business and patient needs and are able to bring value to their stakeholders — patients, employees, healthcare partners, investors, and others."
Having had a successful career in Silicon Valley in the '80s and '90s, Galvin opted for an early retirement in 2002. But 15 years ago, National Institutes of Health researcher Roscoe Brady, MD, Ph.D, introduced him to the potential of viral vectors. Brady showed him there was a way to "repurpose" viruses from delivering disease-causing genetic elements, into delivery vehicles that could bring "good" elements into the body that fight disease. Galvin was hooked. He came out of retirement and founded American Gene.
Having been part of the computer software industry for nearly 30 years, Galvin saw many parallels between a human cell's DNA "code" and a computer's operating software. Viewing Dr. Brady's work from a computer-software perspective, Galvin realized Dr. Brady had just revealed the potential of using viruses as "diskettes" that could deliver new "genetic software" into the DNA of cells to manipulate the drivers (genes) of everything in the human body.
Galvin saw Dr. Brady's breakthrough as the beginning of a new life sciences technology revolution on a global scale, enabling gene therapy to develop along a technology "curve" that would lead to cures for thousands of diseases, including cancer. Galvin foresaw this nearly 10 years before the biotech and pharma industries began to think about the power and possibilities of gene and cell therapy.
At American Gene, Galvin prioritized the goal of curing HIV through gene therapy. He believes gene therapy can free people living with HIV from relying on lifelong antiretroviral treatments and give them permanent immunity with no chance of contracting HIV again.
Galvin views curing HIV as a proof-of-concept for American Gene's platform, which could reduce the time and cost of developing disease-curing gene therapies by over 90% from current standards. The approach could eventually solve patient issues across infectious diseases, monogenic disorders, and cancers that affect the lives of billions of people worldwide.
About American Gene Technologies
American Gene Technologies is a gene therapy company with a proprietary gene-delivery platform for rapid development of gene therapies to cure infectious diseases, cancers, and inherited disorders. Its mission is to transform people's lives through genetic medicines that rid the body of disease. Safety and durability data from American Gene Technologies' Phase 1 HIV gene therapy clinical trial is published in the Frontiers in Medicine journal and a final report is being prepared for regulatory submission. In addition, the company has been granted four patents for the technology used to make AGT103-T and 11 patents for its unique immuno-oncology approach to stimulate gamma-delta (γδ) T cells to destroy a variety of solid tumors. American Gene Technologies has developed a synthetic gene for treating Phenylketonuria (PKU), a debilitating inherited disease. The company's treatment for PKU has been granted Orphan Drug Designation by the Food and Drug Administration (FDA), and it is expected to reach the clinic in 2023.
Video About American Gene Technologies' Work: https://youtu.be/fiA2s7JCkJ8
Media Contact:
Kathy Fowler
American Gene Technologies
Phone: 410-963-2345
Email: kfowler@americangene.com