American Gene Technologies (AGT) Granted Three New Patents in its HIV Cure and Immuno-oncology Programs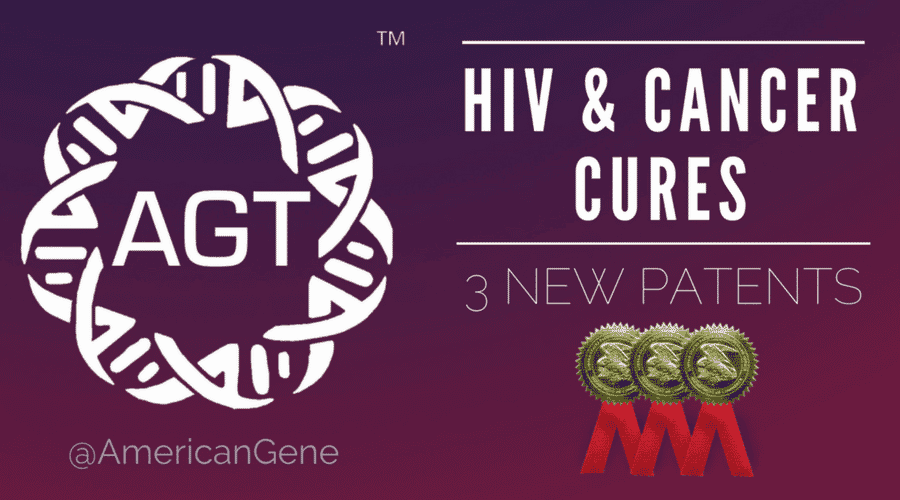 ROCKVILLE, MD, UNITED STATES, August 22, 2018 /EINPresswire.com/ -- AGT announces the receipt of three foundational patents. Two new patents focus on the immuno-oncology program and add to AGT's broad protection for its unique process of activating gamma delta T cells to attack solid tumors ("Methods and Composition for the Activation of Gamma Delta T cells" US10023880 and US10036040). The third patent is AGT's first in its HIV Cure program and protects a lentiviral vector and proprietary process for generating autologous cell products for treating HIV ("HIV Pre-Immunization and Therapy" US10036038).
Jeff Galvin, Founder and CEO commented: "These patents add to our substantial intellectual property portfolio and highlight AGT's continued progress toward advanced treatments and cures in cancers and infectious diseases."
The HIV Cure program is moving rapidly toward a Phase 1 clinical trial and AGT's work with gamma delta T cells is showing promising data in animal models as AGT develops a broad immuno-oncology platform.
About American Gene Technologies (AGT):
AGT is an emerging gene and cell therapeutics company with a proprietary lentiviral platform capable of broad applications including: large and orphan indications, infectious disease, immune-oncology, and monogenic disorders. AGT expects to take its patented, lead candidate for an HIV Cure into the clinic in 2019. It has pioneered a novel immuno-oncology approach of stimulating gamma-delta (γδ) T cells to attack a variety of cancers. Four key patents in AGT's novel immuno-oncology approach have been granted. AGT has a diverse portfolio of patent filings surrounding key tools and components in viral vectors, gene therapy, and regenerative medicine.