National Institutes of Health: "Dr Roscoe Brady & Gaucher Disease"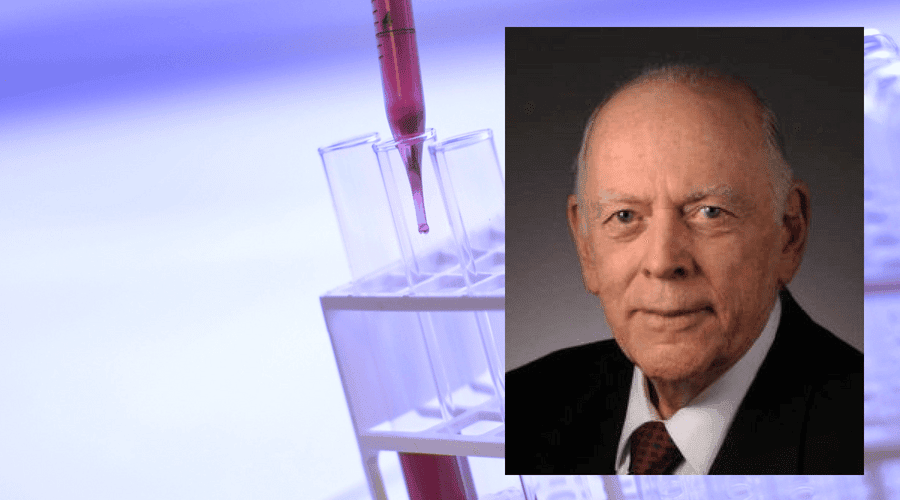 American Gene Mourns the Passing of Chief Scientific Advisor, Roscoe Brady, M.D.
It is with great sadness that we share the news of the passing of former National Institutes of Health scientist and American Gene Chief Scientific Advisor, Roscoe O. Brady, M.D., a pioneer of modern medicine and true public servant who improved the lives of thousands of people suffering from lysosomal storage disorders. Dr. Brady died today, at his home in Rockville, Maryland, after a long battle with cancer.
For more than 50 years Dr. Brady studied these hereditary disorders, identifying the causes of Gaucher's, Neimann-Pick, Fabry, and Tay-Sachs diseases. He and his colleagues developed diagnostic tests and spearheaded the development of enzyme replacement therapy for these and other lysosomal storage diseases, which led to the first effective treatment for many rare disorders. Along the way he published hundreds of research articles, trained many doctors, received several well-deserved awards and until very recently he regularly attended and contributed to the discussions at NINDS grand rounds and scientific conferences. Dr. Brady epitomizes what is special and uniquely valuable about the NIH intramural program.
Dr. Brady received his medical degree from Harvard University in 1947 and interned at the Hospital of the University of Pennsylvania in the Department of Biochemistry with Samuel Gurin. Later he became a National Research Council fellow and U.S. Public Health Service special fellow. Starting in 1952, Dr. Brady served two years of active duty at the National Naval Medical School in Bethesda, MD, as officer-in-charge of the Department of Chemistry. One of his early contributions was discovering the role of gonadotrophin on testosterone synthesis.
In 1954, Dr. Brady was recruited by Dr. Seymour Kety to join the NINDB (now NINDS) as chief of the section on lipid chemistry in the Laboratory of Neurochemistry. Dr. Brady later became chief of the Developmental and Metabolic Neurology Branch and held that position until his retirement in 2006. He continued to serve as a Scientist Emeritus until just weeks ago, and came to work every day. As recently as 2014 he was co-author on several publications and remained a very productive member of the NINDS team. Those who knew him best remember his kind and mentoring nature, how deeply he cared about the NIH and the research he conducted here over many decades, and his devotion to improving the lives of the patients he served.
Throughout his 52-year distinguished career at NINDS, Dr. Brady conducted some of the first research on sphingolipid storage diseases—metabolic disorders in which harmful amounts of fatty materials accumulate in the cells of the body. He discovered the particular missing enzyme that caused these disorders, something that had eluded scientists for more than a century. He was very proud that his research on publishing the enzyme defect responsible for Gaucher's disease – a hereditary disease that can affect children as well as adults – in 1964 proceeded to proof of principle therapy in 1973. The dramatic effects of enzyme replacement therapy for these diseases was first reported in 1973 and was well established and in widespread use by 1991 as the first effective treatment for Gaucher's disease. Enzyme replacement therapy played an important role in the early development of the US biotechnology industry. Brady and his team identified the enzymes associated with several other lipid storage diseases which were previously untreatable. Using the results, they developed diagnostic tests and carrier identification procedures, which became the basis for genetic counseling for at-risk families. Dr. Brady also began much of the research on gene therapy for hereditary metabolic disorders. His work has given hope to thousands of patients who had previously been given a diagnosis of an untreatable disease.
Dr. Brady was a member of many professional societies, including the National Academy of Sciences, and served on the editorial board or advisory board for many journals and organizations. He also was an adjunct Professor at Georgetown School of Medicine. Among the awards he won are the Lasker Foundation Clinical Medical Research Award, the Kovalenko Medal from the National Academy of Sciences, and the National Medal of Technology and Innovation in 2008 – the highest honor for achievement in science and technology bestowed by the President of the United States. He had been nominated several times for the Nobel Prize in Medicine by other Nobel Laureates. He was a member of the National Academy of Sciences and the National Academy of Medicine (formerly called the Institute of Medicine). Some of his work is featured in an NIH Office History website exhibit at https://history.nih.gov/exhibits/gaucher/.
Dr. Brady epitomized NIH's commitment to innovative science as a way to improve health. We will greatly miss his presence on the NIH campus, but his contributions to medicine will live on in the people saved by his work.