AGT Spins Out Addimmune, Focusing on Functional HIV Cure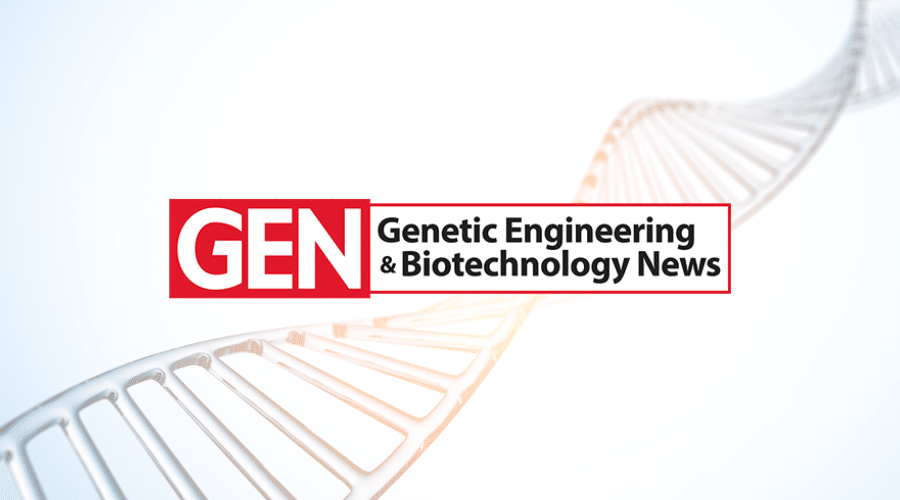 According to CEO Jeff Galvin, the cell and gene therapy developer hopes its Addimmune spinout will pick up where AGT leaves off in developing a one-time treatment for HIV, in light of positive early data.
A leading developer of gene and cell therapies is spinning out a new company focused on bringing to market curative gene and cell treatments for HIV, starting with its Phase I-completed "one-and-done" autologous T-cell therapy for the AIDS virus.
Addimmune will continue more than a decade's worth of R&D by American Gene Technologies (AGT) focused on developing gene and cell therapy technologies aimed at curing HIV.
The new spinout company will continue the development of AGT103-T, which successfully completed the Phase I RePAIR trial (Restore Potent Antiviral Immune Responses, NCT04561258) by showing positive safety results in seven patients. The Phase I trial, along with another sponsor-initiated follow-on study named Durable Anti-Retroviral Withdrawal Initiative (DARWIN; NCT05529342), showed active immune responses to HIV up to six months after dosing.
AGT103-T is a single-dose lentiviral-based autologous cell therapy delivering gene-therapy modified, HIV-specific CD4 T cells to people with HIV. Addimmune reasons that while HIV depletes the HIV-specific CD4 T cell responsible for a potent immune response, forcing patients onto lifelong antiretroviral therapy, natural immune control of HIV could be restored if the depleted cells are replaced by durable T cells.
AGT103-T is designed to induce the exceptional control of viral replication and intact immune responses without antiretroviral drugs shown by two categories of people living with HIV—elite controllers, who can maintain undetectable viral loads for at least 12 months despite not having started antiretroviral therapy; and long-term non-progressor individuals, who are HIV-positive yet remain healthy for long periods of time without medications.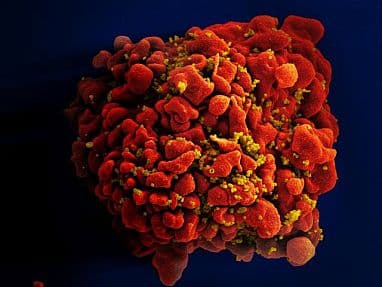 HIV (in yellow) attacks the immune system by destroying CD4+ T cells (in red). Addimmune's AGT103-T is a single-dose lentiviral-based autologous cell therapy delivering gene-therapy modified, HIV-specific CD4 T cells to people with HIV. [NIAID]
Reasoning that the natural immune system can indeed control HIV infection, AGT103-T is designed to induce the conditions seen in elite controllers and long-term non-progressors by raising the numbers of Gag-specific CD4 T cells in patients and protecting those cells from HIV infection. Addimmune reasons that this could induce a durable immune response to HIV, and that if such a response leads to a critical degree of viral suppression for the lifetime of the patient, the therapeutic could be considered a functional cure for HIV.
By year's end, Addimmune researchers plan to publish additional data from a subsequent analytic treatment interruption (ATI) study (NCT05540964) designed to assess the efficacy of AGT103-T in patients after they stopped taking an antiretroviral therapy.
The ATI study was designed to generate immunologic and virologic data in patients who are not currently taking typically prescribed antiretroviral medications for HIV. AGT said in June that this data set showed "impressive" viral suppression, with all participants showing active immune responses to HIV: "The data showed that more than half of the participants achieved significant viral suppression."
Following finalization of the study and peer review, the company said it intends to have the study results published in a scientific journal.
Beyond current treatments
That data, Addimmune reasons, could help position AGT103-T as a functional cure for HIV—an option that is now not available among the 32 antiretroviral drugs, one pharmacokinetic enhancer, and 21 fixed-dose combinations all approved by the FDA to treat HIV/AIDS in the four decades since HIV was discovered.
If Addimmune succeeds, it would disrupt a market for HIV treatments calculated at between $22.5 billion and $31 billion last year, but with only low single-digit growth projected through 2030 (see below: HIV Market: Slow Growth, Two Dominant Players).
"The field is crowded with treatments, but it's not crowded with cures," Jeff Galvin, CEO of Addimmune, told GEN Edge. "We're the only cure attempt out there that has our level of data—safety and efficacy—already. Now we don't have full efficacy. I don't want to overplay this, but the data is really exciting to people in the know, in virology and immunology, within the HIV industry, and we've attracted a who's who to this project, and what they're telling me is, this looks like it can work."
That who's who includes the corresponding author for the Phase I study C. David Pauza, PhD, AGT's former CSO who now holds the same position with San Diego-based Viriom. Pauza's 200+ original publications include studies on the treatment and prevention of HIV/AIDS, as well as the role for natural tumor surveillance mechanisms in cancer.
A special advisor to Galvin focusing on the HIV effort is Robert R. Redfield, MD, who served as director of the Centers for Disease Control and Prevention from 2018–2021 under President Donald J. Trump, and earlier chaired AGT's Clinical Advisory Board for what became the program to develop AGT103-T. The other big-name advisor to Galvin is Tommy Thompson, who served as Secretary of Health and Human Services from 2001–2005 under President George W. Bush.
Swinging for the fences
"The only way we can thrive is if we solve this problem. We've got to do something that is far above what Gilead and ViiV are offering," Galvin said. "That's why we're swinging for the fences, and we've got the data that says we already hit a home run in Phase I. We can grand slam this one. We just need a little bit more time."
"Our plan is to give everything this project needs to maximize the chances of crossing the threshold where we have a one-and-done cell therapy," Galvin added. "People that are on all those treatment drugs can then throw them away along with the toxicities and long-term side effects of those drugs, and never think about HIV again, because their immune system will naturally control their HIV at levels where they can never be contagious, and they can never develop AIDS."
He said Addimmune is committed to developing AGT103-T through the regulatory phase: "Hence, that's why we spun out Addimmune as a separate company in HIV, because we believe that the data justifies full focus and full funding."
Addimmune derives its name from the two fundamental concepts it is working to combine: Using gene and cell therapy to add new capacity to the human T cell, and creating an improved immune system to fight HIV.
Addimmune said it showed both in the just-concluded Phase I trial of AGT103-T. According to data published last November in Frontiers in Medicine, AGT103-T generated immune responses in all seven patients dosed with the therapy. Five received the low dose (<109 genetically modified CD4+ T cells) and two, the high dose (≥109 genetically modified CD4+ T cells).
All seven patients demonstrated the persistence of AGT103-modified T cells by showing elevated Gag-specific CD4+ T cells up to 180 days after infusion. Gag-specific CD4+ T cells were seen in all treated participants, and increased by nine- to 300-fold compared to baseline by 14 days after the infusion of the genetically-modified cells. Levels of Gag-specific CD4+ T cells remained high—about 2- to 70-fold higher relative to baseline—throughout the three- to six-month period after infusion, depending on the patient. Participants also showed increases of Gag-specific CD8+ T cells of between 1.7- to 10-fold relative to baseline, by 28 days after cell product infusion, according to Addimmune.
"Our results indicate that AGT103-T cell product infusion altered antiviral immunity in trial participants and transiently increased Gag-specific T-cell responses," Galvin and six co-authors observed in the study.
Working on Phase II
Galvin said Addimmune is now developing the protocol for a planned Phase II trial of AGT103-T, and is working to identify manufacturers and trial sites. "We hope to initiate the Phase II clinical trial as soon as the new protocol is approved," Galvin added. "Pending FDA approval of the Phase II, data collection should complete in late 2024 or early 2025."
The Phase II trial will apply the treatment regimen developed for AGT103-T for an expanded trial that is expected to treat between 50 and 100 patients, with the aim of establishing efficacy levels that would justify a pivotal study. Addimmune also envisions conducting additional clinical trials towards commercialization by demonstrating improved outcomes and quality of life for people living with HIV.
Also unavailable is an HIV vaccine. Speaking with GEN in 2012, Robert C. Gallo, MD, a co-discoverer of HIV, explained the challenge of developing preventive treatment for the virus. While broadly neutralizing antibodies have shown promise in some people with HIV, researchers have yet to learn what antigen can induce them, or how to make them last long enough to be truly effective against the virus, said Gallo, who is emeritus director of the Institute of Human Virology at the University of Maryland School of Medicine.
Gallo is one of three researchers credited with discovering HIV, and the only one not awarded the Nobel Prize in 2008 for the discovery—which went instead to co-discoverers Luc Montagnier, MD, PhD, and Françoise Barré-Sinoussi, PhD, both of the Institut Pasteur. (Montagnier died last year.)
Galvin said the technology behind AGT103-T could, long-term, also help enable development of an HIV vaccine. Due to the nature of HIV, the development of an effective vaccine using traditional technologies has remained elusive despite decades of effort. But if gene therapy is able to induce functional cure status in people living with HIV, the technology may be adaptable as a vaccine as well.
"If you can vaccinate vulnerable communities and cure the people that have it, we could see the end of HIV in our lifetime," Galvin said. "It would be bigger than polio and less devastating, because if you have an outbreak of polio, people die or suffer. You have an outbreak of HIV, you can cure them before they sustain any long-term damage to their body. That's how well we've mastered HIV, and the only thing we need to do in the last step is to go from lifelong treatment to one-and-done, forget about this forever, you are done with HIV."
Outside approach
Unlike many CEOs with lifelong careers in biotech, Galvin first established himself in Silicon Valley as a serial entrepreneur after earning a BA in economics at Harvard. One of his startups, a medical technology business called Argus Software, was acquired in 2007 by Varian Medical Systems, a maker of cancer radiotherapy and radiosurgery tools that has since been bought by Siemens Healthineers.
A year later, Galvin founded AGT after receiving a business plan from a lab at the National Institutes of Health (NIH), after which Galvin met with Roscoe O. Brady, MD, PhD, the leading researcher of his day on hereditary metabolic storage diseases. Brady showed Galvin the potential of viral vectors.
"Coming from the software industry, my head just exploded. I told Roscoe, these viral vectors that you're telling me about are diskettes for the organic computer," Galvin recalled. "Sure, it works in proteins and enzymes and molecular biology. But it's basically just like your digital computer. It's a base-4 sequence, A-C-T-G. But now that we can edit the operating system of the human cell, what can't we do? It's the root driver of everything in your body, we should eventually be able to cure everything that way. He couldn't argue with me on that."
Galvin founded AGT in 2008, aiming to develop gene and cell therapies for infectious diseases, cancers, and inherited disorders—but using an approach outside traditional biopharma.
"My model was that if you look at gene and cell therapy, it's less like biotech and pharma than it is like software and computers," said Galvin, who once worked at Apple. "I started to think about, what models can I take from the software industry that would provide the most ability to create value in the future in something that might take decades to fully mature. What I decided was to become the Microsoft of this industry with the Apple attitude.
"I was at Apple but I admired Microsoft because they understood it's the platform. But when I came into biotech, platforms were just random discovery tools. All of the existing investors I was talking to, to try to get them interested in investing in the company or partnering with the company, they told me, 'Nobody buys platforms, they buy drugs. Come back when you have a drug.'"
Galvin remains CEO of AGT. Its spinout of Addimmune, he said, will enable AGT to focus resources on two other therapeutic areas, phenylketonuria (PKU) and cancer. The FDA has granted its Orphan Drug Designation to the PKU treatment, a lentivirus vector gene therapy that AGT expects will reach the clinic in 2025. AGT's cancer candidate applies the company's ImmunoTox™ viral vector platform in an immuno-oncology approach designed to destroy a variety of solid tumors by stimulating gamma-delta (γδ) T cells.
AGT has raised $75 million in capital to date, most of which has been spent to develop AGT103-T, and is planning another financing round that is intended to raise an additional $50 million. Addimmune is exploring the possibility of raising funding by going public through an initial public offering.
AGT employs about 60 full-time employees and consultants, and is headquartered in Rockville, MD, where Addimmune will be based. Once the spinout is complete, Galvin said, some 50 AGT employees will be shifted to Addimmune, where they will be joined over the next year by new hires, while AGT also expects to add several dozen new hires over the next year. How many new hires has yet to be determined, though the workforce is expected to grow by about 50%.
"Maybe there will be another 25 to 50 new hires at Addimmune. It's going to depend on the data," Galvin said. "This thing [AGT103-T] has a real shot on goal. We're not going to screw around with the HIV asset. We're putting everything that we've got behind it."
HIV market: Slow growth, two dominant players
AGT103-T hopes to disrupt a market for HIV treatments that has been calculated as high as $31 billion, but with only low single digit growth prospects for this decade.
The HIV treatment market stood at a hefty $22.38 billion last year, according to ResearchandMarkets.com, which has projected a compound annual growth rate (CAGR) of only 1.42% through 2030, reaching $25.49 billion. During the same period, Vantage Market Research pegs the HIV market higher at $31.3 billion last year, growing by a CAGR of 3.7% to $40.3 billion.
The market is now dominated by Gilead Sciences followed by Viiv Healthcare, a partnership with a portfolio of 17 HIV treatments that is majority-owned (78.3%) by GlaxoSmithKline (GSK), with Pfizer and Shionogi & Co. as 11.7% and 10% shareholders, respectively.
Gilead's total HIV drug sales rose 5% last year, to $17.194 billion from $16.315 billion. During the first quarter, sales rose 13% to $4.19 billion from $3.707 billion in Q1 2022. Gilead markets 11 HIV products and collects revenue from a 12th—Symtuza® (darunavir, cobicistat, emtricitabine, and tenofovir alafenamide)—which is marketed by Johnson & Johnson entity Janssen Sciences Ireland.
Gilead markets the top-selling HIV drug Biktarvy® (bictegravir, emtricitabine, and tenofovir alafenamide), which finished 2022 with product sales of $10.39 billion, up 20% year-over-year from $8.624 billion in 2021. Biktarvy continued its surge in the first quarter with $2.68 billion in product sales, leaping 24% from $2.15 billion in Q1 2022.
Last year, Gilead paid Viiv $1.25 billion upfront, and agreed to pay Viiv a 3% royalty on future U.S. sales of Biktarvy and on the bictegravir component of any other future bictegravir-containing products sold in the U.S. The agreement settled a lawsuit by Viiv, GSK, and Shionogi alleging that Biktarvy infringed on patents of Viiv's antiretroviral drug dolutegravir. The royalties must be paid until October 2027, when ViiV's U.S. Patent No. 8,129,385 covering dolutegravir expires.
Antitrust challenge
However, Gilead faces a potentially more daunting legal challenge brought forward by plaintiffs who have brought a class action antitrust lawsuit against the company and other co-defendants. In the case (3:19-cv-2573), filed in U.S. District Court for the Northern District of California, the plaintiffs have accused Gilead of unlawfully acquiring and maintaining a monopoly in combination antiretroviral therapies that has squelched competition among developers of HIV drugs and delayed the arrival of lower-cost generic drugs to market. Lawyers made closing arguments before U.S. District Court Judge Edward Chen this past week, with the case to be decided by a jury.
"The scheme has enabled Gilead and its coconspirators to unlawfully extend patent protection for their drugs, impair entry by would-be generic competitors, and charge exorbitant, supracompetitive prices for the drugs that people living with HIV need to survive," the plaintiffs have alleged. Gilead and co-defendants have denied wrongdoing, with Gilead stating last month that the lawsuit claims "lack merit, do not accurately reflect antitrust laws, and ignore Gilead's history of innovation and scientific advancements to help address the pressing challenges of the HIV epidemic."
Biktarvy is one of four Gilead HIV treatments that racked up "blockbuster" sales of greater than $1 billion last year. The others:
Genvoya® (elvitegravir, cobicistat, emtricitabine, and tenofovir alafenamide), whose sales fell 16.5% last year, to $2.4 billion from $2.88 billion in 2021. Genvoya sales dropped another 14% in the first quarter, to $501 million from $582 million in the year-ago quarter.
Descovy® (emtricitabine and tenofovir alafenamide), which saw its 2022 sales climb 10%, from an even $1.7 billion to $1.87 billion, then rise another 20% in the first quarter, from $374 million to $449 million.
Odefsey® (emtricitabine, rilpivirine, and tenofovir), whose sales shrunk by 6% in 2022, to $1.47 billion from $1.568 billion. Sales declined another 6% in Q1 to $317 million from $339 million a year earlier.
Viiv-marketed HIV drugs generated £5.749 billion (about $7.3 billion) in sales last year, up 20% from 2021, and another £1.468 billion ($1.85 billion) in the first quarter, up 24% from Q1 2022. Most of those sales came from four products that consisted of combinations of dolutegravir plus various other drugs.
Last year's best seller in that category was Triumeq® (abacavir, dolutegravir, and lamivudine), which garnered £1.8 billion ($2.27 billion) in 2022 and another £374 million ($472 million) in Q1. The first quarter's top seller, however, was Dovato® (dolutegravir and lamivudine), with £396 million (about $500 million) on top of the £1.375 billion ($1.7 billion) generated last year.