Dna Weekly: Accelerate Drug Development And Novel Therapeutics With American Gene Technologies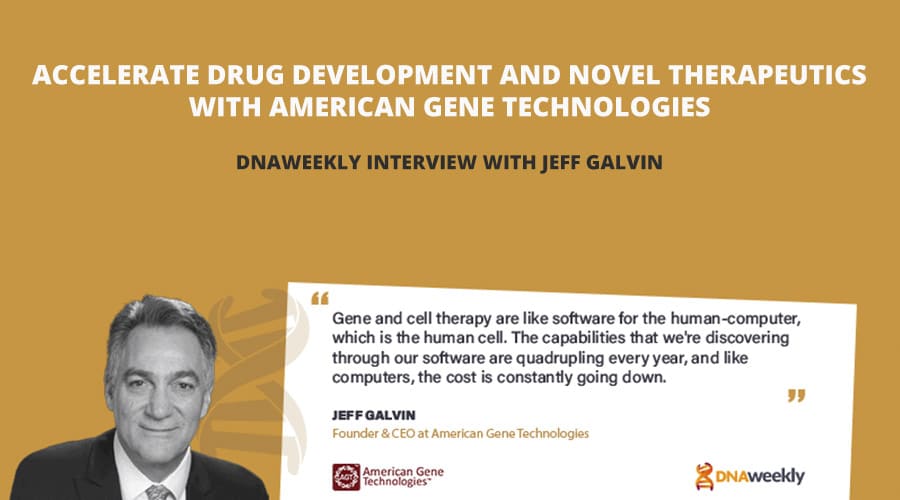 American Gene Technologies (AGT) is a cutting-edge biotechnology company creating technologies that speed up the development of cures and treatments in the emerging field of gene therapy. In this interview, founder and CEO Jeff Galvin pinpoints the current challenges in drug development and offers a unique perspective on the future of medicine.
Please describe what American Gene Technologies is working on these days.
Our lead program is a cure for HIV, which is currently in the clinical stage. We already revealed our first safety data, which indicates a high probability to cure HIV. We don't want to make any premature promises, but there's a lot of good data, leading up to this point, that gives us some confidence that an HIV cure may be in reach even with the current clinical trial.
Our second lead program is in monogenic diseases such as phenylketonuria, a rare disease that is epicentered in the Middle East. In Europe, about one in 10,000 babies has this condition and in the United States, it's about one in 13,000. They're born with one broken gene which causes them very serious problems throughout their lifetime. We have a gene replacement drug that looks very promising for people with this condition.
One of our proprietary immuno-oncology assets allows us to stimulate the natural Gamma Delta T-cells in your body... [Read More]