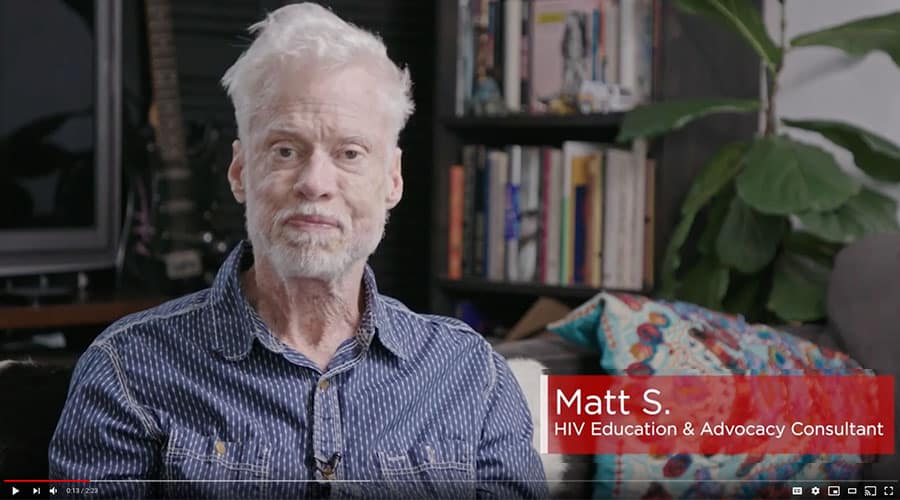 Subscribe to AGT's YouTube Channel
CAN HIV BE CURED?
These Two HIV+ Clinical Trial Participants Believe It Can.
Watch this video interview of two HIV+ men that decided to participate in clinical trials with varying success. Despite their different experiences with human trials and different outcomes following treatment, Matt C. and Matt S. are both still advocates for clinical trial participation and encourage others to support HIV cure research aimed at finding an HIV cure.
CEO JEFF GALVIN SPEAKS ON BIOTECH IPO TRENDS AND OUTLOOK PANEL AT


BIO CEO & INVESTOR CONFERENCE 2020
AGT's Jeff Galvin speaks on panel at the BIO CEO & Investor Conference on Feb 10-11 in NYC. The panel discussed IPO trends and outlook for 2020. The 2020 BIO CEO & Investor Conference is one of the largest independent investor conferences focused on established and emerging publicly traded and select private biotech companies. Experience the best of biotech with two days of productive partnering meetings with institutional and early-stage investors, industry analysts, and senior biotechnology executives, in one location.  About the conference.
Subscribe to AGT's YouTube Channel
Subscribe to AGT's YouTube Channel
CEO JEFF GALVIN KIRWAN COMMISSION TESTIMONY TO MARYLAND LEGISLATURE
Delegate Jared Solomon invited CEO Jeff Galvin to testify to state legislators in Annapolis, Maryland on February 17, 2020. Galvin served as the linkage between public education and the workforce talent pool needed for a thriving Maryland biotech companies, like American Gene Technologies. Listen to his testimony that was recorded live.
CHIEF SCIENCE OFFICER DR. C. DAVID PAUZA PRESENTS AT CELL & GENE MEETING ON THE MESA 2019
The Cell & Gene Meeting on the Mesa is a three-day conference bringing together senior executives and top decision-makers in the industry with the scientific community to advance cutting-edge research into cures. Dr. Pauza was a featured presenter at the conference (press release). In his presentation, he announced details about AGT's pending submission of an IND for a cell & gene therapy for HIV.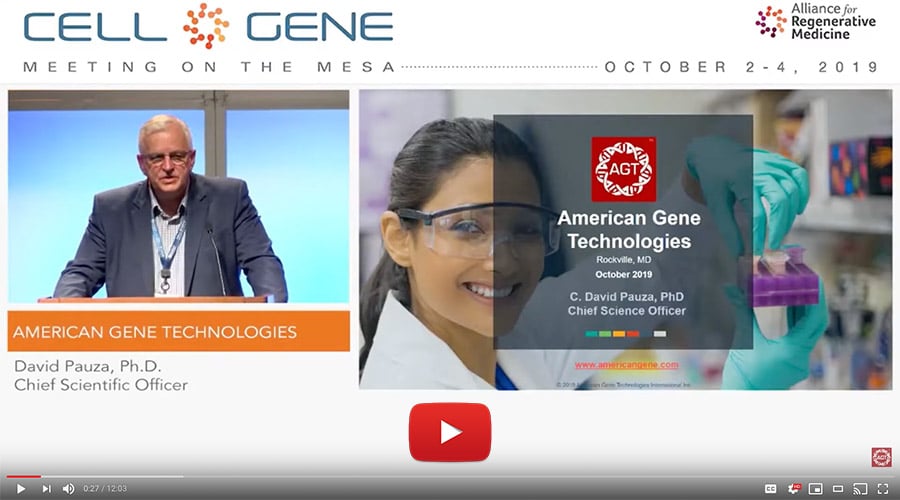 Subscribe to AGT's YouTube Channel
EXECUTIVE LEADERSHIP RADIO SHOW ON WFED 1500AM INTERVIEWED CEO JEFF GALVIN
On July 7, 2019, Executive Leadership Radio hosts Herb Cohen and Jeffrey E. Mack interviewed CEO Jeff Galvin. This interview gets to the heart of Galvin's life story, his parents, his experience growing up in Massachusetts, and what led him to the Washington, D.C. area to found American Gene Technologies.
Show is aired on: WFED Federal News Radio 1500 AM
GENE TECHNOLOGIES ARE MAKING STRIDES TO CURE TERMINAL ILLNESSES
Even if you work in the D.C. region, you may not be privy to a world-changing industrial revolution happening right now, in places around the world. To talk about that is Jeff Galvin, CEO and founder of American Gene Technologies. Galvin is an expert on how innovations in gene research can begin to change the world.
WASHINGTON D.C.'S WONK FM & IHEART RADIO INTERVIEW JEFF GALVIN ON SHOW: EMERGING TECHNOLOGY
On May 17, 2019, host Stacy Lyn interviews Jeff Galvin on how AGT is using HIV to cure cancer. The interview aired as part of Wonk FM's focus on Emerging Technology.
DR. DAVID PAUZA, CHIEF SCIENCE OFFICER
Explains Why He's Determined To Cure HIV. Watch his story.
C. David Pauza, Ph.D. is Chief Science Officer for American Gene Technologies and Professor of Medicine at the University of Maryland Medical School in Baltimore. Prior to joining AGT, Dr. Pauza was Associate Director for the university's prestigious Institute of Human Virology and Co-Leader of the Greenebaum Cancer Center Program in Viral Oncology. He is an internationally recognized expert in human virology and viral diseases including HIV, arenaviruses, poxviruses and herpesviruses. He has published more than 150 scientific papers and holds 7 US patents.
Subscribe to AGT's YouTube Channel
Subscribe to AGT's YouTube Channel
BIO2019 PRESENTATION: JEFF GALVIN SPEAKS TO AUDIENCE ABOUT AGT'S SCIENCE, EXPERTS, AND PLANS FOR FDA IND SUBMISSION
On June 4th between 1:45 –2:00 pm, CEO Jeff Galvin spoke to audiences attending BIO2019 about AGT's scientific discoveries, its team of experts, and its plan to move its pre-clinical therapies into the clinic. BIO (Biotechnology Innovation Organization) is the largest trade organization in the world that represents the biotechnology industry.
BUILT FOR BIO: JEFF GALVIN, CEO & FOUNDER OF AMERICAN GENE TECHNOLOGIES
Montgomery County Economic Development Corporation (MCEDC) discovers how CEO Jeff Galvin is using the availability of raw talent and novel technology unique to Montgomery County, Maryland to help cure HIV and cancers with gene and cell therapy research.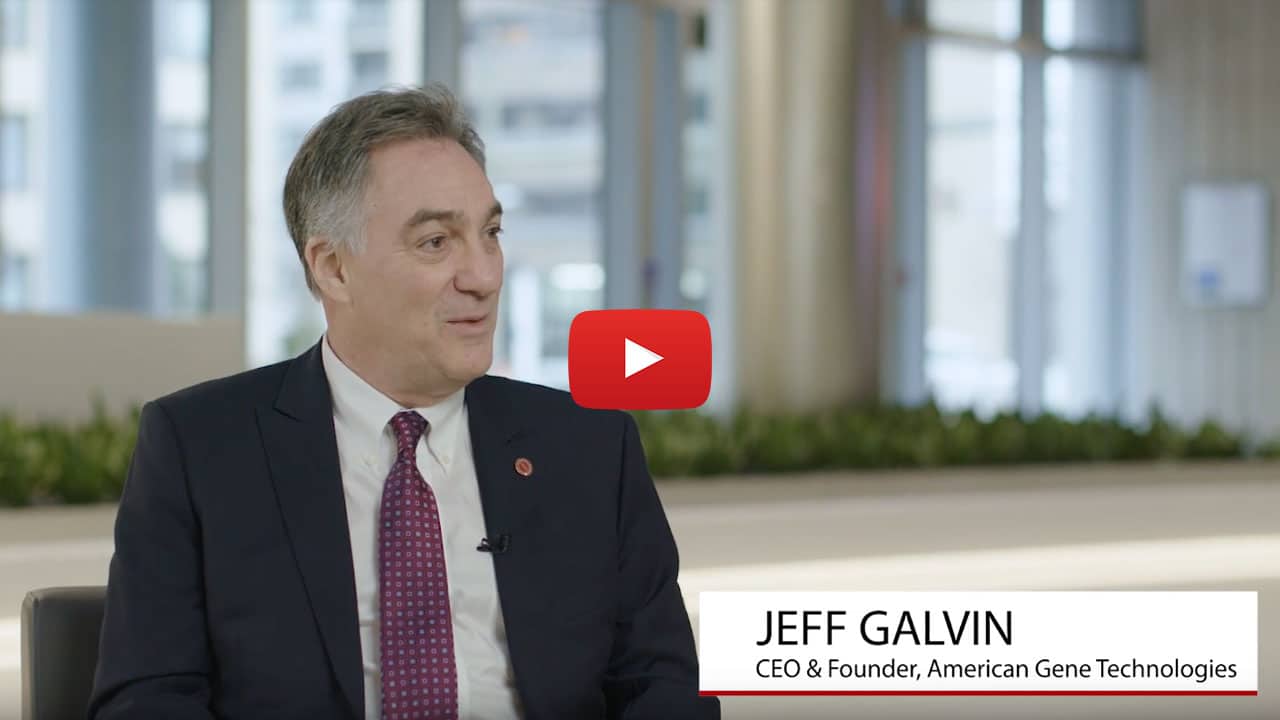 Subscribe to AGT's YouTube Channel
Subscribe to AGT's YouTube Channel
JEFF GALVIN PRESENTS AT ARM'S 7TH ANNUAL CELL & GENE THERAPY
INVESTOR DAY
CEO Jeff Galvin presents at Alliance for Regenerative Medicine (ARM)'s 7th Annual Cell & Gene Therapy Investor Day. The event provides institutional, strategic and venture investors with unique insight into financing opportunities for cell and gene therapy-based treatment and tools.
DR. ELY BENAIM, SCIENTIFIC ADVISOR
Explains Why He Believes In AGT's Science.
Dr. Ely Benaim has spent 25 years in healthcare, has 15 years of clinical experience in academia, government, pharma, and has worked at St. Jude Children's Research Hospital, Amgen, Sangamo Therapeutics, Takeda, and more. Learn why he believes in AGT as a scientific advisor for its HIV cure program. Watch his story.
Subscribe to AGT's YouTube Channel