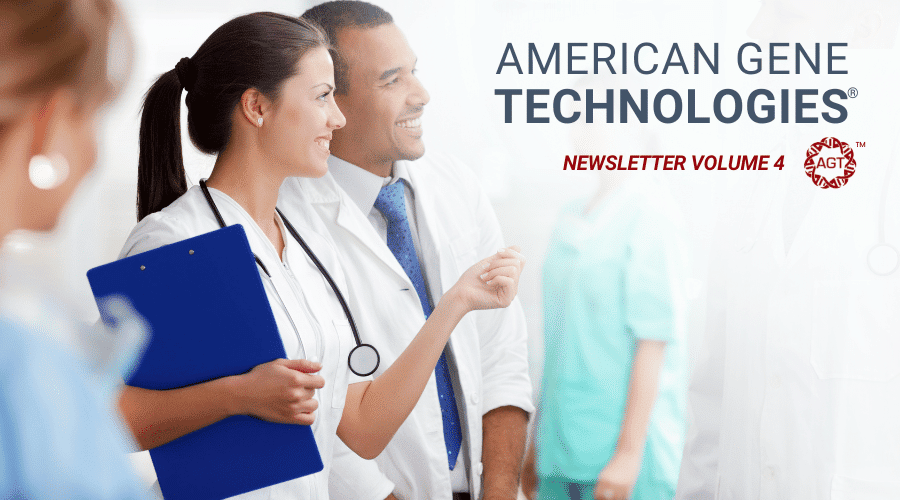 American Gene Technologies International CEO, Jeff Galvin, is increasingly in demand for his thought leadership in addition to his vision for AGT. Jeff was invited to deliver the closing presentation at the June 13th HIMSS Precision Medicine Summit in Boston. He was also invited to join the morning leadership panel to discuss Ethical Issues, Access and Affordability. During the panel discussion, he encouraged other panelist and audience members to consider how the evolution of gene therapies and technology will fundamentally shift the healthcare market. During his talk "The Democratization of Healthcare – Viva la Revolution!" he explained how the dynamics of three core components in precision medicine – data, analytics, and therapeutics – will ultimately come together and follow Moore's law resulting in cheaper, better biotechnology and healthcare IT, yielding dramatic, positive changes in treatments and cures while driving down costs. You can watch the presentation here.
AGT was regularly featured at BIO International Convention 2017 in San Diego. Jeff gave a company presentation, was interviewed as a Maryland Biotech leader (watch the interview here), inspired students in an educational event encouraging them to consider training and education in the field of biotechnology, and promoted Maryland and the Capital Area's potential and growth as a world-class biotech center. The entire AGT executive team was engaged in over 40 one-on-one partnering meetings with many large and mid-tier pharmaceutical companies, investors, biotech and contracting companies, tech transfer organizations and financial firms. Increased interest in AGT's lead therapeutics – HIV, Phenylketonuria (PKU) and Immuno-Oncology – validates the unique potential of our platform and our therapeutic developments.
Just last week, Jeff Galvin was interviewed on the Health Professional Radio in Australia. You can listen to the interview here.


KEY OPINION LEADERS MEET AT AGT TO FORM ADVISORY BOARD AND COLLABORATE ON CLINICAL PROTOCOL
AGT's top priority is completing the HIV cure Investigational New Drug (IND) application. Our growing preclinical, clinical, and regulatory teams are focused on achieving this milestone as we build capacity for future clinical product development programs. AGT recently hosted the initial Clinical Advisory Board meeting with key opinion leaders in HIV and gene therapy to review trial logistics and progress toward AGT's IND for a first-in-man study of our lead drug candidate AGT103-T. World-recognized clinicians and researchers in HIV came together to support and propel AGT's upcoming clinical trial—another milestone on the eve of proving our therapeutic, platform, and company in the clinic with the HIV cure. We continue our plan to treat our first patients this coming January (less than six months away!).
AGT has posted a clinical trial in clinicaltrials.gov this week! The trial is a study to collect clinical blood specimens from HIV-infected individuals for process development and validation of AGT's lead drug candidate AGT103-T (an autologous, genetically modified CD4 T cell preparation) for the treatment of HIV. Samples of blood will be drawn from well-controlled HIV-positive subjects (i.e. patients who consistently take their antiretroviral therapeutics to control their viremia). The specimens will allow AGT to qualify and finalize the cell process development for the IND.


Based on a favorable review by the International Searching Authority indicating AGT's immuno-oncology platform was innovative, novel, and industry applicable, we are filing for accelerated review. Our ImmunoToxTM vector takes a unique approach to cancer distinct from CAR-T that could accelerate cancer treatments and cures. AGT is initially targeting a clinical development program using ImmunoToxTM in hepatocellular carcinoma (liver cancer). Subsequently, AGT and other companies that may license AGT's ImmunoTox technology, will target other types of cancer. Our program delivers complex lentivirus vectors capable of converting tumor cells into potent stimulators of natural tumor immunity. The modified tumor cells activate and cause proliferation of the innate immune T cells, specifically gamma delta T cells, which become capable of recognizing and attacking all cells in the primary tumor and even the metastases.
AGT has been developing gamma delta T cell technology and filing patents on discoveries and techniques for nearly two years. We have been keeping the details of this new approach under wraps, but recently Takeda made news when they partnered with the UK firm GammaDelta Therapeutics to develop a gamma delta T cell platform. They may be surprised when they go to file patents that AGT started in this area before GammaDelta Therapeutics was even founded in 2016. Indications are that AGT is substantially in the lead in this promising area for immuno-oncology!
Additions to our patent portfolio around gamma delta T cells support and reinforce the estimated ~$500 million valuation report AGT received from Snell & Wilmer in December 2016. Current and interested investors can receive a copy by contacting Connie Ezerski (cezerski@americangene.com). We look forward to updating the valuation report in the near future to reflect the substantial intellectual property asset enhancements that we have added throughout the first half of 2017.


A NEW CHAPTER IN CANCER TREATMENT
The Washington Post reported that the FDA may be on verge of its first individualized gene therapy for a Novartis CAR-T treatment of childhood leukemia (investigational CTL019, tisangenlecleucel-T). The FDA advisory committee recommended approval on June 12, 2017 and the FDA is likely to follow suit by September. Novartis plans to designate 30-35 medical centers to administer the treatment. Pricing has not been announced, but "analysts are predicting $300,000-$600,000".
This is great news for the gene therapy industry — and especially AGT — as it puts immuno-therapy front and center in this emerging market. AGT has developed technology and intellectual property that is likely to address many of the remaining risks of CAR-T and expedite the broader availability of drugs to treat solid tumors. AGT's ImmunoToxTM vectors improve the safety of cancer therapeutics by avoiding modifications to patients' immune systems that can cause side effects or long-term risks due to lingering, modified T cells. Still, we believe CAR-T will become commercially successful and improve patient outcomes from such devastating conditions as ALL and AML (deadly blood cancers). We congratulate Novartis (and other companies such as Kite and Juno) that have committed themselves to pursuing these cutting-edge gene therapeutics!
RESURGENCE IN BIOTECH IPO'S
Evaluate Pharma reported Biotech floats come back with a vengeance. Second quarter 2017 "witnessed a remarkable turnaround, with the total raised in new issues exceeding $1 Billion and amounting to the strongest IPO quarter since nearly two years ago." This news bodes well for biotechs contemplating an IPO raise.


Alliance for Regenerative Medicine Cell and Gene on the Mesa (La Jolla, CA, Oct. 5-7, 2017)
BIO Japan (Yokohama, Japan, October 11-13, 2017)
World HealthEx Forum/Biotech and Money Inv€stival showcase (London, UK Nov. 13-14, 2017)