American Gene Technologies (AGT) is focused on creating long-term value for patients, society, investors and donors by developing and testing cutting-edge gene therapies to cure some of humanity's worst diseases. AGT's HIV cure clinical trial could not only lead to a blockbuster drug that brings relief to one of society's most elusive epidemics, but it could prove the efficiency and effectiveness of AGT's platform technologies to cure dozens of diseases ranging from viruses to cancers.
This page is a primer that offers insight into the risk and outcomes relevant to advancing a gene and cell therapy to market, both from a medical and financial perspective. Consider this page a tool to begin your journey of discovery, one we hope will lead to a conversation with us about the resources necessary to keep AGT operating at full speed to provide safe, effective, regulatory-approved therapies to patients.
AGT's patent portfolio protects its technology platform and methods. In addition to the granted patents below, AGT has several patents pending and over 20 patent families represented by filings with the USPTO and international patent offices. Also, AGT has been granted FDA Orphan Drug Designation for its treatment of Phenylketonuria (PKU).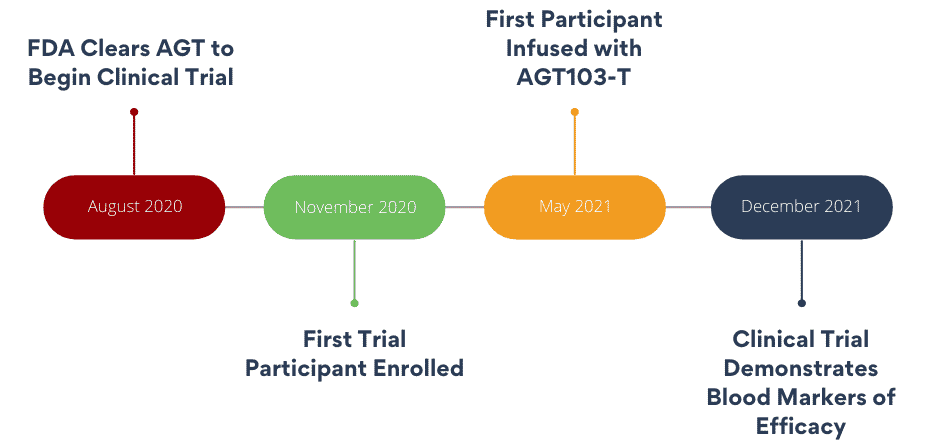 Third-Party Reports on AGT
AGT hosted an analyst day to provide insight into the status of HIV therapy, including cure research, which provides a context for understanding the unique features and advantages of the company's AGT103-T cell and gene therapy for HIV. The event was hosted shortly before the IND was submitted.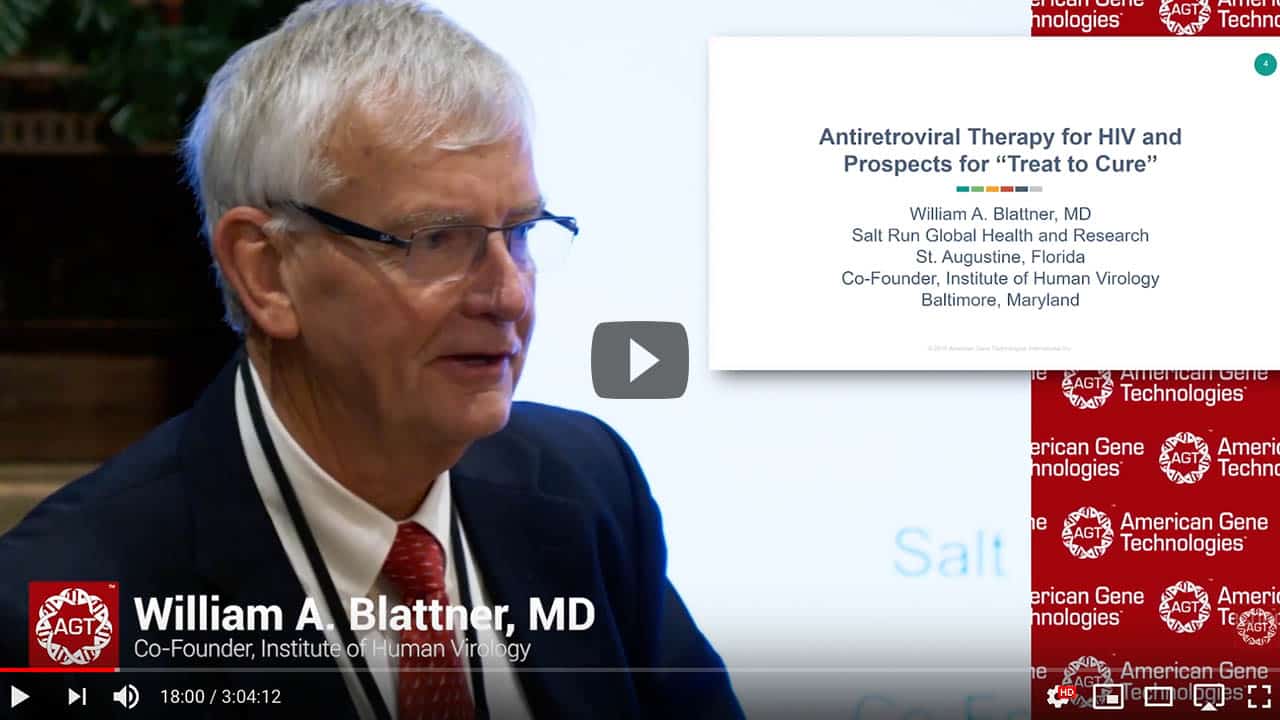 By John Vandermosten, CFA
AGT is followed by the analyst listed above. Please note that any opinions, estimates or forecasts regarding AGT's performance made by the analyst are his alone and do not represent opinions, forecasts or predictions of AGT or its management. AGT does not, by its reference above or distribution, imply its endorsement of or concurrence with such information, conclusions or recommendations.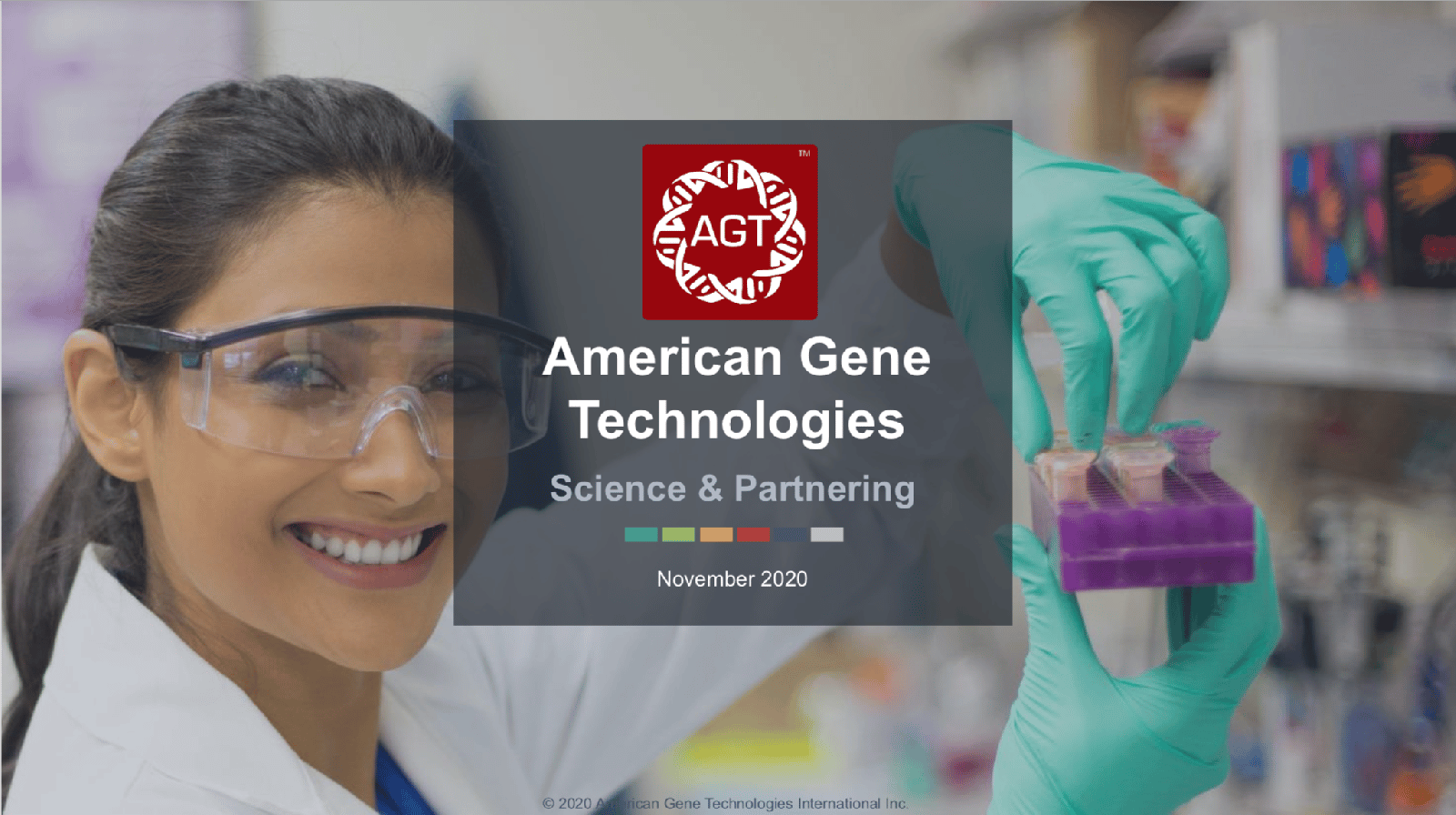 In over a decade of development, AGT has accrued a huge bank of tools and reusable components that can be mixed and matched to solve fundamental hurdles across a broad range of disease.
"The team here at AGT is really exceptional. The quality of the work and the innovation that goes on here is one of the things that has attracted me because I can see how some of these technologies could be applied to breast cancer."
Georgetown University
Medical School
David has 35 years of experience in HIV, immunology, virology, and cancer biology, and has held faculty positions and at University of Wisconsin and University of Maryland medical schools. 
"AGT has become one of these companies that resonates on a personal level for me. It looks for new technologies, new advances, and it really tries to push the limit to advance therapies for terrible diseases like HIV."
Chief Medical Officer
Novocure
Former Secretary of the United States Department of Health and Human Services, worked fervently to modernize healthcare delivery as the former Governor of Wisconsin. 
Director
and Senior Advisor
Dr Robert R. Redfield is well known for his decades of dedicated work in virology, immunology and clinical research. 
Special Advisor
to the CEO
Dr. Conant was one of the first physicians to diagnose HIV in San Francisco while running the inpatient dermatology service at the University of California San Francisco.
Special Advisor
to the CEO
Sign-up For Our Newsletter
We send out quarterly newsletters that keep you up-to-date on all our projects, progress, and events.